How to Turn Off the Galaxy S8 Always On Display
Whether it's just distracting or you want better battery life, this guide will explain how to disable the Galaxy S8 always on display. It's turned on 24/7 which some enjoy, but others don't like. Thankfully it's customizable.
As millions get their new phone many will have questions and concerns. And while it may take a minute to get used to the always on screen, we'd recommend keeping it. If not, read on for the simple instructions.
Read: Best Galaxy S8+ Screen Protectors 
When you turn off the Galaxy S8 or S8+ screen, it's still on. A small area displays the time, date, battery level and even some notifications. It's called an "Always-on Display" but it's not for everyone. Luckily we can easily customize it a bit, or turn it off completely.
How to Disable the Galaxy S8 Always On Display
Thankfully almost every aspect of this device is customizable. Samsung really delivered. In settings, you'll find options, controls, or on/off switches for just about everything.
To disable the always on display feature we quickly need to head to Settings > Lock Screen & Security > Always On Display > and flip the switch to OFF. That's it. Here are more details and some screenshots to help you disable it.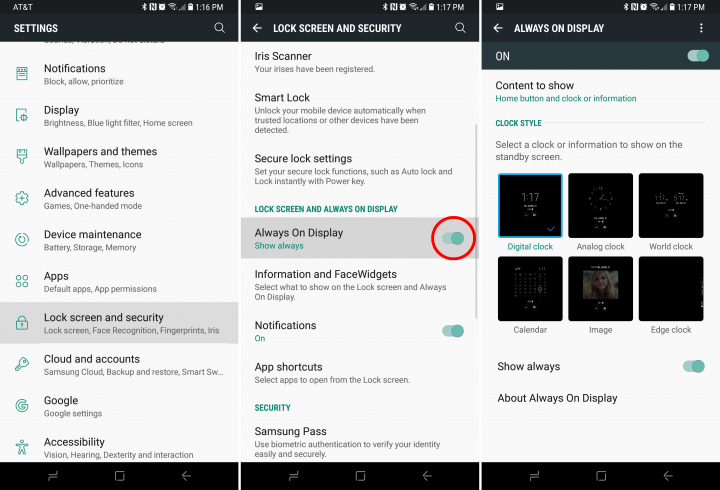 Pull down the notification bar and hit the gear-shaped settings button
Find and select Lock screen & Security
Flip OFF the option for Always On Display
Or tap on Always On Display for more options
It only takes a few taps in settings to disable this in the settings menu. Now the screen will completely turn off and show nothing. That said, users will need to tap the power button in order to quickly check notifications and such.
Other Details
Based on studies the average user turns their phone on over 150 times a day. Often just to check the time, weather or look at notifications. Rather than turn the entire phone on, let the Always-On display show this information at a glance. In the end, it should actually save you battery life. Samsung claims it uses less than 5% throughout an entire workday.
It even dims to a lower setting in a dark room or at night, and brighter during the day, making it easy to see at all times. Basically, it's worth using.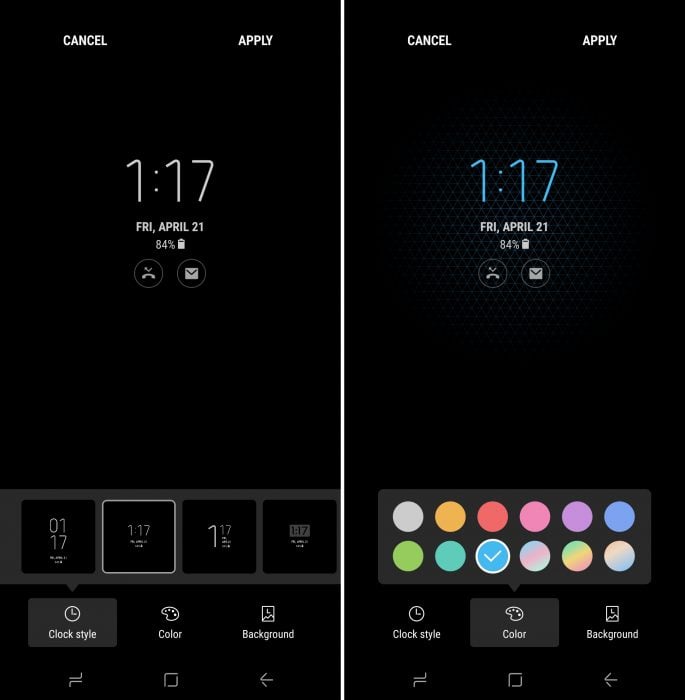 Above is an image of some of the options available for owners. There's no way to manually control the brightness or add new widgets (like a weather icon) but it's still pretty useful. Users can choose between 7-8 different clocks, backgrounds, calendars and more. There are even new "facewidgets" where you can tap the clock and swipe over for more options, like music controls without waking up the device. Neat, right.
Samsung also manually updates the Always-On Display app throughout the year with more features or options. So more could be coming soon. For now, try and get used to it, or disable the always on display with our instructions above.

As an Amazon Associate I earn from qualifying purchases.