Samsung Galaxy S8 Features, Buying Advice & Accessories
The Samsung Galaxy S8 is a beautiful new smartphone that ditches the flat screen for a new display that curves off the edges and is available in two screen sizes.
You can buy the Samsung Galaxy S8 today with many Galaxy S8 deals that knock up to $100 off and include freebies. The Galaxy S8 release date is April 21st on AT&T, Sprint, T-Mobile, Verizon and U.S. Cellular and you can use these pre-order tips to get the one you want.
The two new Samsung phones both feature an edge style screen with edge apps and new tech that makes holding the phones without accidentally touching the screens much easier.
This is Samsung's major return after the exploding Galaxy Note 7, and the company is doing all it can to make sure that the new Galaxy S8 is safe.
While you wait for the upgrade, you can get the best Galaxy S8 features today, without upgrading, on practically any Android phone.
Samsung Galaxy S8 vs Galaxy S8+
There are only two real differences in the Galaxy S8 and Galaxy S8+ specs, once you take out the fact that the Galaxy S8 Plus is bigger. Both are available in the same three Galaxy S8 colors in the U.S.
The Galaxy S8 comes with a 5.8-inch screen, while the Galaxy S8+ includes a 6.2-inch screen. Both phones use the same resolution and design, so the screen dominates the front of the phone and curves off the edges on both sides.
Another difference is the battery size. The Samsung Galaxy S8+ comes with a 3,500mAh battery and the Galaxy S8 comes with a 3,000mAh battery. A bigger phone size allows for more room for a bigger battery. There are no camera or spec differences that you need to consider when shopping for a new Galaxy S8.
The Galaxy S8 dimensions are 148.9 x 68.1 x 8mm and the Galaxy S8+ dimensions are 159.5 x 73.1 x 8.1mm. The Galaxy S8+ is slightly heavier as well.
Exciting Galaxy S8 Features
There are a ton of Galaxy S8 features to love and the phone is simply amazing to hold. This is arguably the best Samsung smartphone to date and ready to compete with the iPhone 7 and the iPhone 8.
Beautiful curved screen
Impressive Galaxy S8 design and build quality
Upgraded Selfie camera
USB C charging
Quick Charging and Fast Wireless Charging
Water resistant to 5 feet for 30 minutes
Samsung Pay to pay at any credit card reader
Samsung Connect home control support
Desktop expansion with DEX accessory
Micro SD card support to add more storage
You can jump down to the Galaxy S8 specs to learn more about the phone and check out the Galaxy S8 accessories that you'll need to enable some of these features.
Samsung Galaxy S8 Gotchas
You'll find some interesting design choices due to the super-small bezels on this phone. There is no physical home button, which is an easy adjustment thanks to haptic feedback that simulates a home button, similar to the iPhone 7. This means that the fingerprint sensor is now on the back of the phone, to the side of the camera. That's an adjustment you'll need to make unless you go all in on the iris scanning and facial recognition.
Samsung also goes all in on their own personal assistant, Bixby. This is a competitor to Siri, Alexa and Google's Personal Assistant. You will still find Google Assistant on the Galaxy S8, but Bixby is what Samsung is hoping you will use. The catch is that Bixby is still in the very early stages and will need built out to match the reliability and features of competing assistants.
Samsung Galaxy S8 Specs
Here are the important Galaxy S8 and Galaxy S8+ specs that you need to know.
5.8 and 6.2-inch 2960 x 1440 Quad-HD AMOLED Infinity Display
Qualcomm Snapdragon 835 or Samsung Exynos Processor
4GB of RAM
64GB of internal storage and a micro-SD slot for expansion
Android 7.0 Nougat with Samsung TouchWiz
12 Dualpixel Rear Camera with OIS, phase detection auto-focus, f/1.7 aperture & more
8 megapixel f/1.8 front camera
Fingerprint and Iris Scanners
IP68 dust & water resistance
3,000 and 3,500 mAh battery with Fast Charge & Fast Wireless Charging
Improved Always-On Display
Dual stereo speakers
Fingerprint scanner on back
Samsung Pay, 3.5mm headphone jack
With the fast charging, you can expect to charge from 0 to 80% in 30 minutes and 0 to 50% in about 15 minutes when you plug in. Samsung also includes faster wireless charging.
Is the Samsung Galaxy S8 Safe?
"Is the Galaxy S8 safe?", is one of the biggest questions we are hearing from potential buyers. The Galaxy Note 7 is recalled and gone, but you'll still hear announcements anytime you fly and there are cautious buyers because of that phone.
Samsung instituted a new 8-popint battery check that includes battery design tests, torture tests and inspections that include Visual Inspection, X-Ray, Charge and Discharge tests and a test to make sure there is no leakage.
Time will tell, but Samsung is talking publicly about the issue and clearly cannot afford another incident like the Note 7.
Samsung Galaxy S8 Cases & Accessories
There are over a dozen official Samsung Galaxy S8 accessories that you can use to add more features to your phone. This includes the new Gear VR with a controller as well as a new Gear 360 camera, a desktop docking station and more.
We've already rounded up the best Galaxy S8 cases to cover your new phone and add features like a wallet to your new phone. You can check out the best Galaxy S8+ cases that offers new style, protection, and features to the larger model.
Check out the best Galaxy S8 screen protectors that can help keep your screen safe from scratches and during drops.
25 Best Galaxy S8 Cases
Samsung Clear View Standing Case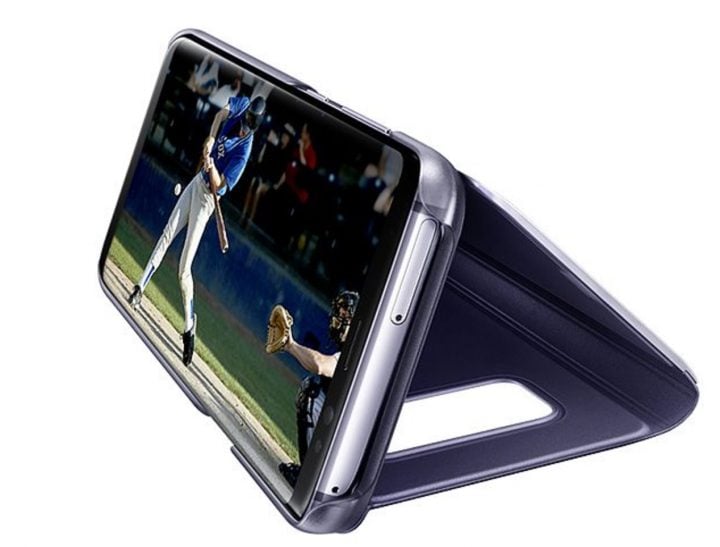 First, are a few Samsung cases then we'll move on to some of the more popular (and cheaper) brands available. As we see every year, Samsung has a decent select of great cases and accessories for the Galaxy S8 and Galaxy S8+.
Our favorite among them is the Clear View Standing Cover. It doubles as a kickstand and folds closed to protect the screen. When shut, the clear front displays the time, date, or battery levels. It's expensive but one of the better cases available.

As an Amazon Associate I earn from qualifying purchases.