How to Find Borderlands 3 Collector's Edition in Stock
The Borderlands 3 Collector's Edition is already hard to find. If you're interested in picking up the bundle for face value ahead of the game's release date, you'll need to keep tabs on stock.
Retailers are currently selling four versions of Borderlands 3. There's a $60 no-frills standard edition, an $80 Deluxe Edition, an $100 Super Deluxe Edition, and an extremely expensive Diamond Loot Chest Collector's Edition that's exclusive to GameStop.
The Borderlands 3 Collector's Edition retails for $250 without a deal. For that price you get everything from the $100 bundle plus a Diamond Loot Chest Replica with functional retractable lid, ten 3-inch tall character figurines including the four Vault Hunters and Calypso Twins, a Sanctuary 3 snap model ship and stand, four Vault Key keychains, a cloth galaxy map, five character art lithographs of the Vault Hunters and Calypso Twins, and a Steelbook case.
The bundle is aimed at hardcore fans of the Borderlands series and most people are better off going with one of the cheaper editions.
If you do decide to pickup the Collector's Edition, and you want avoid paying an exorbitant price, you'll need to stay in the loop because GameStop is currently sold out.
As of right now, GameStop is showing the bundle as "Not Available" for PS4, Xbox One, and Windows PC. We expect GameStop to replenish its stock ahead of the game's release in September and we'll show you how to keep tabs on it as we push on toward the fall.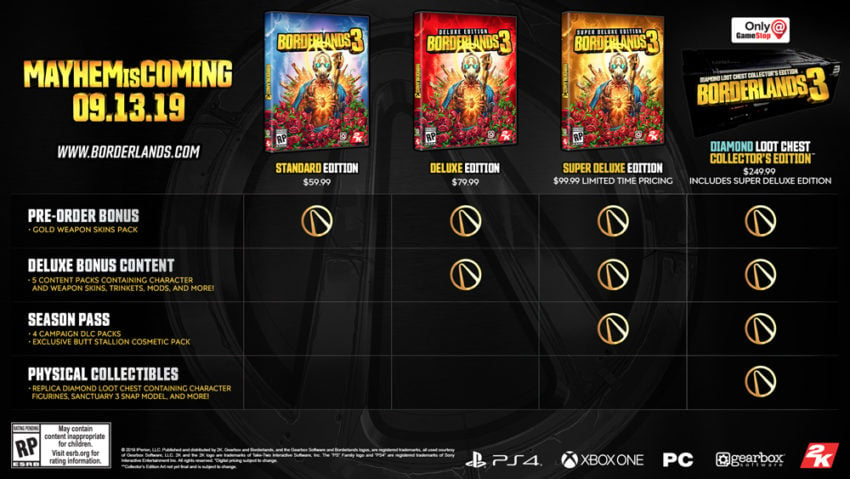 How to Find Borderlands 3 Collector's Edition in Stock
You can continually check GameStop's landing pages, but the best way to track Borderlands 3 Collector's Edition stock is via NowInStock.
The first thing you need to do is visit NowInStock's Borderlands 3 page. This page shows the bundle's stock history at GameStop and it updates every few minutes giving you a look at the retailer's current inventory.
If you don't want to open up your browser every time you want to check, you can set up an alert that will send you an email, text or browser notification when stock is available. Here's how to do that:
Register for a free account at NowInStock.
Check your inbox for a verification email and click the correct link to verify.
Go back to the Borderlands 3 NowInStock page.
Click Add/Manage alerts in the right corner of the screen.
Add an item to track it.
Once you add the correct item you'll get a little menu where you can select to get text, email and Browser alerts. These are free unless you get carrier text message charges.
This is the easiest way to check for stock and it's the best way to ensure you get a pre-order in for $250 ahead of the game's arrival later this year.
If you don't regularly check for availability, you might wind up having to pay resellers a hefty fee for the bundle. We're already seeing the Collector's Edition on resale sites like eBay for $500 or more.

As an Amazon Associate I earn from qualifying purchases.