How to Fix iMessage Problems When Switching to Android
A major issue with Apple's iMessage service is that many users have issues with their own phone number correctly transferring to a non-iPhone smartphone, but there are solutions to make the transition much smoother if you're switching over to Android from an iPhone.
Former editor-in-chief of Lifehacker Adam Pash recently wrote about his troubles when switching from an iPhone to and Android device, saying that his phone number was essentially trapped in iMessage. Even when he officially made the switch, his phone number was still associated with iMessage, and any time someone with an iPhone texted him, they'd get a "Delivered" receipt in iMessage, but he would receive nothing.
This is obviously a huge problem, and Pash even says that Apple knows about the issue, but doesn't have a solid fix yet. However, since Pash spoke out about his transition troubles, many users have come forward with fixes of their own that have worked when switching away from iPhone, and this issue has been around for years, so there are numerous threads on Apple's support forums talking about this issue, and it turns out Apple has its own support page for this issue.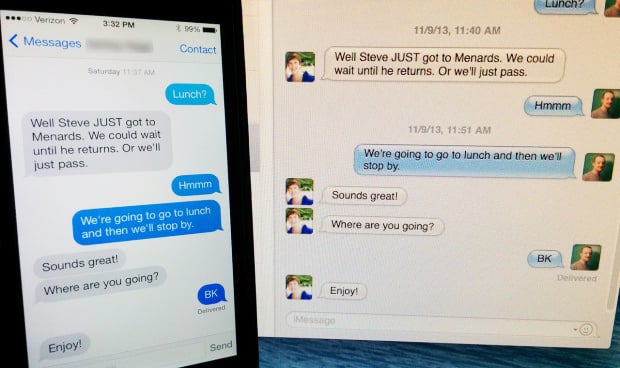 What Won't Work
We've seen numerous fixes pop up recently that supposedly remedy the problem, but they most likely won't work, and Apple even says that these "solutions" won't work:
Logging into My Support Profile and changing your password or removing your phone number.
Sending an SMS text message STOP to 48369.
Resetting your network settings.
Changing your Apple ID password.
We've seen some of these same "fixes" listed on numerous support threads and we'll tell you right now that they probably won't work, so continue on to find out how you can actually fix the issue.
Instructions
The issue lies within iMessage and how your phone number is registered with iMessage when you get an iPhone. When you turn iMessage on with your iPhone for the first time, iMessage registers your cellular telephone number with Apple, so if you ever switch to a non-Apple smartphone, you have to deregister your phone number before you can use it elsewhere.
It sounds simple and straightforward, but many users don't realize you have to do this, and they end up having issues when they switch to Android.
All you have to do is open up the Settings app, tap on Messages and turn iMessage off. This will deregister your phone number with iMessage and make it a free agent to be used on another smartphone without a problem.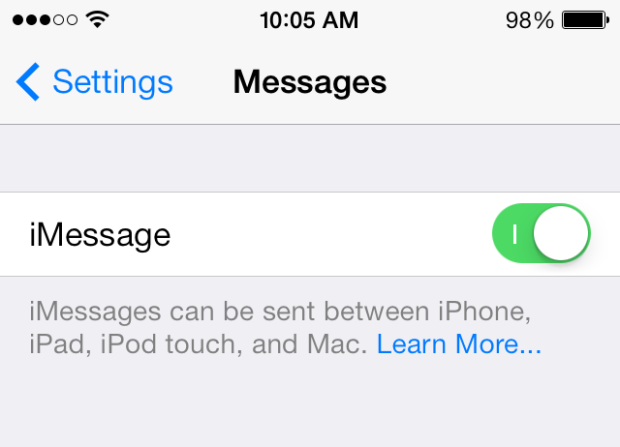 Ideally, though, you need to deregister your phone number with iMessage before you switch to Android or another device. However, we're guessing that most users reading this article have already switched over the Android and have experienced problems with receiving text messages. If that's case, and if you still have your old iPhone around, there's still hope.
We're not sure if this solution will work, as we haven't tested it ourselves, but we don't see why it shouldn't work. Just grab a hold of your old iPhone and make sure it's still associated with your Apple ID. Then make sure that iMessage is on; since your phone number is still registered with iMessage, you'll still receive text messages from other iPhone users on your old iPhone if you're connected to WiFi.
Read: How to Sync iMessages Across iOS and OS X
Then, go ahead and turn off iMessage by opening up the Settings app, tapping on Messages and turning iMessage off. If you have multiple iOS devices, make sure to turn iMessage off on those as well. Then, once your phone number is deregistered successfully, you can reactivate iMessage on your other iOS devices (except for your old iPhone, obviously).
If you no longer have your old iPhone (and therefore can't turn off iMessage), you're mostly out of luck and will need to contact Apple Support, but you'll most likely get the same response that Pash got; Apple knows about the issue, but the engineering team is apparently stumped at how to fix it.
How to Prevent the Problem in the First Place
If you ever find yourself thinking about switching away from iPhone and to a non-Apple device in the future, all you can really do is remember to turn off iMessage before you make the switch, because if not, that's when things can get messed up.
Technically, while the above steps are "fix," it's not a true fix. Apple needs to find a way that users can easily switch to other devices without going through the headache of disabling iMessage first. In the meantime, this is really just a workaround for a problem that doesn't have a real solution yet.

As an Amazon Associate I earn from qualifying purchases.