How to Get Rid of Samsung's App Permission Monitor Notifications
In this guide we'll show you how to get rid of those annoying App Permission Monitor notifications on your Samsung Galaxy phone. Those notifications that "Textra has been detected using SMS" or similar popups on the Galaxy S8, Galaxy Note 8, Galaxy S9 and more.
You're likely getting this constant notification for a text message app, keyboards like Gboard, or even BxActions to disable the Bixby button.
First, we'll show you how to turn these notifications off with our instructional video below. Then, we'll explain what the app permission monitor is for, and why you should keep using it. So, here's how to get rid of those redundant and obnoxious notifications.
Here are some step-by-step instructions and screenshots for those that can't watch our video.
How to Disable Samsung App Permission Monitor Notifications
It's a good idea to know what's going on with your smartphone. Samsung's App Permission Monitor keeps you informed about what permissions each app has access to. That way if you download a flashlight app and it tries to read your messages or go online, you know something fishy is going on.
If an app is trying to access things outside of its normal operation, you'll get app permission monitor notifications. However, sometimes you get notified when you shouldn't, or they're just really annoying and pop up daily. So, let's get rid of them.
Open Settings in the app tray or tap the gear-shaped settings button in the notification bar
Find and select Lock Screen & Security
Scroll down to App Permission Monitor
From here you can simply flip the switch and completely turn off Samsung's Galaxy App Permission Monitor tool. And while that's your choice, you won't know if anything suspicious is going on later.
Instead, we recommend you tap on App Permission Monitor (the words, not the toggle switch) and customize what apps actually send notifications. Basically, you can go in and turn off app permission notifications for BxActions, Textra, Gboard, or anything else you're constantly getting notifications for.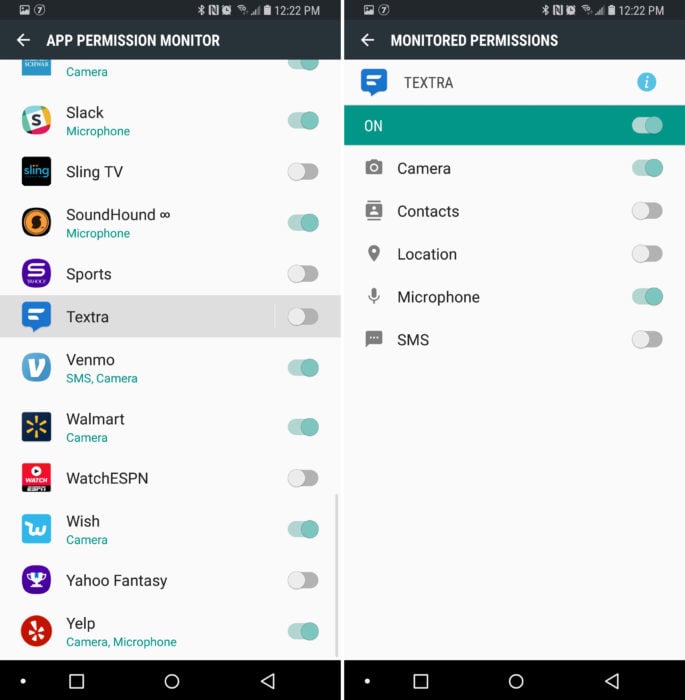 For even deeper controls, tap on any app inside this list and uncheck what permission your phone actually monitors. That way this tool will still keep an eye on Textra, but it won't tell you every time you send or receive a message.
If you're receiving notifications for multiple different apps, just tap back and turn off multiple notifications. When you're all done tap on the home button and you're all set. Before you go, take a peek at these 35 other Galaxy S9 tips and tricks.

As an Amazon Associate I earn from qualifying purchases.