This guide will show you how to install iOS 9.1 on your Appel device to get access to new features.
The iOS 9.1 update is now available for users to download to the iPhone, iPad or iPod touch as a free upgrade with fixes for many iOS 9 problems. This is how to install iOS 9.1 on your iPhone or iPad with a WiFi connection or with iTunes.
You can use this guide to upgrade from iOS 9 to iOS 9.1, or from iOS 9.0.1 or iOS 9.0.2 to iOS 9.1. It will also work to upgrade from iOS 8, but it will take longer to complete if you are upgrading from an older version.
Before you get started, there are some things you should do before installing iOS 9.1 on your device to make sure you are ready for the update.
The iOS 9.1 update takes about 10 minutes to install on the iPhone 6s or iPhone 6s Plus. You can use the iPhone when it is downloading the update, but not when it is actually installing the update.
Your iPhone or iPad needs to be charged to at least 50% to install iOS 9.1 and you need to connect to WiFi to download the update.
How to Download iOS 9 and Install the iOS 9.1 Update
The iOS 9.1 update should download in less than 5 minutes on a fast Internet connection and even during the first moments of the release there were no long download times. We have not discovered any iOS 9.1 download errors or iOS 9.1 installation problems, but make sure you have a good backup before you upgrade.
Most users will simply want to start the iOS 9.1 download from the iPhone or iPad for an over the air (OTA) update. If that isn't what you want to do, you can still plug-in to iTunes and update that way.
You can start installing iOS 9.1 before you get a Notification bubble on your Settings icon. To do this, use the instructions below to check for a new update.
Tap on General.
Tap on Software Update.
Tap on Learn More to see more about this update.
Or, Tap on Download and Install to start.

Enter your passcode.
Agree to the terms and conditions twice.
Wait for the iOS 9.1 download to complete.
When prompted tap Install.
After the iOS 9.1 installation is complete you will see a Hello screen on your iPhone or iPad and you will need to enter your passcode. Connect to a WiFi Network again and then enter your Apple ID password to connect.
How to Install iOS 9.1 with iTunes
Users who don't want to use the OTA method to download the iOS 9.1 update directly to the iPhone or iPad can use iTunes to update. You will need a USB cable and you will still need an Internet connection to download the update.
As soon as you connect to iTunes you may get an update is available notification, but if you do not get this, you can use the instructions below.
Click on the iPhone or iPad icon in the upper left.
Click on Check for Update.
Click Download and Update.
Agree to the terms and conditions.
When needed, enter your passcode
This process will take about the same amount of time as using the iOS 9.1 download direct to your device.
You can see the new iOS 9.1 features in the slides below that compare iOS 9 and iOS 9.1 on the iPhone.
iOS 9.1 vs iOS 9: What's New in iOS 9.1
New iOS 9.1 Emoji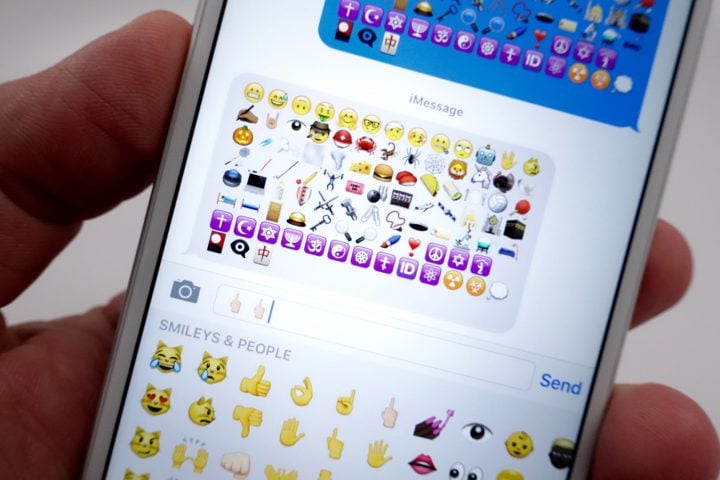 There are a lot of new iOS 9.1 emoji options to use when you install the upgrade. The most talked about new emoji is the middle finger emoji, but there is also a unicorn, a taco, a burrito, a lion, spider, new sports, gambling options and a lot of new faces.
Once you upgrade you will get access to the new iOS 9.1 emoji on your iPhone and iPad. Many of these support the multiple skin tone options that Apple added to iOS 8 over the summer.
If you send the new iOS 9.1 emoji to someone who does not have iOS 9.1 installed they will see odd blocks for many of the items you send.
You can use all the new iOS 9.1 emoji on the iPhone emoji keyboard that is on by default. You don't need to buy any apps to get the new emoji.

This article may contain affiliate links. Click here for more details.