How to Install the iOS 8.3 Update
This guide will show you how to install the iOS 8.3 update on the iPhone, iPad or iPod touch in about 25 minutes and help you with what you need to do before you tap Download and Install on the iOS 8.3 update.
The iOS 8.3 release delivers an incredible list of fixes that will solve many performance issues, odd behaviors and app crashes on the iPhone and iPad. In short, if you have problems with your iPhone on iOS 8, iOS 8.1 or iOS 8.2 this update promises to right those wrongs.
We'll show you how to update to iOS 8.3 so that you don't need to see that annoying red notification on Settings. This iOS 8.3 update guide will walk you through the upgrade on your iPhone or iPad, on iTunes and what to do if you are on the iOS 8.3 beta and want to upgrade to the final version.
The iOS 8.3 update is a free update available to all devices running iOS 8. You don't need as much free space as you did on earlier updates, but you will need to have some room available or to plug into a computer. You don't need iOS 8.3 to use the Apple Watch, but if you skipped iOS 8.2 you will need to install this to prepare for the Apple Watch release later this month.
Read: 41 Siri Tips and Tricks
Users need at least 50% battery life (or to be charging) to install the update and you will need to download the nearly 300MB update on WiFi.
Here are the essential iOS 8.3 update installation tips and details.
iOS 8.3 Update Guide
Before you update to iOS 8.3 you should make sure that your iPhone is backed up to iCloud or to a local computer. There is always a small chance that something could go wrong, so it pays to back up your device. if you experience iOS 8.3 problems, you can also use this backup if you downgrade from iOS 8.3 to iOS 8.2.
Read: 10 Things to Do Before Installing iOS 8.3
We suggest installing iOS 8.3 from your home or your office. Even though there is little chance of something breaking, you should perform the update when you have time and where you have access to power, WiFi and a backup.
"How long will the iOS 8.3 update take?" is a common question already. depending on the download speed and your device this could take as little as 10 minutes or closer to 30 minutes. Make sure you have enough time.
How to Install iOS 8.3
When you are ready to install the iOS 8.3 update you just need 50% battery life and a WiFi connection. You don't need a computer, but if you don't have enough free storage space we can help you with that route.
Another question we've heard from beta testers is, "How to upgrade from the iOS 8.3 beta to the iOS 8.3 update?" The good news is Apple made this a simple process and you only need to follow the same directions as regular users, listed below.
Open the Settings app on the iPhone or iPad. If you cannot find this you can use Spotlight by pulling down from anywhere on the homescreen and typing, "Settings" into the box. Tap on General and then tap on Software Update.
On this screen you can tap on Learn More to see all the iOS 8.3 fixes and update details or you can tap on Download and Install to start the upgrade. You will need to enter your passcode on this next screen before the upgrade starts.
Now you will need to agree to the iOS 8.3 update terms and conditions twice and the iOS 8.3 download will start. While the iOS 8.3 download completes you can use the iPhone or iPad. When complete, the iPhone will prompt to restart. You can choose to cancel if you aren't ready to install the update, otherwise let the phone restart or tap Install.
When the iPhone restarts it will prompt you for your passcode. Enter your Apple ID password on the next screen and then verify the phone numbers for FaceTime and iMessage. You may also see a prompt to set up Apple Pay, which you can skip if you don't want to use Apple Pay now.
After that screen the iPhone or iPad is ready to use and the iOS 8.3 update is complete.
How to Install iOS 8.3 from iTunes
if you don't have enough room on your iPhone or iPad to install the iOS 8.3 download over the air, you can plug-in to a Mac or Windows with iTunes installed to perform the update.
When you connect the iPhone to a computer with iTunes open you may see a notification of the iOS 8.3 update or you might need to check manually. In iTunes click on the device icon in the upper left area and then on Check for Update.
On the pop up, click Download and Update. You'll see a list of what's new in iOS 8.3. Click Next and then Click Agree. If prompted enter your passcode on your device.  The software will download and install. When this is complete you will need to follow the prompts and enter your passcode, Apple ID password and may see a prompt to set up Apple Pay.
iOS 8.3 vs iOS 8.2: What's New in iOS 8.3
New iPhone Emoji in iOS 8.3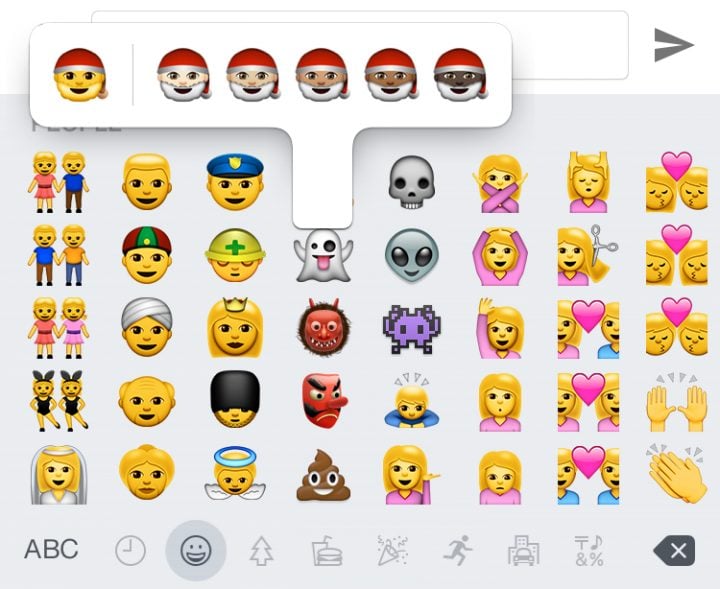 Apple adds over 300 new iPhone emoji in iOS 8.3. There are new Emoji like the Apple Watch and a new Mac, but most users will focus on the addition of more family choices including more kids, families of two men or two women and now there is an option to change the skin tone of many emoji.
Read: How to Use New Emojis
With this update you can tap and hold to choose the skin tone of an emoji icon for many emoji options and then tap to pick the color option. Tap and hold on a new color option to make it the default.
The iOS 8.3 emoji keyboard for iPhone now offers continuous scrolling so it is easier to scroll through the emoji options and find the ones you want.

As an Amazon Associate I earn from qualifying purchases.