How to Keep Your New Year's Resolutions
Keeping your New Year's resolutions is a lot harder than simply making them, but you can use apps on iPhone and Android to help you keep your New Year's Resolutions for 2015.
No matter if your new goal for 2015 is to get fit, lose weight, save money or stick to a budget there are several small tricks to help keep your goal and your resolution in front of you.
One of our favorites is a mind trick the reinforces the work you've already done and helps you keep going on your goal with positive reinforcement.
Using the new year to create a better situation is a common. According to a survey at the start of the year, nearly half of Americans usually make New Year's resolutions, but only 8% report success. Statistic Brain breaks down when people give up, with a major drop off after one month.
With a little perseverance and these tips and tricks you can use your iPhone or Android to help you keep your New Year's resolutions.
Use the Jerry Seinfeld Calendar
You don't need an app that yells, "Jerry!", but you can leverage this legendary comic's secret to productivity to help you keep your New Year's resolution.
Seinfeld told a comic to get a huge wall calendar that shows a full year and stick it to a wall. Each day you do your task, you put a big X on the day. Brad Isaac told Lifehacker that Jerry describes how the Seinfeld calendar works,
"After a few days you'll have a chain. Just keep at it and the chain will grow longer every day. You'll like seeing that chain, especially when you get a few weeks under your belt. Your only job next is to not break the chain"
Once you build up a chain, there is more motivation to keep that chain going. Even if you feel tired, sick or just plain don't care for one day — the push to keep your chain unbroken is enough to keep going for yet another day.
Instead of a giant wall calendar, there is an easier way to see your progress in front of you every day. While you may not have a huge wall to look at each day, you likely look at your iPhone or Android over 100 times a day. You can use a Seinfeld calendar app to use this same mental trick on your iPhone.
Both of these free apps will help you keep your New Year's resolutions, and can support multiple chains.
Repeating Reminders
On iPhone and Android you can set a repeating reminder so that you are always prodded to keep to your task. You can do this to start an action or to skip doing something bad. If you need that extra motivation to work out, you can set a reminder at night to get to bed earlier and one or the morning to wake you up to get going.
If you find yourself snacking or smoking every morning at 10 AM, you can set a reminder for 10 minutes before that to remind yourself to get something healthy for a snack or to do what you need to do to stave off a craving for a smoke.
On the iPhone -> Open Reminders -> Tap the Plus -> Enter the name for the reminder -> Choose Remind me on a day -> Repeat -> Every Day -> Done.
On Android -> Open Google Now (usually a long press of home button or a press and swipe up) -> Tap on the small finger with a string icon in the lower left -> Tap on Add a reminder -> Enter the information and tap on One-time -> choose Repeat Daily and choose the days to show the reminder.
That's all you need to do to get a daily nudge in the right direction from your iPhone or Android to help you keep your New Year's Resolution.
Use Pact to Keep Your New Year's Resolution
There is a cool app to help you keep your New Year's Resolution to lose weight or get in shape. Pact helps you stick with a plan to go to the gym, log food or eat veggies. If you don't stick to it, the app will debit your bank account for an amount you choose. If you stick to the goal, you'll get a payout. The app was originally GymPact, but it now helps you stay motivated for other tasks, by providing a financial incentive.
If you meet your goal, you get paid a percentage based on other members who don't stick with it. Rewards are between $0.30 and $5 a week depending on the activities and the overall community.
Zach Bingham told Gotta Be Mobile last year that he earned $45 in five months, just for doing the same workout he was doing before he signed up. You use GPS, photos and other methods to verify your activities.
Make sure you pay attention to goals and set up a vacation when you need one so that you don't end up paying if you miss out.
11 Best Weight Loss Apps in 2020
Lose it Weight Loss App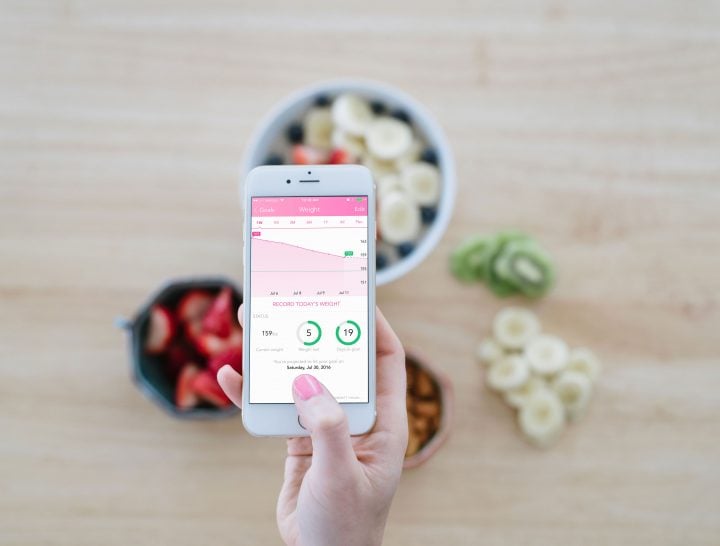 Lose It is a free weight loss app for iPhone and Android that helps you achieve sustainable healthy weight loss. This tool includes an app as well as a website so you can see your information on your computer as well.
You can connect to people, your various devices and food information that will help you lose weight with smart decisions. Lose It helps you create a personalized weight loss plan with goals that include a goal weight as well as total wellness and fitness.
The app includes access to a verified food database that helps you track your calories with easy searching, or add custom foods and you can share recipes. You can also scan a UPC to add food.
Lose It connects to other apps like RunKeeper, Nike+ and a variety of devices and scales to help you track all of your fitness data easily and intelligently. You can create goals with a group of friends, challenge friends or yourself and get support from the group to stay on track.

Lose It is free, with a $39.99 premium option that includes much more tracking, meal planning and other upgrades.

As an Amazon Associate I earn from qualifying purchases.