How to Limit Volume on iPhone and Android
This guide will show you how to limit the volume on mobile devices like the iPhone, iPad, and Android. We'll also go over why you may want to limit the sound on your kid's phone to protect their hearing. Or on any device for that matter.
A recent study suggested that nearly 50 percent of teens and young adults get exposed to unsafe volume levels from mobile devices. And 40% of that is potentially damaging levels of sound. That's over 1 billion people at risk, which is why setting a volume limit is probably a good idea.
Read: How to Equalize Volume on Mac
In my house, there's always a battle for sound. Everyone is constantly turning up the volume to compete with other TV's, smartphones, or tablets in use. Sound familiar? This is a recipe for disaster, especially when my daughter cranks her tablet to 100% to hear it over the TV, even if it's only a few inches away.
While one instance of high-noise exposure can cause damage to our ears, repeated use of electronic devices is just as threatening. Thankfully, there are settings on iOS and Android to set volume limits. There are even apps you can use to lock these in place behind a password or pin.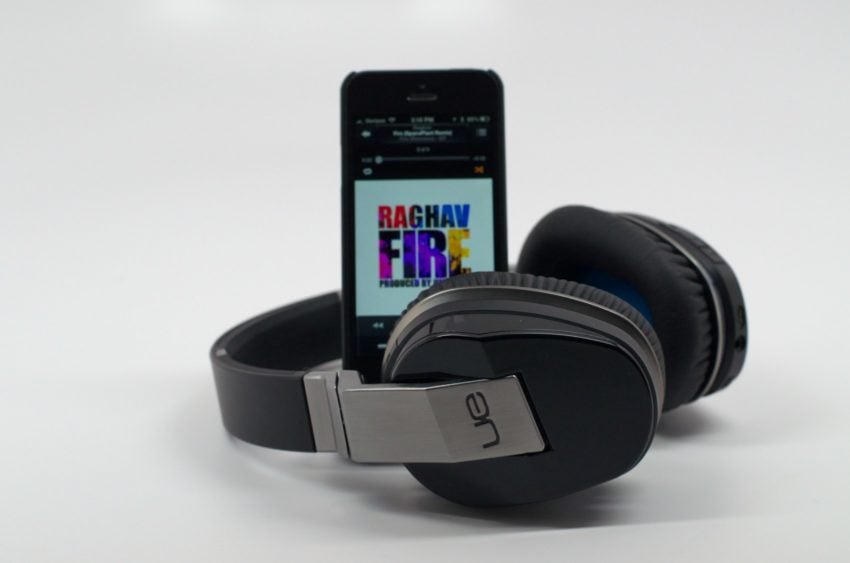 Additionally, setting a volume limit on mobile devices is helpful for an array of reasons at home. Of course, the main reason is to prevent hearing loss or damage. It's also a good way to control the overall noise in your living room and limit how loud your children watch videos and YouTube.
We recommend setting volume limits and practicing safe viewing habits, but not everyone thinks about that. Whether you want to control your kid's device so you can hear yourself think, or want to protect their hearing, here's how.
How to Limit the Volume on iPhone & iPad
On all Apple devices like the iPhone, iPod, or iPad there's a setting for choosing a volume limit. This allows you to select a limit for the max volume allowed on any device.
Instructions
Navigate to and select the gear-shaped Settings button
In Settings find and tap Music
Scroll down to the bottom menu called Playback
Select Volume Limit
Choose a level on the max volume slider (we recommend 75%)
It's worth noting that making this adjustment with a pair of headphones you or your child uses most often is helpful. Choose a level that is audible and will offer a good experience, but that is still safe. If it's too low, kids will instantly try to turn it back up.
Another option is headphones designed to offer a safe listening experience for kids. Additionally, look for closed-back headphones that block out external noise. As those will offer more sound without increasing the volume to unsafe levels.
Restrictions
One problem on Apple devices is that there's no password or pin to lock the volume limit in place. That's where restrictions come in, an area of parental controls for Apple devices. Once you've set the max volume limit per our instructions above, use restrictions to lock the device. This way no one can change any settings, and that includes the max volume limit.
To start, navigate to Settings > General > Restrictions > Enable Restrictions. Now add a pin to lock the restriction, then scroll down the "Allow Changes" section. Find volume limit and select "Don't Allow Changes". Now the volume is at a safe level, and kids can't change it.
As a last resort try downloading apps like Volume Sanity from the App Store. This limits volume across the board on an app level.
How to Limit the Volume on Android
Next, we'll go over the different options to set a volume limit on Android smartphones and tablets. Not all Android devices have a volume limit option, and if not, you'll need to use one of the many apps we've outlined below.
Android Apps to Limit Volume
There are several apps that can limit the volume on Android devices. Most have more than one option, quick toggles to turn it on and off, and even a password lock so kids can't change it later. These are a few we recommend.
Limit volume is full of useful settings. You can set a limit for each sound individually, toggle them on or off easily, and even hide the notification at the top of the screen. That way kids don't find out something is limiting the sound. If they do, you can lock it behind a password or pin for total control.
Limit Volume on Samsung Devices
Most recent smartphones from Samsung (Galaxy S6, Galaxy S7, Galaxy S8, Note 5) have a limit volume option. One where you can set the max level and lock it with a password. These same steps apply to most Android phones and tablets, but not all.
Instructions
Navigate to and select the gear-shaped Settings button
In Settings find and tap Sound, or Sounds & Notifications
Select Volume
Tap the 3-dots "more options" button near the top right of the screen
Turn ON Media Volume Limiter and adjust the slider to a safe level
Again, we recommend using a pair of headphones while setting limits to make sure it's a reasonable level of volume. Be sure and turn up the headphone volume (if available) to full volume while you test to make sure it's not too loud or too quiet.
Additionally, once you set a limit Samsung allows for a volume limit PIN to lock the setting in place as shown above. This feature is on most Samsung smartphones running Android 7.0 or later. Select devices from LG, HTC and Motorola may offer something similar. If not, try the apps mentioned above.
Other Details
Of course, we also recommend investing in quality headphones or headphones approved for use by children. Another idea is to look into similar settings for a PC or laptop, your TV, or any other media device being used in your home.
That's all there is to it. Now you can rest easy knowing your kids are listening to music or videos at safe levels. Or get your sanity back because they're not watching YouTube while turning the volume to 11.

As an Amazon Associate I earn from qualifying purchases.