How to Move Chrome's Address Bar to the Bottom of Your Android Screen
In this guide we'll show you how to move the Google Chrome address bar to the bottom of your screen. This makes it easier to use your phone one-handed. Additionally, these steps can move it back to the top if you're using the Chrome Browser beta.
These days most phones have huge screens. Trying to reach all the way to the top of the display to enter a website address isn't an ideal situation. Especially for those with smaller hands. Thankfully, we can easily move it to the bottom of the screen.
Read: How to Enable Fullscreen Apps on the Galaxy Note 8
Earlier this year Google changed the website address bar from the top to the bottom. However, this helpful change is only in the developer and beta version of the Chrome Browser for Android. Meaning almost no one has it. However, you can get it by following our quick instructions below.
It's not a big change or crazy new feature, but this does make it easier to use your phone with one hand. Additionally, our trick adds a more modern user interface to Google Chrome for Android.
How to Move the Chrome Address Bar to the Bottom of the Screen
There are tons of hidden features and settings in Chrome. These are known as "flags" but changing the wrong one will mess up your web browser. So, only change the flags detailed below.
Instructions
Open the Google Chrome Browser on your Android phone or tablet
At the top, type chrome://flags and hit the enter (type this where you usually write www.google.com) This takes you to a page full of experimental settings.
Scroll down and find Chrome Home. Or, tap the three dots in the top right corner and select Find in page. Now search for Chrome Home to quickly find it
This option is set to Default, tap it and change it to Enabled
A pop-up will ask you to relaunch the browser but do not restart Chrome yet
First, look a few lines down for Modern layout for Chrome Home
Tap the flags/#enable-chrome-home-modern-layout and set it to Enabled
Now, just restart Chrome by tapping the blue Relaunch now button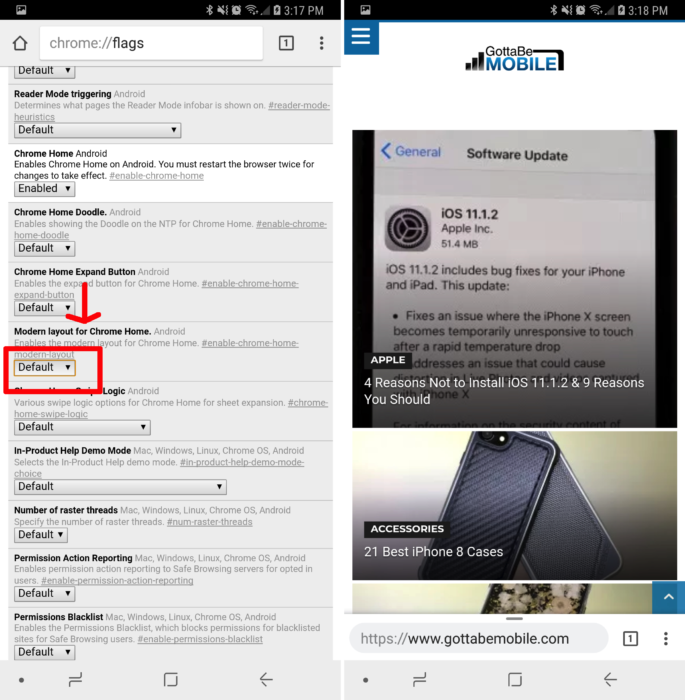 Once Google Chrome restarts you'll see a completely different browsing experience. Chrome's address bar is now at the bottom of the screen, and it has a nice rounded modern user interface.
Read: How to Delete Your Chrome Browser History
You can swipe up on the address bar to find your bookmarks, or to see a tile-view and list of your recent or frequently visited websites. It's a small change, but you'll have an easier time typing in websites and browsing Google Chrome with one hand, or with two.
If you're using the Chrome beta and don't want the address bar on the bottom, follow the steps above and disable both of the flags we just mentioned. Then, it will revert to the top like before.

As an Amazon Associate I earn from qualifying purchases.