How to Enable Fullscreen Apps on the Galaxy Note 8
This guide explains how to enable or force fullscreen apps on the Galaxy Note 8. The phone has a big new 6.3-inch Infinity Display that's taller and skinnier than most phones. As a result, some apps don't fill up the entire screen. This new aspect ratio is causing problems for some and here's how to fix it.
After opening certain apps and games you might see black bars on the top and bottom of the screen. Below the notification bar and above the on-screen keys. This is due to the new 18.5:9 aspect ratio that's different from most phones, and apps aren't ready for it and end up wasting all that screen real-estate.
Read: 20 Best Galaxy Note 8 Cases
You may remember a similar situation with 16:9 widescreen movies and video on TV a few years ago. Until more app developers adopt this standard, you'll need to enable "full screen apps" in the settings menu on the Galaxy Note 8. We're seeing a similar situation on the LG G6 and Galaxy S8.
Most Android apps easily and instantly scale up to fill the entire screen. Google has a system in place so apps scale to fit phones, tablets, or even Android TV devices. It works most of the time, but not always. If so, you'll have black bars on the top and bottom just wasting that beautiful big 6.3-inch screen.
If you're experiencing black bars with some apps on the Galaxy Note 8, you'll need to quickly change these settings.
How to Enable Full Screen Apps on the Galaxy Note 8
So far most apps work perfectly with the bigger display. Even when they don't, it doesn't cause any problems it's just not using the phone to its fullest potential. In some situations, games zoom in and end up cutting off important on-screen buttons or part of the actual game. Here's how to fix it for any and all apps.
Pull down the notification bar and head into Settings (gear-shaped icon near the top right)
Find and select Display
Select the option labeled Full Screen Apps
Find any app that isn't highlighted and switch full screen mode to on
Our image above is a quick glance at exactly what you'll be looking for. This will force apps into full screen mode on the Galaxy Note 8. Again, most apps work just fine out of the box. The ones that aren't highlighted work as soon as you manually force it with our instructions above. Like Snapchat and some games.
Next, hit the home button and open the app again to enjoy a full-screen experience. It's also worth mentioning that videos have a similar problem but a pop-up will prompt you to enable an "expanded view" for the best experience. Look for a button that pops up showing a square with two arrows facing up and down. This expands the video to full screen mode.
Enable Full Screen Mode on the Go (Easier Method)
Additionally, Samsung has two other methods that allow you to easily enable full screen mode on the fly. Basically changing each app individually as you use it, rather than stopping what you're doing and fumbling through the settings menu.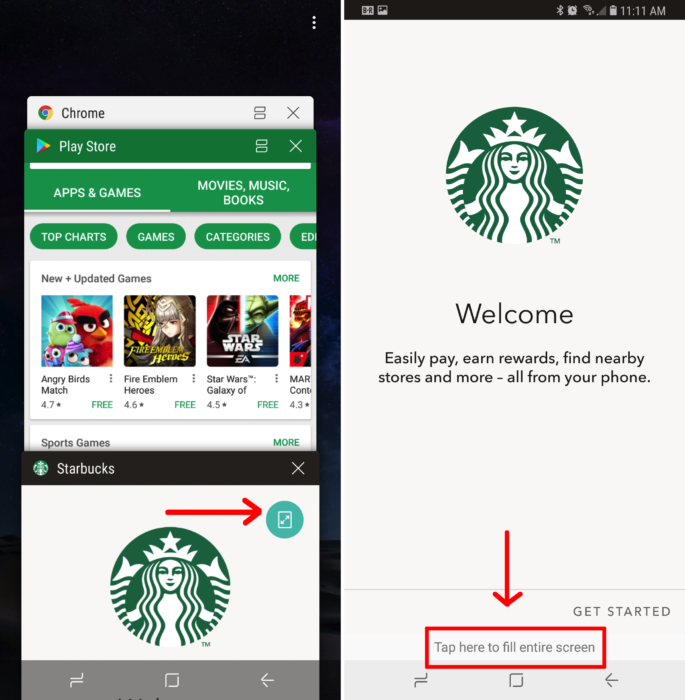 Open any application
Hit the Recent Apps (2-lines) on-screen button at the bottom of the screen
When supported, a green icon with two arrows to stretch the screen will pop-up over the app.
Tap this to instantly force full screen mode for that app
Or hit this icon to disable it if an app doesn't look right.
You may also notice some apps have a small notification on the bottom of the screen (like the Starbucks app shown above) that says, "Tap here to fill entire screen". One press and the app will reload in full screen mode.
Should You Do This?
Whether or not you do this is up to you. If you want to enjoy apps, games or the web on the full 6.3-inch screen you paid for, enable this option. And while you may have a problem here and there with some apps, most work perfectly. I only had one game that didn't look right, but within a few days, they issued an update that fixed it.
Samsung is essentially stretching out apps to better fit the full screen. Similar to what the Netflix app does with select shows or movies, or how we can zoom in with cable TV. Set each app to force full screen mode all the time, or toggle it on and off with the on-the-go instructions above. While you're here, consider one of these 8 Best Galaxy Note 8 screen protectors.

As an Amazon Associate I earn from qualifying purchases.