How to Record Your iPhone Screen (No Jailbreak or Computer Needed)
Forget complicated setups or connecting your iPhone to your computer. With iOS 11 it is easy to record your iPhone screen without a jailbreak or a computer.
While you could use apps like AirShou or plug into a computer to record your iPhone screen with QuickTime, it's not the best way to capture game recordings or to quickly record a clip to show someone how to use an iPhone feature while you are out and about.
The iOS 11 screen recording feature allows you to record your iPhone screen at full resolution and also record your audio as well. This lets you quickly give someone directions or you can use it for a gaming voiceover.
When you finish recording your iPhone screen it saves to your camera roll, so you can send it as a message or upload it to YouTube. You'll need to turn on the screen recording option, and then you can use it to capture your iPhone screen.
First we need to add the Screen Recording Shortcut to the Control Center. This is the easiest way to record your iPhone screen.
Go to Settings.
Tap on Control Center.
Tap on Customize Controls.
Tap on the Plus next to Screen Recording.
This sets your iPhone up so that you can use the iPhone screen recording tool whenever you want.
Open the iPhone Control Center. This is a swipe up from the bottom on most iPhones or a swipe down from the upper right on the iPhone X. On this screen, you will need to tap on the Screen recording icon to start recording.
The standard action records the sounds from your iPhone, like in game audio or music, but you can also choose to use the microphone to record your voice if you need to tell someone where to tap or if you are adding commentary to a video clip.
If you want to record your audio, 3D Touch and then tap on Microphone Audio to turn that option on. This will use your iPhone microphone or headphone microphone if it is plugged in. Tap on Start Recording.
No matter which option you choose, you will get a three second countdown, which is enough to get out of Control Center so that you can get ready for recording your clip. Now you can use your iPhone like normal and it will record the screen.
When you are done, tap on the red line at the top of your screen. Then tap on Stop Recording. This will stop the recording session and save it to your camera roll.
You can then edit it using the Photos App. Tap on the clip you want, and then on Edit in the upper right corner. Now you can drag the black edges on either side to trim the clip. The arrows turn yellow as you trim it and you can change the length by moving the arrow on either side. Tap play so you can see the clip with it trimmed to the new length.
When you are ready, tap on Done. Choose Save as a New Clip and it will save to your Camera Roll as a new clip leaving the original untouched. If you want more editing options you can edit it on iMovie on your iPhone or transfer to your computer to edit there.
The Best iPhone X Cases
x-doria Defense Lux iPhone X Case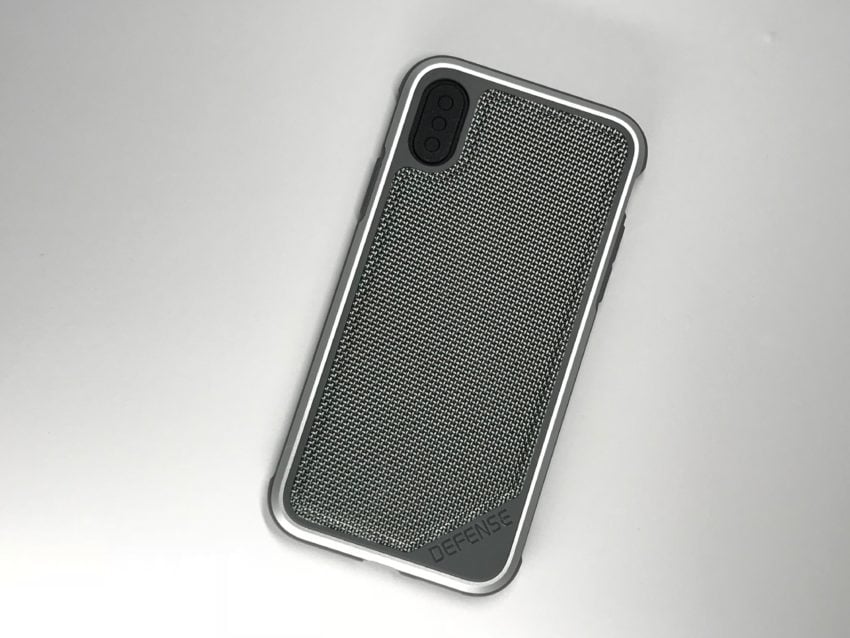 The x-doria Defense Lux iPhone X case is amazing. This case looks great, feels awesome and offers military grade drop protection without adding much bulk.
We love the look of this case in Ballistic Nylon and Black Carbon on the iPhone X. These cases not only offer a cool look, but the back is actually textured like the material listed. The Ballistic Nylon case has a soft, but grippy feel to the back just like you'd expect from looking at it. The Black Carbon feels like textured carbon fiber and looks awesome.
We didn't mean to, but we did drop our iPhone X in this case and our doorbell camera caught it on video. The case iPhone survived without any problems.
x-doria designed this case to protect your phone from drops up to 10 feet on concrete and there is . sound channel to direct the speaker towards you instead of straight out the bottom. The raised edge keeps the screen safe when setting the phone face down on a table.
$34.99 at x-doria

This article may contain affiliate links. Click here for more details.