How to Reset a Frozen Galaxy S6
Now that the Samsung Galaxy S6 is more than a few years old it's starting to show signs of aging. If your Galaxy S6 is frozen, unresponsive or acting funny you can't just pull out the battery like older models. It is no longer removable. However, this quick guide will show you how to reboot or reset a frozen Galaxy S6.
Read: 5 Quick Chargers for the Galaxy S6 & Galaxy S6 Edge
This doesn't happen often, but if you're experiencing problems and your phone freezes you won't know what to do. Luckily you can hold a few buttons in a specific combination to quickly reset the phone and get it working again in under a minute. Here's how.
The first time you use the phone, you'll receive a few notifications once you have the device all set up, and then a little "Help, Advice, & Tips" pops up that you'll have to tap OK to remove. This tip tells you how to completely reboot your phone if it's frozen. It reads: "If your device is unresponsive, press and hold the Power key and the Volume down key simultaneously for more than 7 seconds to restart it."
Instructions
As a reminder, this will not erase any data or content on your phone.
Press and hold down the Power key and volume down key at the same time
Hold both buttons down for 7-10 seconds, or until the phone vibrates and restarts
If the phone turns off let go then press power again for 1-2 seconds to restart the phone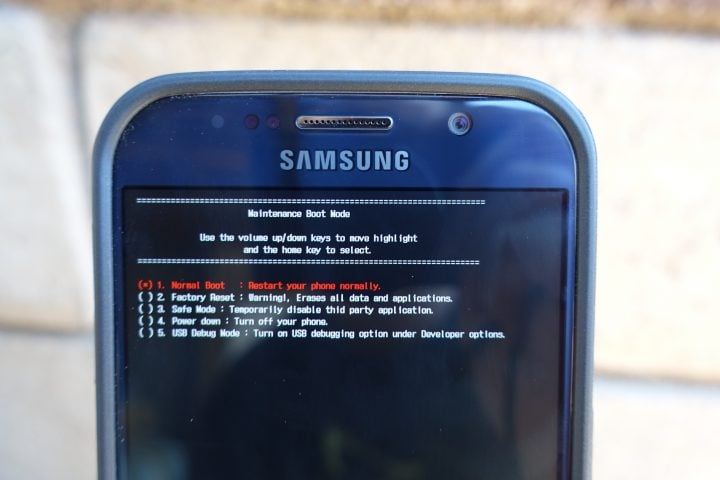 Just as it mentioned above, all you need to do is press and hold the power button on the middle right side of your Galaxy S6 and the volume down key. Simultaneously hold down for seven seconds. If your device was frozen it will likely just reboot as you expected, and you'll be back to using your device in seconds like nothing ever happened. However, it may also reboot into a maintenance boot mode as shown above.
From here you can reboot your device normally, or do a factory data reset (which will erase everything) so be careful. Booting into safe mode will disable 3rd party apps in case one of those was causing the issues. Other options include powering the phone off or boot into debug mode for developers. Skip all of that and just reboot your phone.
You can control this menu with the volume up/down keys, and to select an option hit the dedicated home button or power. Be careful not to do a factory reset, and just reboot your device. That's all there is to it.

As an Amazon Associate I earn from qualifying purchases.