How to Share Your Location in Google Maps
When it comes to directions and navigation Google Maps is one of the best options around. Used by millions of smartphone owners. It's constantly improving, and in March Google added one of the most requested features. Real-time location sharing. Here's what you need to know, and how to share your location in Google Maps.
Think about all the questions you get while traveling. When will you be here? What's your ETA? Did you make it home safe? All of those questions can be instantly answered with location sharing in Google Maps.
Read: How to Use Google Maps Navigation Offline
Better yet, by setting up Google Maps to share your location with friends or family, it keeps you safe on the road. By preventing text messages full of questions, or drivers responding with information and taking eyes off the road. This is an old feature Google Maps has been missing, and now it's here. Read on for more details.
In both Google Maps for Android and iOS this feature will be available to all. Right inside of the app, and with just a couple of taps, share your location with whoever you want. Google's added tons of controls, time limits for location sharing, and much more for those with privacy concerns.
Users can share a location (or navigation progress) with one or multiple contacts. Not to mention time intervals of just 15 minutes of sharing, to three days. There's even an "until you turn it off" setting for those who really need it. Users will get email reminders that sharing is enabled, and see a notification inside the app at all times.
Location sharing works on smartphones, tablets, and PC or web browser version too. Meaning basically anyone and everyone can check it when needed. Furthermore, location sharing can be initiated from inside the navigation screen. Making users take even less steps to quickly share the information with friends or family. Now that you know how it all works, here's how to use it yourself.
Instructions
Google has made sharing your location or navigation progress inside Maps extremely simple. Then, all the time controls and limits are great for those concerned with privacy.
Open Google Maps to start, or begin navigation
Tap the "blue dot" you are here icon, or swipe from the left to open the menu
Now simply select "Share Location" or "Share trip in progress"
Next choose who to share with, which location, and for how long
Use the messaging or email app of your choice to share location
Send location to recipient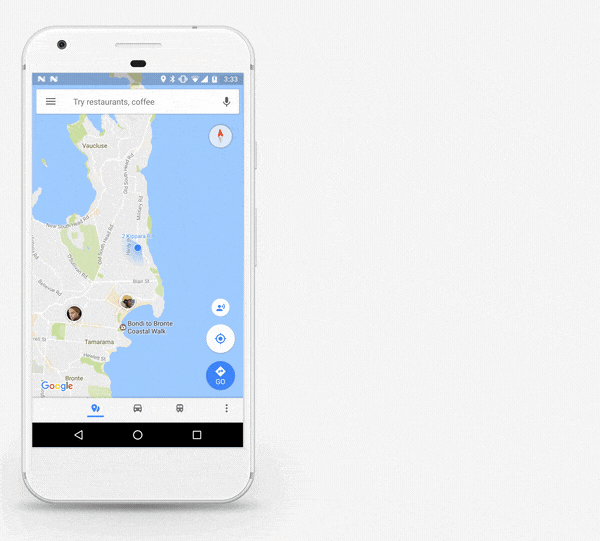 Now friends or family can simply open the link sent and instantly fire up Google Maps and get real-time updates and details on your location. This will show where you are, or follow along the road during a long trip or vacation.
This feature was once included in Google Latitude and baked into Google+, but has since been removed. Now, as of March 22nd, 2017 it's inside Maps for everyone. Additionally, this has been an option in the Google-owned Waze app, too.
Read: 12 Google Maps Tips & Tricks
In closing, another options similar to this for families is Google Trusted Contacts. Allowing for real-time sharing of location and other information. With Google Maps continuing to evolve, Apple Maps has their work cut out for them. This feature was just added and should be available to all now, or in the near future.