How to Stop Autoplay Videos on Twitter
Today Twitter announced plans to introduce autoplay videos to those using Twitter on iOS and the web. This new feature means that native videos, GIFs, Vines, and ads will all autoplay in a user's timeline. A lot of people will want to shut this feature off and today we want to show you how to stop autoplay videos on Twitter.
Before today's announcement, GIFs, Vines and native videos in your Twitter timeline would require a click before they'd begin. That's all changed today with the introduction of a more seamless video experience with autoplay" for Twitter. Now, all of this media will begin without having to tap anything. Some people will love this, some people will absolutely hate it.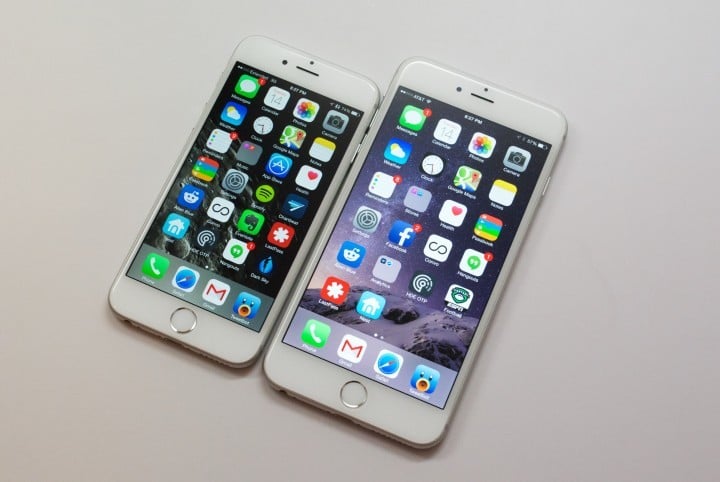 The move brings Twitter in line with Facebook and Instagram. There, ads and other video content is served silently and automatically. To bring up the audio, all you have to do is tap. Even if Twitter makes it seem like this is all about the user, it's the final sentence that make the company's intentions clear:
If you're an advertiser looking for more information, check out our advertiser blog.
Fortunately, Twitter is offering a way to opt-out of autoplay videos though it's blog post on the new feature doesn't go into detail about how to stop autoplay videos on its website. And that's precisely why we want to take you through the process, step-by-step and tell you how to quickly stop autoplay videos on Twitter.
How to Stop Autoplay Videos on Twitter
Right now, Twitter autoplay videos are only available on the web and on iOS. Twitter says that Android support is coming soon though it hasn't outlined a specific date.
If you're on iOS and you want to stop Twitter autoplay videos, you'll first want to open up the Twitter app for iOS. Next, you'll want to tap on the Me pane in the bottom right corner of the app. This will bring up your profile page.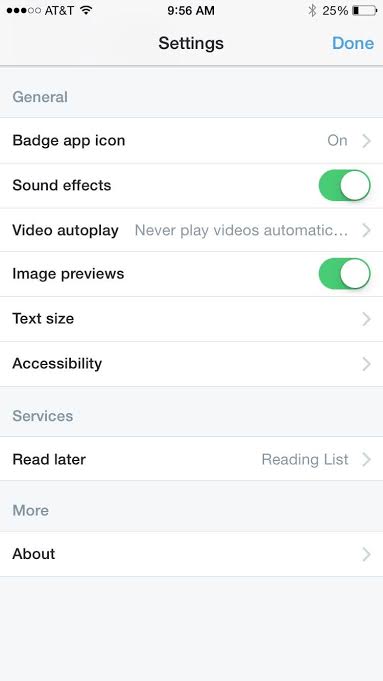 From there, click Settings. Once you're in Settings, you'll want to scan down and find the Video autoplay section. It's bolded and it's hard to miss. Tap it and you'll be confronted with three options.
The first option will load autoplay videos using mobile data and Wi-Fi connections. Those of you that are concerned about your data bucket might want to flip this off.
If you don't want to use mobile data loading up these videos, you can opt to only load them over a Wi-Fi connection. Using a Wi-Fi connection won't impact your data plan though this option will still keep Twitter autoplay videos running on your phone or tablet.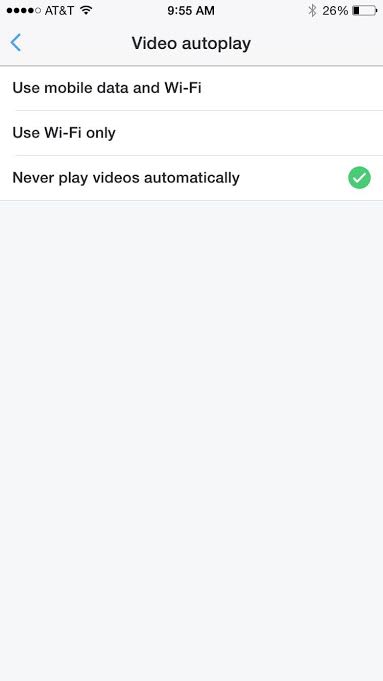 The third choice is the true opt-out option. Twitter allows you to shut down autoplay videos completely so that GIFs, Vines, and ads never autoplay on your iPhone, iPad or iPod touch.
The company gives you the option to change whenever you want so if you decide that you actually like seeing autoplay videos in your Twitter timeline, you can go back and turn them on.

As an Amazon Associate I earn from qualifying purchases.