How to Disable Text Message Previews on Galaxy S9
In this guide we'll show you how to disable text message previews on the Galaxy S9. That includes pop-ups from text messages and the previews on your lock screen. These days privacy is very important, and this is a quick step you can take to prevent sensitive information from being easily visible on your phone.
Samsung's smartphones have a lot of neat features or customization options. In an effort to make life easier, you see a preview or even an entire sentence of incoming messages in multiple places on your phone.
Read: How to Disable the Galaxy S9 Always-On Display
And even though no one can get access to those messages without a fingerprint, pin, password or facial scan, it still shows sensitive information. So while most Galaxy S9 users love text message previews and pop-ups, here's how to get rid of them if you don't. This is especially helpful if your Galaxy S9 is a work or business phone.
Out of the box, your Galaxy S9 uses Samsung's Messages app. And while there are a lot of different text messaging apps available, most use what came on their phone. As a result, disabling the text message previews is really simple. There are a few different steps we need to take though, and here's how to get started.
Disable Text Message Popup Previews
My favorite feature is the pop-up notification and window for an incoming text. Allowing you to quickly see and reply to a message without leaving the app you're currently using. This popup shows who the message is from and a preview of the conversation. That's nice, but this can also get you in trouble at work, or display sensitive information.
A similar notification appears in the bar at the top of the phone. If you pull down the notification bar, you'll see a sample of the text, and even a few lines of the entire message. We'll turn that off first.
Open Samsung's "Messages" application on the Galaxy S9
Tap the 3-dots menu button at the top right, and select Settings
Click on Notifications and then "more settings in app"
Next, turn off or uncheck the Preview Message option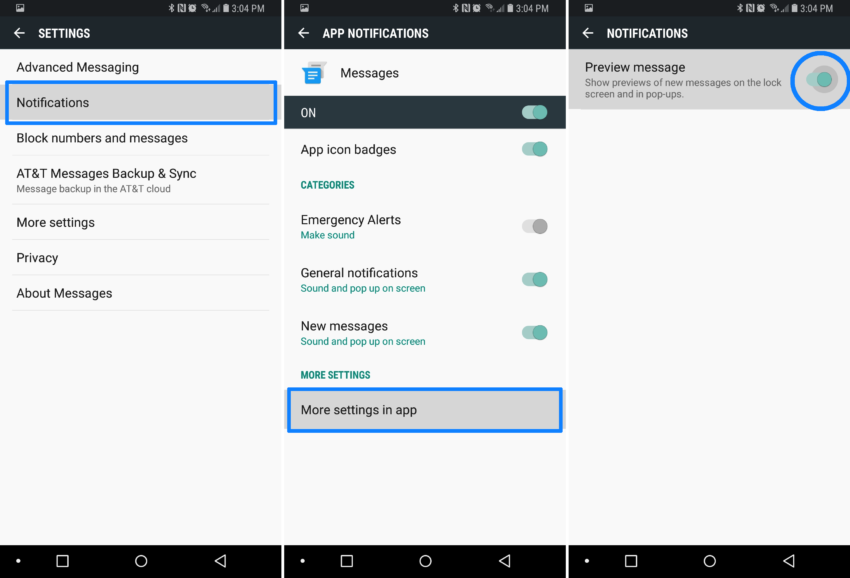 Once you uncheck that option your phone will no longer show previews of new messages on the lock screen or in pop-ups. Instead, you might see a notification that says, "New Message". Keep in mind that some models (like the Verizon Galaxy S9) use a different text app. Look for a similar setting on your phone.
The only problem with this is you'll lose the pop-up messages too, which is a feature most owners enjoy. However, follow the next set of steps instead to only remove the lock screen preview.
Disable Lock screen Message Previews
If you still want to get text message popups and previews, but don't want them on your lock screen, here's how. We simply need to customize the Galaxy S9 lock screen content specifically, instead of turning off features in the text application.
Open Settings by tapping the gear-shaped settings button in the notification bar
Select Lock screen & security
Scroll down and tap on Notifications
Now, select the Hide Content option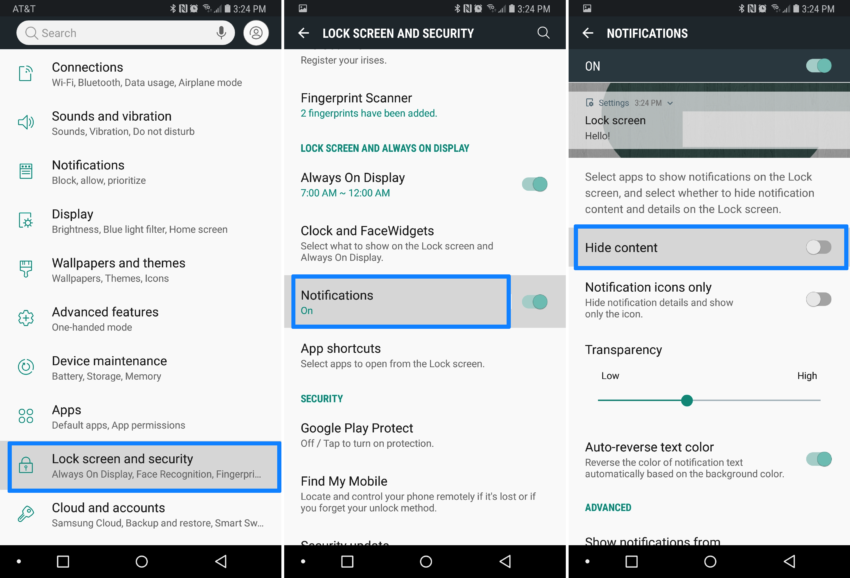 As you can see, Samsung gives you a lot of options to customize the lock screen and notifications. You'll see a preview of what these notifications look like in this settings menu. That way you can make changes and get it exactly how you want.
Once you select to hide content you'll still see notifications and know you're getting incoming texts or emails. The phone will just hide the content and previews from prying eyes. This provides extra security for those that need it. While you're here, take a look at these best Anti-virus apps for Android, or keep your Galaxy S9 screen safe with these screen protectors.