How to Use Emoji on Android
This quick guide will explain how to use emoji on Android. Over the past year Google has added hundreds of emoji, and users now have plenty to choose from. Read on to find out where they are, what options are available and how to use them.
Emoji characters while typing have become increasingly more popular on Android and iOS. Android 6.0 Marshmallow added over 200, and Nougat has even more. Both Apple and Google continue to improve their offering, which is good for everyone.
Read: How to Use Galaxy S7 & S7 Edge Emoji
Below is a quick guide explaining where they are, and the easiest way to use Android emoji while typing. You won't need a new keyboard either, they are built right into stock Android. Additionally, multiple 3rd party keyboard add even more.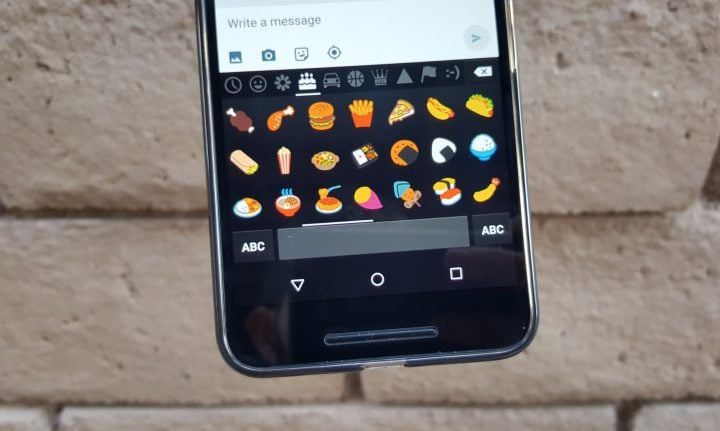 Many manufacturers like Samsung have additional emoji for its smartphones. Our guide above covers Samsung.  Then, third party text apps like Textra have add-ons that will deliver iOS characters for Android users. None of that is needed if you run Android 6.0.1 Marshmallow or newer. Which, almost everyone should be.
With that out of the way, here's how to find and use all of the Android emoji. Ars Technica has a nice list of all the new ones, and what's changed.
Instructions
In order to take advantage of the new Android emoji images and characters that were added to our phones or tablets users will need to be running Android 6.0.1 Marshmallow. Once they are, they're built right into the stock Google Keyboard. If you have an older phone, other methods are required.
Read: Android Nougat vs Android 6.0 Marshmallow
Users can simply head into their text message application of choice, the messenger app on Nexus smartphones, or even Google hangouts and start typing. Same rules apply to an email. Users just need to hit the emoji "smiley face" on the keyboard, or long press for access. Swipe between them to find what you want, as there are a lot of them.
While using Google Keyboard, depending on the application you are in the emoji icon will automatically appear in the bottom right. Alternatively it will be the secondary action under the "return" key. In Google Hangouts and many messenger apps, it's there by default. Tap the bottom right corner smiley, and flip through all the emoji. From tacos, smiley faces, hand gestures, flipping the bird and hundreds more.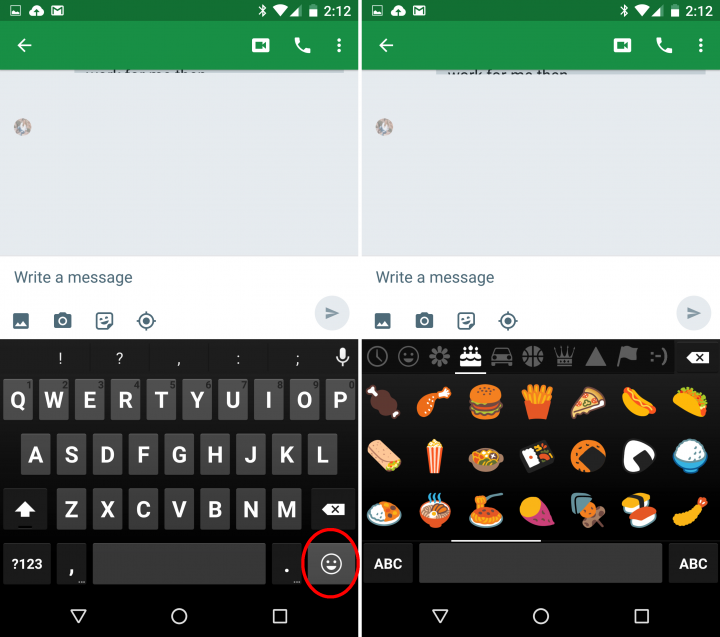 As you can see above (left) the emoji face is present by default while writing on Android 6.0.1 Marshmallow. Tapping will show everything in our screenshot to the right. Then, there are countless different columns (in black and white) to choose from. Scroll through and find what you'd like.
Other Details
With other apps, like Textra or text message applications, this may not be present. Instead, there is a return key like most keyboards for typing. Users just need to press and hold the return key, and the same smiley face as above will pop-up above it. From here just let go and the emoji keyboard appears full of the same options.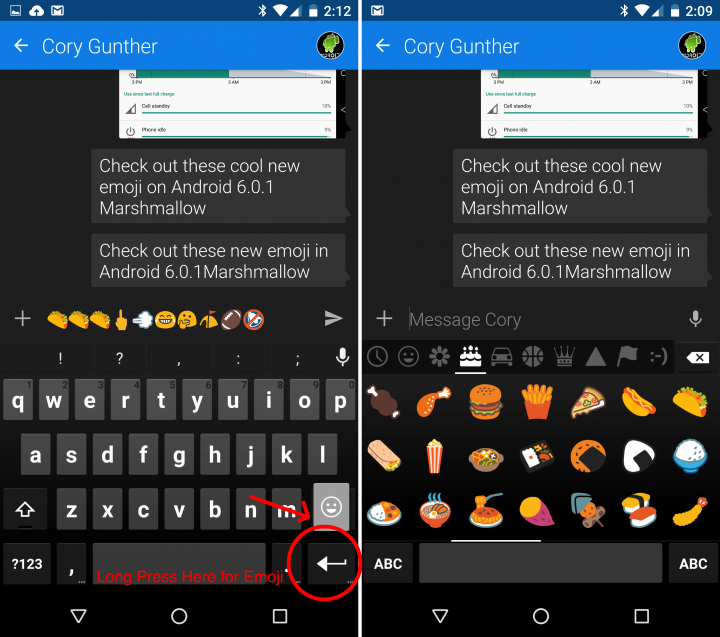 Shown above is how Google keyboard looks in use. Long-pressing the return key pops up a smiley face and then grants users access to the over 200 new emoji characters. That app is now called GBoard, but the same options remain.
It's worth noting that the small three dots under the period or comma (on either side of the space bar) can also be long-pressed for additional options.
No matter what you're doing on an Android smartphone or tablet, as long as the keyboard is available, users can access and use any of the emoji characters that were added in Android 6.0.1 Marshmallow. Considering most users have been updated to Android 6.0 or 7.0, everyone should have these options. If you have any questions, drop us a comment below.