How to Use New Emojis on iOS 9.1
The iOS 9.1 update adds 150 new emojis to your iPhone, iPad or iPod touch. This guide will show you how to use the new iOS 9.1 emojis.
This summer users gained the option to use the new diverse emojis with skin tone or skin color changes, and now there are new emojis for the iPhone and iPad with iOS 9.1.
This guide will show you what you need to know about the new emojis on iPhone and iPad and how to use the emoji keyboard on your iPhone with iOS 9.1. If you don't see the new emojis you need to install iOS 9.1.
Apple is not in charge of creating new emojis, but the company does need to add support for them in software updates like iOS 9.1.
If you attempt to send the new emojis on iOS 9.1 to an Android user or to an iPhone user that has not upgraded they will not see the new emoji, just a box or a odd symbol.
Here is a closer look at the new emojis in iOS 9.1 that are on the iPhone emoji keyboard and how to use the new emoji options.
How to Use New Emojis on iOS 9.1
There is an iPhone emoji keyboard turned on by default. This is not new with iOS 9.1, but it is how you will access the new iOS 9.1 emojis.
After you install the iOS 9.1 update you will see the new emojis mixed in with the older emoji options on your keyboard. If you don't see the iPhone emoji keyboard you may need to turn it back on.
Open an app like Messages and tap in the text field. Now tap on the smile face on your keyboard. Some users may not see the smile face next to the space bar. If you use multiple languages you may see a globe.
If you cannot access the iPhone emoji keyboard at all you need to turn it back on. Tap on Settings -> General -> Keyboard -> Keyboards – > Add New Keyboard -> Emoji.
Tap on any of the new emoji that you see. You can swipe left and right to see more emoji. With 150 new iOS 9.1 emoji options, there are a lot to choose from.
When you tap on an emoji for the first time it may ask you to choose a skin tone or color. It will remember that color for that emoji, but you cannot set it globally. To change the color the next time you use it, you can long press on the emoji and slide up to the other color.
You could already use the Spock emoji on iOS 9, but Apple now adds the live long and prosper emoji to the default keyboard so that you can choose other colors for the Spock emoji.
There is no need to install a third-party keyboard to use the new emojis on your iPhone or iPad. These are built-in with Apple's support for the new unicode standards that the company who manages the global set of emoji change throughout the year.
In addition to the new emoji you can see what is new in iOS 9.1 in the slides below.
iOS 9.1 vs iOS 9: What's New in iOS 9.1
New iOS 9.1 Emoji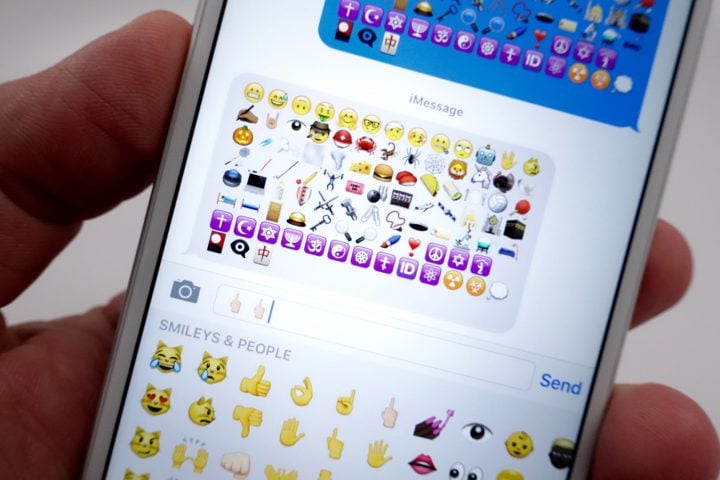 There are a lot of new iOS 9.1 emoji options to use when you install the upgrade. The most talked about new emoji is the middle finger emoji, but there is also a unicorn, a taco, a burrito, a lion, spider, new sports, gambling options and a lot of new faces.
Once you upgrade you will get access to the new iOS 9.1 emoji on your iPhone and iPad. Many of these support the multiple skin tone options that Apple added to iOS 8 over the summer.
If you send the new iOS 9.1 emoji to someone who does not have iOS 9.1 installed they will see odd blocks for many of the items you send.
You can use all the new iOS 9.1 emoji on the iPhone emoji keyboard that is on by default. You don't need to buy any apps to get the new emoji.

As an Amazon Associate I earn from qualifying purchases.