How to Use Split View Multitasking on iPad
With iOS 9 and higher you can now use two apps at the same time on the iPad Air 2, 9.7-inch iPad Pro and iPad Pro 12.9 with the Split View multitasking feature. This is very easy to use, and we will show you how it works on the iPad so that you can upgrade your productivity or just watch a video while you browse the web.
Apple calls this Split-View, but many users are simply calling it multitasking, multi-window mode or some other variation on the ability to use two apps at the same time on the iPad.
You will need iOS 9 or higher and you will need an iPad Air 2 or an iPad Pro. You can do some of the iPad multitasking features on older iPads, but the side-by-side multitasking only works on these two newest iPads.
Make sure you are on iOS 9 or higher and that you have updated your apps to the latest versions for this to work. Many apps are compatible with this and the feature will support using two Safari windows in iOS 10.
How to Use Split View on iPad
The Split View feature is accessible when you are in an app. So the first thing you need to do is pick the main app that you want to use. Both apps need to support the new Split View multitasking or you will not be able to swipe over to run two apps side by side on the iPad.
For this demonstration we will use mainly Apple apps as well as Twitter, which is compatible with the new mode already. The video above walks through how Split View works on the iPad Air 2 with iOS 9. This works with many more apps than in the video above.
Open Safari or another compatible app. Now swipe in from the right side of the screen.
This will place you in a mode that covers roughly a third of your screen and it may already show one item. If it shows an app that you don't want, pull down form the top of the third screen to reveal more apps. Scroll through and pick the app you want to use side-by-side on the iPad with iOS 9.
After you choose an app it will only fill up a small part of the screen to start. Now, tap and drag on the small bar to make it bigger, taking up half the screen or more. If there is no bar to drag then the app on your main window is not compatible yet.
When in the multitasking mode you can work in both windows and you can still use the on-screen keyboard. I prefer to use a Bluetooth keyboard so that I have more room to use the two screens and can get much more done while I use Split View with a full screen at my disposal.
When you are done, swipe the right window all the way to the right or press your home button to exit Split View.
13 Best 9.7-inch iPad Pro Cases
Stylefolio Pencil 9.7-inch iPad Pro Case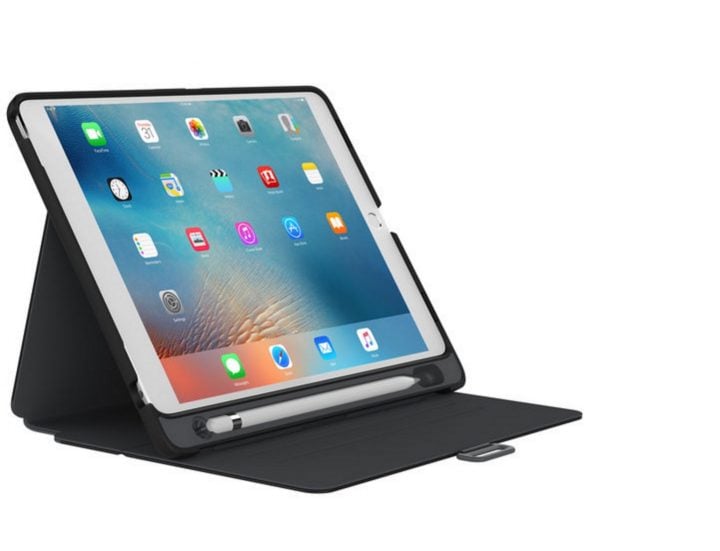 The official 9.7-inch iPad Pro cases don't include any way to carry the Apple Pencil and the smaller iPad Pro together without worrying about losing the pencil.
There is a small carrying area to store the pencil while you go somewhere with the iPad Pro, and there is also an inkwell spot to place the Apple pencil while you are switching between using it and using a keyboard.
In addition to carrying the Apple Pencil, this case protects the front and back of the iPad Pro while allowing you to use the iPad in a variety of positions. The pencil holder makes this slightly wider than other cases.
$59.95 at Speck