How to Watch March Madness Live (2017)
The 2017 NCAA Tournament and March Madness is officially here. The tip off begins March 14th, and will continue until we have a champion. Now that the games are ready to begin, millions will be looking for the best way to live stream March Madness online. Watch while you're at home, work, or on the go with our help.
Even those who don't have a cable subscription have several options to enjoy any of the over 65 games being played. We'll cover live streams for iPhone, Android, and connected devices like Apple TV or your computer. Don't miss out on any buzzer-beaters. Especially when it could be Kansas winning it all.
Most likely fans won't be able to watch all the crazy action or catch every game at home on the couch. As a result, we've round up a list of all the ways to watch March Madness live. Users can even stream it on Apple TV. Look at brackets, see the latest news and enjoy the live streams with our information below.
The selections were made on March 12th, and the first game officially happens on March 14th. Most apps have been updated with brackets and game-times, so lets get started. Download the multiple apps below and be prepared for what many consider the most exciting month in all of Sports. From the NCAA's own app, CBS Sports, or things like the ESPN Tournament Challenge. There is something for everyone.
March Madness Live
The official March Madness Live app is free for the iPhone, iPad, Amazon Fire, Android and Windows. With it you can watch games live from almost any device. It even allows select CBS games to be streamed for free. Although some will need a cable subscription login. Which is called a "paywall".
Most games will be available with this app, and it's the best place to start. It's worth mentioning that select games on TNT, TBS and TruTV are also behind a paywall. Meaning you'll need to sign-in with your cable subscription login info to continue watching. Keep in mind, there is a 3-hour window before you're required to sign-in. That's enough to catch a game or two.
March Madness live works great with the Google Chromecast, and there's even a dedicated version for Apple TV. I'll be using my NVIDIA Shield TV to catch all of the excitement. Who do you have winning it all? Kansas, or maybe Duke? Let us know in the comment section below. I'm sticking with Kansas. They have some serious shooters.
CBS Sports
Another excellent route is CBS Sports. Whether that's on TV, using a browser, or downloading mobile apps. It's available for iPhone or Android, works with Chromecast, and is widely supported by other means.
With CBS Sports you can follow, watch and listen to real-time news, scores, analysis and live action for your favorite teams. They have tons of brackets and most of the game are completely free to watch no matter what device you are on.
More details and the full NCAA Tournament schedule will be posted here. That's a great place to start and plan what to watch. Personally, CBS Sports is the best option for mobile. Between the awesome interface and push notifications, you'll never miss a moment. Like a game-winning 23 foot shot from Gonzaga. It's happening. Their analysis is great, too.
Sling TV
A new favorite of mine when it comes to watching sports is Sling TV. Because its live TV streamed over the internet to basically any device I own. From my computer, Android phone or tablet, to smart devices and more. Sling TV works with almost everything, and has all you'll need for March Madness.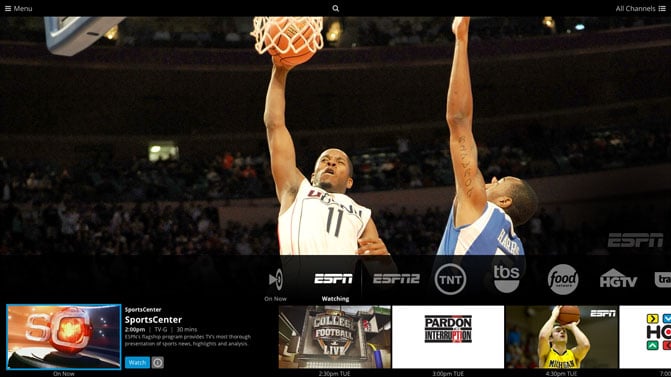 More details from Sling TV can be found right here. They cover from the ACC, Big 12, SEC and more with all the important ESPN channels. Not to mention Fox, Fox Sports 1, TruTV, TNT, TBS and more. Depending on your channel line-up, you should be able to watch virtually all games leading up to the big four, on any device.
There is one big problem though, and that's the Semi-final and Championship games, which are on CBS. This won't be available to Sling users without an old antenna. So download March Madness Live or consider other methods. They don't offer CBS, sadly.
For any new user there is a free seven day trial, but if you own an Xbox One you can sign up and get a 14 days of Sling TV free. That should get us through the busy games of March, right? After signing up on Xbox you can download the Sling TV app on other devices and watch mobile as well.
Browser
Users can also simply head to NCAA.com/March-Madness to catch every game right from a browser. Whether that be on your PC, laptop, or the browser on your mobile smartphone or tablet. The same thing can be done with CBS Sports, but it may require a cable sign-in and be limited to select games based on your location. Not to mention that 3-hour limit without signing in as mentioned above. The NCAA has a guide too, for those interested.
PlayStation Vue
As a reminder, Playstation Vue has all the important channels for the NCAA Championship too. Although you'll need to live in certain areas to watch the game you want, so keep that in mind. It's another option for those in need.
Listen to March Madness Live
We know, sadly not everyone will be able to watch every game. If you have a cool boss though, some will be able to listen to them live. There are multiple ways to do it, too. You can click play on the link below to listen to March Madness games live, right from your browser. Or use the TuneIn app to listen from almost any mobile device. Here's more on how to listen to March Madness games free. It's from last year, but almost all of the rules apply to March Madness 2017.
Other Details
Remember, the first game is played today, March 14th. Tip-off begins tonight and it will be non-stop action for a few weeks straight. Users will be able to watch the NCAA Championship live from smartphones, tablets, computers, media devices like Apple TV or Roku and much more this year. Most of it for free, too. Each and every year our options for watching on mobile gets better. In 2018 I'm looking forward to using YouTube TV.
Now that the full schedule is out, it's time to get fully prepared. Check the CBS schedule above, then download any app you think you'll need. Get ready, because the games are about to begin.
As a reminder, the National Championship on Monday, April 3rd. This will be on CBS, so use the info above to watch it live. We'll update with more details as they become available.