YouTube TV: Everything You Need to Know
Google's popular YouTube TV service is finally ready to take on the entire TV market after being available for nearly two years. Starting today it's available in 98% of households in the US. YouTube TV is a streaming service that competes with Playstation Vue, Sling TV and DirecTV Now. Here's everything you need to know, including the full February 2019 market expansion list.
YouTube TV gives you live TV, breaking news, sports, movies and more all on top of the endless library that is YouTube. Including original content, series, and uploads by millions of users. It combines everything into one for only $40 a month.
How much does YouTube TV really cost, what channels are available, is it available in my area, and are ads still on videos? These are just a few of many questions or concerns. Here's some more info, answers to those questions, and how it'll help you replace cable.
There is a lot of competition in this space, and it's only going to grow. Sling TV is growing in popularity and recently added cloud DVR recording, and Playstation has tons of users too. So what makes YouTube TV different and what sets it apart? Let's go over the basics.
What is YouTube TV?
YouTube TV is extremely similar to Sling TV and others, and basically the complete opposite of traditional cable TV. Instead of being locked into big contracts and bundled channels you don't need, it's a pay-by-the-month internet TV streaming service. Live television, sports, news, and movies will be available anywhere with an internet connection. It streams over the internet to any device, wherever you are. Instead of using a satellite dish or cable wire.
One of the biggest benefits is also a con at the same time. Instead of being forced into 2,000 channels like cable, YouTube TV offers a small list of the most popular stations. And while that's good, the options are somewhat limited. It's television trimmed down for the modern world, delivered in a modern way. Here's what you get.
Over 60 networks, such as ABC, CBS, FOX and NBC. Plus, popular cable networks like TNT, TBS, CNN, ESPN, FX and on-demand programming.
A cloud DVR with no storage space limits. This enables subscribers to record live TV and never run out of storage space. Also, you can record shows simultaneously without using data or space on your device.
The ability to watch YouTube TV on any screen – mobile devices, tablets, computers and TVs.
Six accounts per household. Every YouTube TV membership comes with six accounts, each with its own unique recommendations and a personal DVR with no storage space limits.
Half the cost of cable with zero commitments. A YouTube TV membership is only $40 a month and there are no commitments – you can cancel anytime.
YouTube TV Availability (Regions)
If you already know what it offers, you're probably wondering if you can get it. Google officially launched YouTube TV at the beginning of April 2017. They slowly added new markets or cities, but until January 23rd 2019 most people couldn't use it.
Now, to kickoff 2019 YouTube TV just launched in almost every major market, and is available to 98% of households in the United States. Basically, it's available almost EVERYWHERE.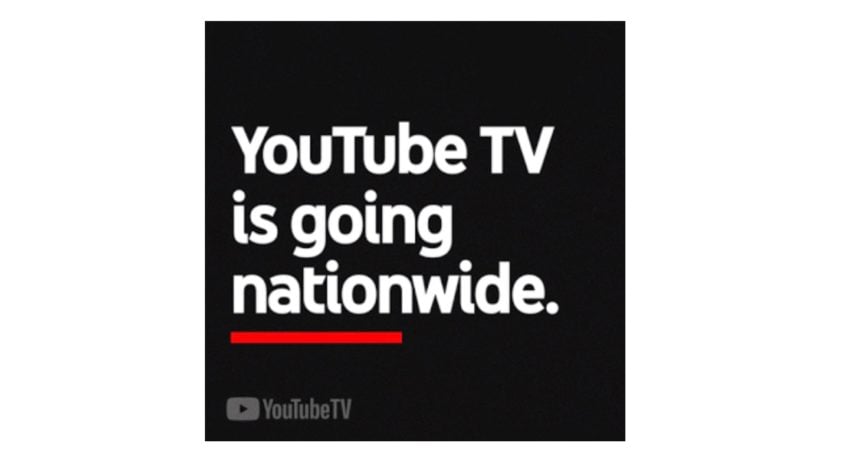 Now that Google fine-tuned the experience, added more channels, and are confident it can replace traditional cable TV, it's available nationwide. From New York City to Los Angeles and everywhere in-between. Click here to sign up and check eligibility.
YouTube TV Price?
Users want a lot of channels and content at an affordable price point. That's exactly what you'll get from YouTube TV. It might not be as cheap as Sling TV, but it delivers the same content plus a ton more.
Initially, Google offered it for a flat price of $35 a month, but with all the expansions, channel lineup, and free cloud storage you'll have to pay $40 a month for YouTube TV moving forward. Which, is still a pretty good deal.
Read: 10 Best Cable TV Alternatives 
Simply pay when you want it, and cancel at any time. Additionally, there are multiple "add-on" packages with more channels, at a higher price. Like Showtime, movie packs, and sports packages.
As a comparison, Sling TV starts out at $25 a month and has multiple $5.99 add-ons with sports, movies, EPIX, RedZone and more. It can easily go up past $55 a month all said and done. YouTube TV is one of the most affordable overall packages available today.
What Channels Are On YouTube TV?
Here is where things get interesting. This is YouTube after all, so the possibilities are almost endless. With thousands and thousands of hours worth of video uploaded to the site. The $40 a month access to YouTube TV gets all YouTube Original series, Red, and any other video ever uploaded.
However, you're probably wondering about the regular cable-like channel lineup. Google has a decent list of partners, and below is a small sample of the many channels you'll get for $40 a month. Plus, they're adding more all the time and will be adding tons throughout 2019.
As you can see Google has already partnered with some extremely popular networks. From ABC to Fox News or Sports, Disney, ESPN and more. Later they added AMC, BBC, Sundance TV, IFC and Spanish channels to the base $40 lineup — making it even more compelling.
YouTube TV For The Whole Family
A big question with these types of services is about who all can use it. Similar to giving out your Netflix login to family members or friends. This is a gray area with Google but we do have some answers.
Each YouTube TV account is shareable with up to six different Google accounts. And all six users will get individualized recommendations based on viewing habits, their own cloud DVR recording and more.
However, there's one big caveat to that. YouTube TV will only be able to stream to three accounts or devices at a time. So six have access, but only three can tune in and watch at any given moment. Sling TV offers multi-streams too, for what it's worth. Is three enough for your household?
Does YouTube TV Have DVR?
It's 2017, everyone wants to pause and rewind live television, or skip through the commercials. So this is understandably a big question mark.
YouTube TV has what's called "Cloud DVR' where users can record multiple shows at the same time, and they're stored in the cloud. So you'll never run out of space like some cable set-top boxes. YouTube TV users get unlimited cloud DVR space. However, recordings are only available for 9-months. Then they automatically get deleted. Recorded shows also have pause/play and you can skip commercials with fast-forward.
What Devices Can I Use for YouTube TV?
Last but certainly not least is the list of supported devices that have access to YouTube TV. Considering it isn't traditional cable, any regular TV won't work, but your Smart TV will. That said, there are multiple cheap products that will turn any TV into a smart one, like the Chromecast dongle.
YouTube TV is available to anyone anywhere, as long as you have something that can access it. Anyone with a smartphone, tablet, laptop, Xbox, Roku, Android TV, Apple TV, Airplay, Smart TVs, Nexus Player, NVIDIA Shield and more. Almost every platform has support, including iOS.
Get the YouTube TV app right here.
Other Details
With that all said, are you interested? YouTube TV has the potential to disrupt traditional cable while competing directly with Sling TV, PS Vue and more. In fact, they already are, and now that 98% of America can get YT TV, things are about to get interesting.
My favorite thing about YouTube TV is the recommendations. Google knows what we like, and they'll help us find more content at any moment. Finish watching an episode of The Walking Dead or Game of Thrones, and YouTube's famous "recommended videos" will pop-up with similar content, fan pages, fan theories, live streams with reactions and more. Don't just watch your favorite show, be a part of the community at the same time. The possibilities are almost endless.
Typical ads we see before and during videos on YouTube are still included in regular YouTube content. Meaning you are paying for a service and still get ads. Regular TV channels act like they do with traditional cable, and will have network ads.
For more details check out any of the many reviews available around the web. Stay tuned for more details, and we'll update this post as more channels and cities get added.