How to Watch the Apple Event Live on Windows
Today you can watch the Apple event live on Windows so you don't need to use your cramped iPhone screen to watch the historic Apple event where we may see the iPhone 6, iWatch, Apple's connected home, a new iPad Air and potentially more Apple announcements.
Update: How to Watch the September 2015 Apple Event for the iPhone 6s and iOS 9.
There is an official Apple event live stream direct from Apple so you don't need to look for a pirated YouTube video, but it is only good on Apple products.
Read: Apple Event Live Stream Problems
During the Summer Apple streamed to Windows PCs, but for the September Apple live stream it is back to Safari on OS X and iOS only.
Thankfully there is a trick to let you watch the 2014 Apple event live on Windows PCs, so you don't need to squint to make out the new iPhone 6 and other devices on a small iPhone screen.
The 2014 Apple event takes place on September 9th at 10AM Pacific, 1PM Eastern. This means you're probably watching at work where a lot of users are on a Windows PC.
We'll show you how to watch the Apple Event live on a Windows PC with a free program that is able to show a live HD Apple stream from the event even though you aren't on Windows.
How to Watch Apple Event Live on Windows
This short guide will show you how to watch the September 9th Apple Event live on your Windows PC or Tablet. This may also work on Android with VLC player installed. If you are trying to watch on a Mac you only need to use Safari.
First off you need to download VLC Player. This is a free app that can play many media types including the Apple event live stream.
After you download VLC Player install it and then open the app to see the screen above. Installation should take a few minutes so it is a good idea to do this ahead of the Apple event.
Once you are up and running you need to click on Media -> Open Network Stream. This will allow you to paste the Apple event live stream in so that you can watch.
You can test your setup using this sample Apple video, shared as part of the instructions on Reddit. Once the September 9th Apple event live stream starts you will need to paste in the actual URL.
Paste this URL in to watch the Apple Event live on Windows – https://p.events-delivery.apple.com.edgesuite.net/14pijnadfpvkjnfvpijhabdfvpijbadfv09/m3u8/atv_mvp.m3u8
If this works, you will see a video of a test image and hear sound. The actual Apple event live stream will vary quality depending on your connection but should go up to 720p.
Right now Apple.com redirects to the Apple event live stream for Mac, iPhone and iPad, but it will not let you watch the event on Windows according to the disclaimer at the bottom of the screen.
When the event starts you can find the right URL in this post or on the Reddit thread where other users are making sure this works for the September event.
If you use Chrome, you can also install the VLC plugin and it should automatically detect the stream and play it in your browser from the Apple Event live stream page.
What to Expect at the Apple Event
There are a few things you can count on Apple announcing on stage during the Apple event live stream. First and foremost is a new iPhone 6. We expect to see two models with 4.7-inch and a 5.5-inch screen sizes rumored. It is possible the new iPhone names are iPhone 6 and iPhone 6 Plus. After months of rumors we'll finally know the iPhone 6 release date.
We also expect to learn about the iOS 8 release date and any final features that Apple adds to the new operating system. Look for a fast iOS 8 release date and pricing for iCloud Photo Library as well as other items.
There is a very good chance that we'll see the iWatch announced, but rumors point to an iWatch release date in 2015, not in time for holiday shopping this year.
We could also see an iPad Air 2, more details on Apple's connected home and there is always hope for an iPod touch 6th generation, a new Apple TV and a MacBook Air Retina. These last few items are possible as part of the historic Apple announcement.
iPhone 6 Release Date & Feature Video Roundup
iPhone 6 Release Date Rumors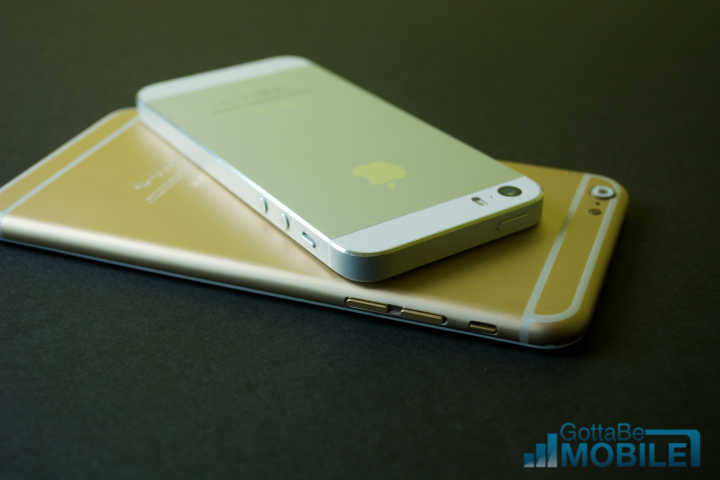 The iPhone 6 release date is September 19th according to Apple's traditional timeline and our best prediction based on current rumors and plans. This may change and there is a chance that we will see two iPhone 6 release dates thanks to a slower start for the 5.5-inch iPhone 6.
Here's how we get to an iPhone 6 release date on Friday September 19th.
Re/Code and The Wall Street Journal report Apple's plans to hold an iPhone 6 event on September 9th.
From this date we can work out that the iPhone 6 release date is roughly a week and a half later, on September 19th. This is the timing Apple used for the last several iPhone releases.
If Apple decides to offer iPhone 6 pre-orders expect them to go live at midnight Pacific on September 12th, but this is not a given.
The larger 5.5-inch iPhone 6 release date may arrive later on the last Friday in September or even in October.
Expect to see Apple Stores and carriers open early on the iPhone 6 release date with lines around the store to get an iPhone 6 right away, even in small towns.

As an Amazon Associate I earn from qualifying purchases.