HTC Flyer Coming to Sprint at CTIA as EVO View Tablet?
Engadget was tipped that Sprint is gearing up to announce an EVO View Tablet, which will further extend the carrier's EVO lineup, which now includes the HTC EVO 4G and the HTC EVO Shift 4G. Though not much is known about the EVO View Tablet, the EVO branding perhaps suggest that the slate will be an HTC-made device as Sprint's two other EVO products offered today are made by HTC.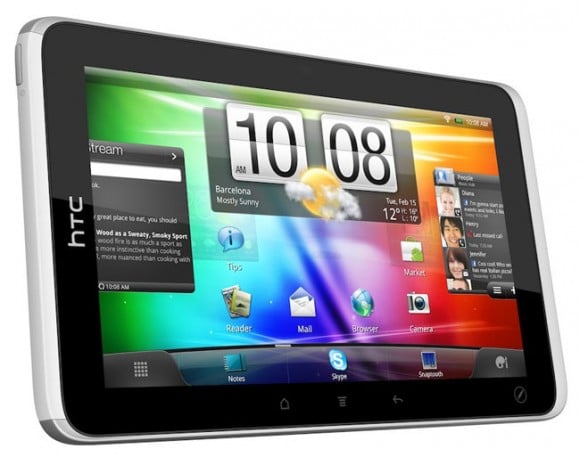 If in fact the EVO View Tablet is made by HTC, it could in fact be either a 3G CDMA/EV-DO, or a 3G/4G dual-mode tablet variant of the HTC Flyer, a tablet that was announced at Mobile World Congress. The unique feature about the HTC Flyer is the tablet's support for inking.
Unlike the slew of Android 3.0 tablets that are coming and will be joining the Motorola Xoom on the market, HTC opted to use Gingerbread for the HTC Flyer. For its version of Gingerbread, HTC is saying that the Flyer will be debuting with Android 2.4.
Google had announced Android 2.3 Gingerbread on the Nexus S smartphone. Usually, with the next decimal upgrade to Android, Google gives that OS version a new name so it's unclear why Android 2.4 remains to be called Gingerbread as well as Android 2.3. For example, Android 2.1 was known as Eclair and Android 2.2 is called Froyo. Perhaps Android 2.3 is the 'smartphone edition' of Gingerbread while Android 2.4 is the 'tablet edition' for hardware makers who opt to not go with Android 3.0.
Also, it's unclear what the requirements are for Android 3.0 tablets, but in using Android 2.4 Gingerbread, HTC will also be delivering a tablet-optimized version of its HTC Sense user interface on top of the traditional Android experience.
The HTC Flyer tablet has also been rumored in the past to be arriving on T-Mobile USA.
Via: Engadget

As an Amazon Associate I earn from qualifying purchases.