HTC Launching Trace Keyboard on Sensation to Compete with Swype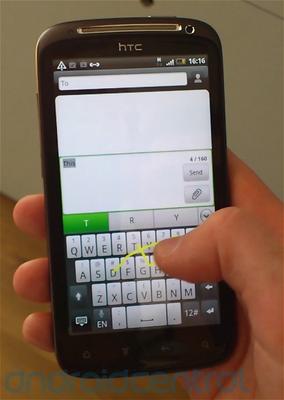 The newly announced HTC Sensation smartphone will not only come with a number of new hardware specs, but will also launch with a new software keyboard called HTC Trace. HTC Trace will be competing against Swype to provide users with a different method of entering text on a touchscreen smartphone.
Rather than pecking away at the screen, Trace, like Swype, will allow users to swipe their fingers over various letters without having to lift their fingers off the screen to spell out words–the paradigm is similar to connecting the dots, allowing users to quickly draw lines and connect letters to type rather than poking at the screen.
HTC Trace, according to Android Central, was present on a prototype unit of the HTC Sensation smartphone and the Android-centric blog predicts that Trace may make its way to other new smartphones launching with HTC Sense 3.0, like the HTC EVO 3D that is slated to hit Sprint this summer in the U.S.
The blog notes that by default, Trace was disabled on the early HTC Sensation unit and would require the user to enable the feature to use it. The nice part about Trace is that users can adjust the sensitivity of the tracing mechanism and the keyboard will learn and adapt to the thickness of your fingers to more accurately predict what you want to type.

As an Amazon Associate I earn from qualifying purchases.