HTC One M9 Android 5.1 Update: What You Need to Know
AT&T HTC One M9 Android 5.1 Released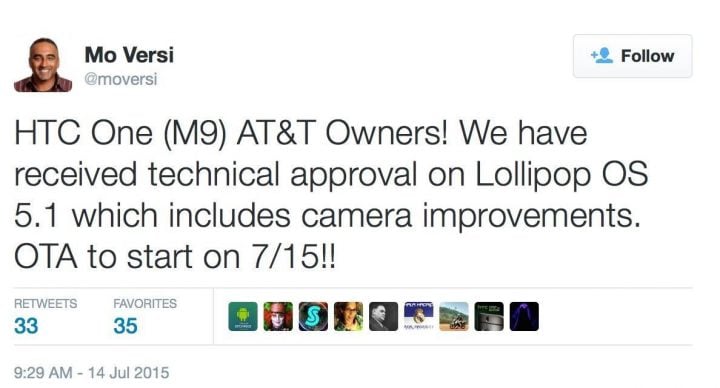 This morning HTC VP Mo Versi took to Twitter and announced another carrier in the United States is finally ready to deliver the latest Android 5.1 full of changes, improvements, and new features.
As you can see from the screen capture of his Twitter announcement, the AT&T HTC One M9 will get Android 5.1 Lollipop starting tomorrow, July 15th. It will deliver Android 5.1 with everything we've mentioned prior, as well as camera improvements.
With all over the air updates this will slowly arrive to owners. Meaning if those on AT&T don't get it tomorrow, don't worry, as it will arrive soon enough via a notification on your smartphone. However, users can also head into settings > about phone > software and check for updates manually starting tomorrow.
AT&T only allow you to check once per 24 hours, so we'd recommend checking manually late in the evening on July 15th, or early Thursday morning.

As an Amazon Associate I earn from qualifying purchases.