HTC Plans Beats Audio Party on Oct 6th: HTC Sensation XL Inbound?
HTC has sent out invites to a music themed press event on October 6th, that may as well be called a party.
Based on the headphones and the promise of hot musical guests, we expect that the we will see at least one new HTC handset with Beats Audio.
The invitations feature Beats headphones, which are most likely plugged into the HTC Sensation XL. This is the newest name for the HTC Runnymede and HTC Bass.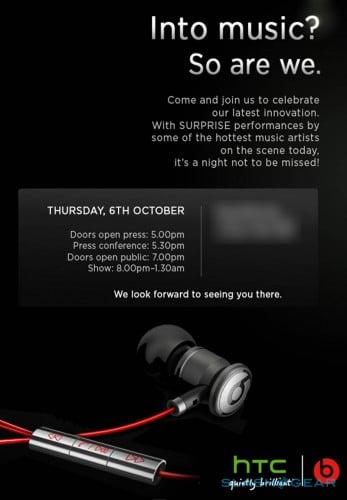 In addition to audio that doesn't stop, we expect the HTC Sensation XL to feature a massive 4.7″ display. Powering this portable boombox for your pocket is a single core 1.5GHz processor. The rear camera is likely an 8MP shooter capable of 720P video, and a 16GB MicroSD card is reportedly bundled with the phone.
While you don't think of a 4.7″ phone as pocketable, the 9.99mm thick design should help keep the device partially portable. The phone is expected to have a white case.
You can get a closer look at the HTC Sensation XL in the hands on video below.
Via Slashgear