HTC Sense 5.0 UI on HTC M7 Smartphone: Inspired by Microsoft's Live Tiles?
In another batch of leaked photos revealing the unannounced and oft-rumored HTC M7 smartphone, HTC's latest Sense user interface was spotted with a refreshed look and feel. Though unannounced, the major revision to the Sense software may get branded as HTC Sense 5.0 once the Android user interface overlay gets announced with the latest HTC M7 hardware.
Unlike prior editions of HTC Sense, which took a more colorful approach to iconography and had a more lively weather widget, the latest HTC Sense 5.0 appears to have a more toned down appearance with large, white text, icons with white and a hint of blue. This would be a drastic departure from prior editions of the beloved Sense UI and the simple 2D icons–rather than the colorful 3D renditions of Sense's past–is almost similar to the more flat appearance of Microsoft's Metro UI on Windows Phone smartphone.
In fact, the widget screen shown on one of the home pages of the HTC M7 shows some rectangular blue boxes with white text that may not be too dissimilar to the Live Tiles approach taken by Microsoft on its Windows platforms.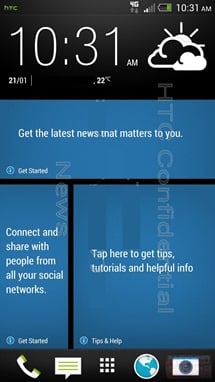 A screenshot of the Settings page posted by Android Police shows that both the Android version number and the Sense version number are listed as being 'protected,' and we do not know what version of the Android OS or what number of the Sense UI version is operating on the phone.
At this time, given the radical design departure from what HTC has done in the past, it's unclear if this is all an elaborate fake or if it's HTC's changing directions to stay competitive in the smartphone market. The Live Tiles UI approach may not be too surprising considering that Microsoft and HTC have been getting more cozy together since the release of the Windows Phone 8X by HTC, but it's a big change from what we've seen in the past.
Are you a fan of the new Sense 5.0 that we're seeing?

As an Amazon Associate I earn from qualifying purchases.