HTC Thunderbolt: Battery Life is Disappointing, Less than 4 Hours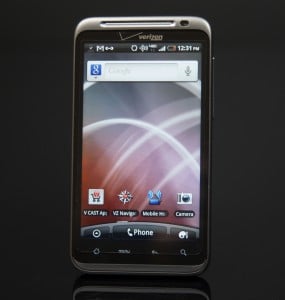 The HTC Thunderbolt's 4G LTE connection is blazing fast, but all that speed comes at a price. After using the HTC Thunderbolt for a day, I'm disappointed in its real-world battery life and benchmark results.
How to Get Better HTC ThunderBolt Battery Life
For most of the day yesterday I battled against low battery warnings as broke my HTC Thunderbolt in. I'm an Android phone newbie, so I wasn't sure if I was doing something wrong and just needed to adjust some obvious settings. Then, my friend Avram Piltch from Laptop Mag pointed me to his colleague's review of the Thunderbolt and my fears were confirmed. While browsing over 4G, the Laptop Mag battery benchmark tool clocked in just 2.5 hours of Web browsing time. Avram asked me to benchmark mine and while the results were a little better, they're still not pretty.
Before I went to bed last night I downloaded the My Settings app. I then set the HTC Thunderbolt's screen brightness to 40%, turned off WiFi, killed background services and set the device so it would never go to sleep. I then started the Laptop Battery app and ran the test, which simply loads the world's most popular sites (Google, Wikipedia, Yahoo!, etc.) over and over again until the battery is drained. The HTC Thunderbolt was left unplugged and worked away while I slept.
When I woke up, the HTC Thunderbolt was drained.  I plugged the phone back in and checked the results. The Thunderbolt lasted for 3 hours and 49 minutes before quitting.   That's 52% longer than what Laptop Mag experienced, but still not long enough for many users. The reason for the wide gap may be sample variation. More likely, I'm guessing that I have a stronger 4G LTE signal than the Laptop Mag Reviewers in New York have. I ran the test in my bedroom, which is at the top of a hill in a residential neighborhood in San Francisco. Laptop Mag's office is in a big building near Times Square in New York.
This battery test is pretty conservative. It doesn't use any power-hungry apps, run background services or display video. It doesn't take into account sharing the 4G connection with other devices via WIFi. It's pretty difficult to test a 'typical' user's day when switching between apps, locations and activities, but it's pretty safe to say that it'll be tough to muster more than four hours of active use.
By comparison, the HTC EVO 4G scored just under five hours of battery life on Sprint's WiMax service. The EVO 4G can be switched to 3G-only mode, but you can't turn off 4G on the Thunderbolt.
I'm loving the HTC Thunderbolt's speed, but it's going to be a challenge to keep this thing juiced up.
It's nice to have a thin Android phone with a big gorgeous display, but I would trade a little thickness and weight for a battery that would last all day. Anyone want to sell me an extended battery for my HTC Thunderbolt?