HTC Thunderbolt: How to Get Better Battery Life [Android]
The HTC Thunderbolt is a pretty amazing phone, but the first 4G LTE phone on Verizon's network has at least one major issue — it can drain a standard battery in 4 hours while browsing in a 4G network area. While many will see their Thunderbolt last longer, since they won't be browsing the web four hours straight, many Thunderbolt users have complained of poor battery life. Have no fear, we are here to help.
We've compiled a list of ways to get better battery life on the HTC Thunderbolt. These tips and tricks include easy to tweak settings, Apps that can help you get longer battery life, battery solutions (cheating a little) and the more extreme method of rooting your Thunderbolt to install optimized ROMs, kernels and even a new radio.
The standard HTC Thunderbolt battery is rated for almost two weeks of standby time and talk time of 6.3 hours. In our test, with the display set at 40% brightness, No WiFi and no background apps the battery test came in just shy of 4 hours. These tips will help you get better battery life on the HTC Thunderbolt.
Settings to Change for Better Battery Life
Settings are the easiest things to change in order to get better battery life. The two biggest culprits are rogue syncing applications and the display brightness. That 4.3″ screen is gorgeous, but it uses up a lot of juice when you have brightness at the peak level.
Screen Brightness: By default, your HTC Thunderbolt is probably set to be pretty bright. If you happen to look at what's using up the battery on your Thunderbolt the display is sure to be at the top. If you want to get your brightness under control, you can use the HTC widget to quickly switch between three brightness levels or you can set the display to automatically adjust to your surroundings.

To turn on auto brightness on the HTC Thunderbolt you need to go to Menu -> Settings -> Display-> Brightness. There you will see a slider bar and a checkbox to turn on auto brightness. Just check that box and you are good to go.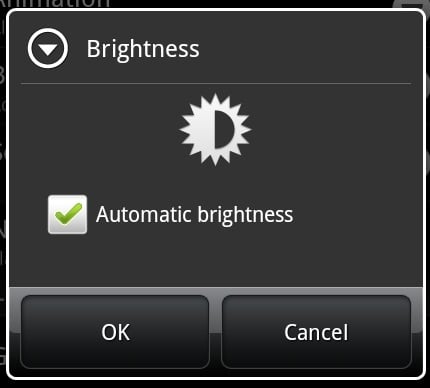 If you need more control over brightness, check out one of our favorite apps in th section below that will allow you to take better control of brightness and of your HTC Thunderbolt battery life.
Turn off unused Radios: You can also turn Bluetooth and WiFi off when not in use to conserve a little more battery life. If you are in a 4G area, the connection is likely to be a fast as WiFi anyway. You can use the widgets that come pre-installed, or you can visit Menu -> Settings-> Wireless Networks
Sync Settings: By default the Thunderbolt has a mess of apps set to sync in the background including the Blockbuster app. We suggest cutting this list down to the essentials. Keep your Google, email accounts, weather and perhaps Facebook, but the rest of the apps can go.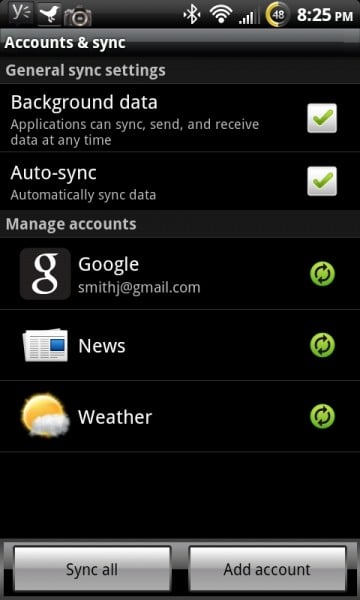 To change these settings, press Menu -> Settings -> Accounts & sync. From there you can tap on any of the accounts to change the sync setting. You can completely remove a sync, or you can change how often it syncs. THe longer you set this for, the better battery life you will get.
Keep in mind apps that download from Twitter like Tweetdeck won't show up here, but should also be checked to make sure that they aren't syncing too often and draining battery life. These settings will vary from app to app, but most often can be accessed by pressing the menu button when you are in the app and poking around the settings.
Apps To Get Better Battery Life on the HTC Thunderbolt
In addition to changing the standard settings, there are a few apps that allow you to fine tune your Android settings and in turn, get better battery life. We highlight a few of our favorites here. You'll notice a lack of any task managers. In our experience you're better off leaving those apps on the market and if you feel the need just doing a quick restart.
My Settings: My Settings is a free app that allows you to get better control of many Android settings.We like how easy it makes changing settings and the precision it allows for items such as screen brightness.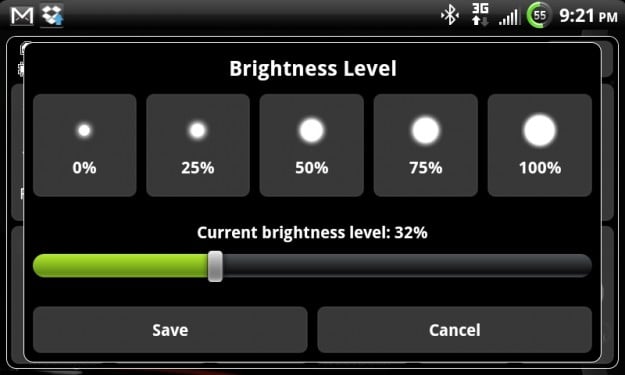 We suggest using My Settings to adjust your brightness to the level that works perfect for you and, while you are there, checking out the screen timeout setting which can be reduced to help save battery life.
Turn off 4G: If you need to make your battery last longer, and you don't need 4G speeds, use the free LTE OnOFF app to switch to 3G only mode. The app makes it easy to switch back and forth between 3G and 4G via a menu option.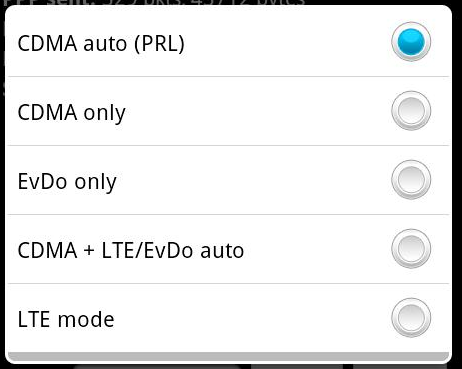 HTC Thunderbolt Battery Options
Yes, getting an extra battery isn't exactly making your HTC Thunderbolt battery last longer, but it is a solution that will help you use your Thunderbolt longer without sacrificing 4G LTE or other features. When it comes to Thunderbolt batteries, you have a few choices.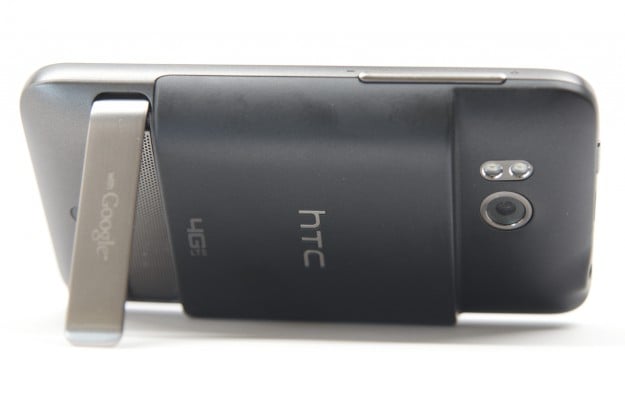 HTC Thunderbolt Extended Battery: Xavier has the Thunderbolt Extended battery, which he likes and as you can see it doesn't add quite as much bulk as you would think. This battery is $50 and is rated at 2750mAh compared to the standard 1400mAh battery. If you are coming from an iPhone, the added thickness is about as much as a Mophie Juice Air pack. The Thunderbolt's extended battery only bumps out in the middle of the back of the phone. The Mophie Juice Pack Air adds thickness and bulk to every edge of the iPhone 4 except for the front.
Double Up: If you don't want to mess with the svelte figure of the Thunderbolt, take a tip from Chuong who uses 2 regular Thunderbolt batteries to get through the day. These batteries run $40, so you'll want to make sure you don't want to jump up to the Extended battery for just $10 more.
Other Batteries: You can also pick up slightly higher rated batteries like the [amazon_link id="B004O0TGU2″ target="_blank" container="" container_class="" ]1600mAh Seidio battery[/amazon_link] available for $48 from Amazon or the numerous 2, 3 and 4 packs of cheap Thunderbolt batteries that can be found on Amazon and eBay.
Root, Rom and Kernel
If you really want to get down and dirty to get batter battery life and unlock new functions and looks for your Thunderbolt, you may want to Root the Thunderbolt and install a new ROM and kernel. There are numerous specially optimized ROMs which can be combined with undervolted and overclocked kernels which allow your phone to run faster while using less power.
The best place to look for more information on Rooting the Thunderbolt is the xda-developers forum. You can find out how to Root your phone and how to install a new ROM and kernel. You can even install the new Thunderbolt radio ahead of the official release.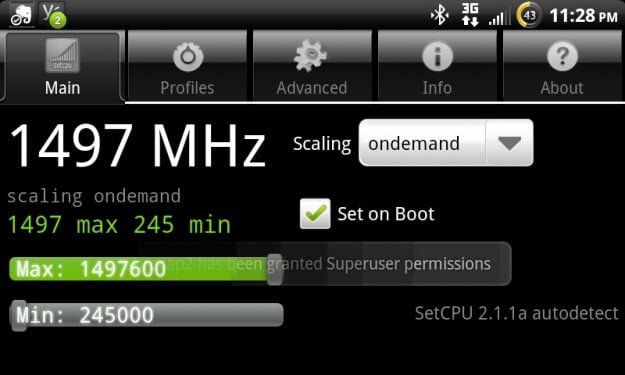 Personally we have found the Das BAMF Remix ROM and accompanying adrynalyne kernel to overclock the Thunderbolt to 1.2GHz, though it can go as high as 1.5GHz.
ROMs aren't hard, per se, but they do require you to root your phone and essentially void your warranty. There is a possibility that you could brick your device while doing this. If you couldn't tell, this is my preferred method and one of the reasons I chose the Thunderbolt.

As an Amazon Associate I earn from qualifying purchases.