HTC Thunderbolt: More 'Evidence' of March 10 Thunderbolt Release Date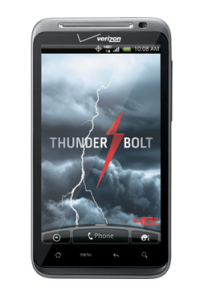 There's another unofficial HTC source confirming the March 10 release date of the HTC Thunderbolt, the first 4G phone announced for Verizon's LTE network. The guys over at Android Community are pointing to SentNation for this latest tidbit in the Thunderbolt gossip. Apparently SentNation who recently had a chat with an HTC source about the Thunderbolt.
Rumors of the HTC Thunderbolt began circulating late last year. The device was formally introduced by HTC at CES 2011 and has drawn a lot of attention since. Best Buy began taking pre-orders for the Thunderbolt on February 6, which led many to believe it would be launching soon after. A Best Buy representative 'confirmed' a March 4 release date. We spoke to an HTC product expert in person 10 days ago, who said the device was slated for March 4 as well, but said 'politics' could easily push it back another week.
Here's the portion of the SentNation's chat with a 'Verizon Wireless Insider' regarding the HTC Thunderbolt:
Me (11:41 AM): What's up with the TB? No announcement.

Source (12:31 PM): No idea

Me (12:40 PM): Asked around?

Source (12:49 PM): Yep. No dice. No one knows

Me (12:51 PM): Damn. Will it be announced later?

Me (1:50 PM): Will it be announced later?

Source (2:12 PM): It's happening today

Me (2:16 PM): Ok

Me (7:04 PM): What's up? Not happening today?

Source (9:51 PM): Things are being finalized. We're shipping to stores tomorrow which is ahead of schedule. [HTC] wanted it announced days ago. I think either tomorrow or Monday/tues we'll go public with the news. Phone's been ready forever

Me (10:00 PM): Sounds like hell. March 10 still?

Source (10:10 PM): 10th is right. Just got off a conference call with [Some partner] things are getting chippy around here. Someone's more impatient than you — We heard HTC threatened to pull all its ads if we don't announce a date before Saturday

Me (10:14 PM): Holy ****. Think it'll be announced soon then?

Source (10:27 PM): I hope so I don't need that ****

Me (10:29 PM): I just want a smartphone.

Source (10:37 PM): Going on another conf, brb
If the above chat can be believed, it shows the level of confusion and frustration around the Thunderbolt inside Verizon and at HTC. HTC is threatening to yank co-advertising efforts if Verizon doesn't start selling the device soon. If the chat is to be believed, Verizon's already started shipping boxes of Thunderbolts to Verizon Wireless retail stores.
To Verizon's credit, the carrier has never officially announced a release date for the HTC Thunderbolt. Verizon has continually reminded Thunderbolt fans of the fact and has even asked its Twitter followers to move on to other topics.
Here's the official announcement of the HTC Thunderbolt from Verizon's press event at CES. As you can hear, the geeks in the room were pretty excited about the device.
You can learn more about the HTC Thunderbolt specs here.
So will we see the HTC Thunderbolt on March 10? I'm hoping so as I plan on buying one, but don't hold your breath.

This article may contain affiliate links. Click here for more details.