HTC U Release Date, Features, Specs & Rumors
The upcoming HTC U could be a unique smartphone with a lot to offer compared to the competition. In 2016 some early information surfaced, and now we're getting a slew of exciting details that buyers will want to know about. HTC aims to take on the Galaxy S8 or LG G6 in a rather unique and futuristic way. Previously being called the HTC 11 or Ocean, here's everything we know so far about HTC's next smartphone.
While the first flagship smartphone in 2017 was the HTC U Ultra, that isn't all the company has planned. In fact, the new HTC U will have a touch-sensitive all metal design, and a brand new interface that will attempt to change how we interact with smartphones. At least according to the latest reports.
Read: HTC U Ultra: What You Need to Know
HTC has struggled over the past few years to be successful in the smartphone market, especially when going up against Samsung. Can the all-new HTC U get them back to glory? We'll have to wait and see. That aside, here's everything we know so far about the HTC U release date, specs and features. Including the latest images and rumors.
Considering this information leaked way back in September of 2016, and now again a few days ahead of the Galaxy S8 launch, we have a feeling it's pretty accurate. And while anything is subject to change as the release nears, we'll keep you up to date on all the news and information.
The HTC U will technically replace what many expected to be the HTC 11. Additionally, early reports suggest it's the second of three phones coming from HTC. The third could be a bigger device aimed at taking on the Galaxy Note 8. For now though, lets talk about what to expect from the HTC U in April or May.
HTC U Release Date
Aside from some leaked renders and concept videos, nothing is 100% known right now. However, famed and often accurate leakster @evleaks has lots of details. According to his sources the impressive HTC U will be announced sometime in mid to late April.
We know the Galaxy S8 release date should be sometime in late April too, so the company could look to make an announcement before customers buy the latest Samsung smartphone.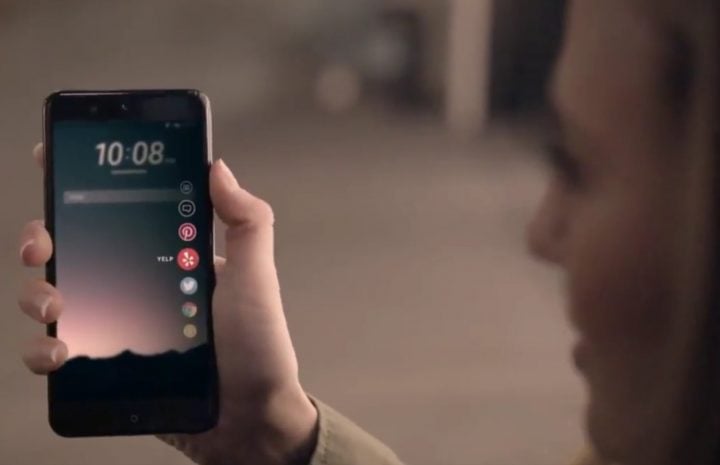 Furthermore, according to Evan Blass the U will be announced in April, but released around the globe sometime in early to mid May. Meaning we could only have a month or two of waiting. So what makes it special? Read on to find out.
HTC U Features
There are a lot of pieces that complete a smartphone. And while we can expect the HTC U to have great sound, excellent cameras and more, it's the new features many are excited about. We're talking about a touch-sensitive metal frame. Along with it could be a new version of HTC Sense running Android 7.1.2 Nougat, called HTC Sense Touch. Or even "Edge Sense".
Below is a tweet from September with a video highlighting a few of the software features we expect to debut with HTC's new smartphone. It gives us a glimpse into what HTC has been working on.
More cool HTC stuff here (including the tablet that launched @evleaks): https://t.co/S3WaZkeog9
Check it out before it gets pulled! pic.twitter.com/YJwmZb0Sje

— Evan Blass (@evleaks) September 20, 2016
Owners will be able to do just about anything with the Google Assistant pre-installed. Not to mention control key aspects of their smartphone without ever covering the screen. All thanks to multiple touch-points on the body of the phone. Here's another early demo video with even more on-screen visuals.
Remember the HTC Ocean? (https://t.co/q5ghm3vQ8Z) pic.twitter.com/GtpqowETjM

— Evan Blass (@evleaks) January 8, 2017
Again, all of these are early videos and things could look or work substantially different when the phone is unveiled next month. Imagine squeezing your phone to launch the camera for a quick photo. Or sliding a finger on the edge to increase the volume of music or videos. The options are endless. How this will work while holding the phone without accidentally hitting things remains to be seen.
HTC U Specifications
Fancy new design and neat software tricks aside, what else will complete the HTC U? Well, we're not sure yet but can expect a slew of leaks and rumors in the coming weeks. However, as of right now we do have some early information giving us a good idea of what to expect in terms of specs.
The HTC U will be a premium flagship phone, just like the Galaxy S8, with the latest and greatest specs and features. Here's a quick rundown from earlier leaks.
HTC U Specs
5.5-inch 2560 x 1440 Quad-HD Display (bezel size unknown)
Snapdragon 835 Processor (just like Galaxy S8)
4-6GB of RAM and 64/128GB of storage – including micro-SD slot
Android 7.1.1 Nougat with Sense Touch UI
12 Dual Pixel rear camera with OIS, auto-focus, f/1.7 aperture and more
16 Megapixel wide-angle front camera for selfies (yes rear camera will be better than front)
Fingerprint Sensor unknown (could be built into frame)
3,000 mAh or bigger battery with Quick Charge
USB Type-C port
Dual Speakers similar to HTC 10 or U Ultra
more to come
As of right now all we really know is this will have a 5.5-inch display, the latest and greatest Snapdragon 835, and some pretty good cameras. Well, not to mention all the touch controls and software tweaks. Everything else mentioned above is just rumored until further details are unveiled.
Considering everything that completes the HTC U Ultra though, we have a good idea of what to expect. It has dual screens, a good camera, not the best battery size, and a USB Type-C port while missing the 3.5mm headphone jack. Many of those same qualities will likely complete the HTC U. And yes, we understand the naming is confusing, as the U will be a better phone than the Ultra, even if the name implies something else.
Other Thoughts
If all of the photos, video and tweets are accurate, HTC has a rather unique and futuristic phone coming soon in 2017. If the launch really is sometime in April, more leaks and photos of prototypes should start surfacing any day now.
Then, look for HTC to make some sort of announcement or release a teaser before the Galaxy S8 is released in late April. Giving potential buyers something to ponder and maybe wait for. Which of course is the HTC U. This could be the phone that returns HTC to their former glory of being one of the best Android smartphone manufacturers.
According to Evan Blass this new phone will be available in May, so we only have a little longer to wait before we know everything for sure. Stay tuned for more details.

As an Amazon Associate I earn from qualifying purchases.