Huawei Vision Android Gingerbread Phone Marries Best of HTC, Samsung Styling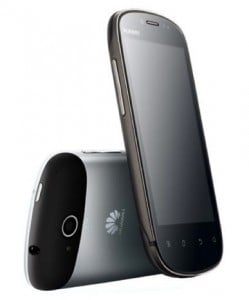 Huawei's latest Android Gingerbread handset, called the Vision, is an attractive smartphone that combines the best of HTC's and Samsung's styling. Utilizing a unibody construction, the Vision's back side resembles a cross between the HTC Flyer or Sprint EVO View 4G tablet, while the rounded corner design is very remiscent of Samsung's Google Nexus S and Nexus S 4G smartphones.
The Vision could be categorized as an upper mid-tier handset with a unibody aluminum frame with plastic cutouts for better wireless reception, a 3.7-inch WVGA display, WiFi, GPS, 5-megapixel autofocus camera with LED flash and 720p HD video capture capabilities, 1 GHz single-core Snapdragon processor from Qualcomm, and Android 2.3 Gingerbread. The device appears to also sport a front-facing camera as well.
Huawei claims that the device will utilize a 3D carousel UI, though the screen itself won't be a 3D display like those found on the LG Thrill 4G, the HTC EVO 4G, or the LG Optimus 3D. The UI itself appears similar to SPB Shell 3D, a third-party UI that users can download from the Android Market app store.
The handset is coming in September, though Huawei has yet to announce pricing.
Via: Phandroid