In Latest Design Makeover Google Glass Gets More Fashionable, Less Cyborg
After having run a multi-page advertisement campaign in Vogue magazine, Google is increasingly trying to appeal to fashion-forward trend setters with Google Glass. Technophiles already understand the value of having ready always-on access to information at eye level and now Google is trying to appeal to the fashion conscious shoppers. In the latest design makeover for Google Glass, Google is showing off the spectacles with design that looks more like normal eyeglasses rather than the funky utilitarian and minimalist design that Glass debuted in.
CNET showed a picture showing off Google marketing manager Amanda Rosenberg in a more subdued version of Google Glass. The eyeglass bears a more aviator-like form factor with a chrome nose bridge and a plastic tortoise shell frame. The mounted heads-up display (HUD) is barely noticeable over Rosenberg's right eye.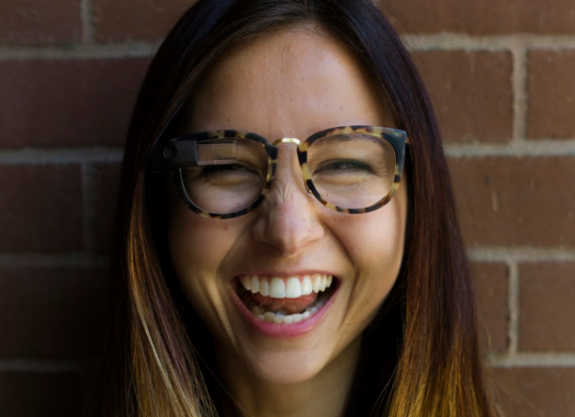 Google Glass is a smartphone accessory that pairs with a phone and is able to display notifications and information to the eye without a user having to reach for the phone. Users could also interact with Glass by voice as well. The technology has been controversial so far due to privacy concerns.
This is one of Google designer Isabelle Olsonn's designs. Olsonn is tasked with transforming Glass into the next must-have accessory.
The Explorer Edition of Google Glass today aimed at developers rather than consumers bear a futuristic design. While elegant and small, fashion trendsetters may feel that it is more tech than couture and many of the average consumers I had spoken with in the Bay Area are reluctant to wear or be seen with the Explorer Edition of Glass on a daily basis.
A new term has emerged called "Glass-holes" that's used as in a derogatory manner to refer to Glass users who are obsessed with the Glass experience and ignores the real world. Google will also need to design the UX of Glass for the consumer release to seamlessly meld the real and the virtual worlds together so Glass users aren't so cut off from the here and now. It's a similar problem that Bluetooth headsets suffered from a few years ago when people walked around in public having phone conversations via Bluetooth earpieces, but to the casual real world observer it just looked like they were talking to themselves.
As a wearable computing device, Glass must appeal to both techies and to consumers and fashionistas for the device to take off. It's worn on the body and consumers must be comfortable wearing it in public and using it. Glass will compete in the same market segment with other wearables like the emerging smartwatch category. Google is also rumored to be working on its own smartwatch.
As tech companies enter the wearable space, fashion will play an increasingly relevant role to acclimate consumers with this new experience. You have the familiar form factor, a slew of new features, and then the challenge of wearing and using the new wearable device all day. Rival Apple had hired the luxury fashion house head from Yves St. Laurent, and it's rumored that Google may hire eyeglass designer Warby Parker to inject some chic appeal to Glass.
Radical transformation could only happen through slow evolution of consumer mind sets and Google is learning that with Glass.
Originally rumored to be coming at the end of this year in time for the holiday shopping season, it's now believed that Glass won't land until sometime in 2014 and could be made by Google-owned Motorola Mobility. There were rumors recently that Google would be leasing retail space inside Best Buy stores in the U.S. to showcase Glass and that the wearable accessory could be sold at around the $300 price point, or just 20 percent of the price of the $1500 Explorer Edition today, though Google had denied both rumors as being true.