iOS 5 Release Date and What to Expect from iOS 5
iOS 5 is the next mobile operating system for Apple's iPhone, iPod and iPad devices. Announced this summer at WWDC, the software has been in beta testing for the past several months, and is due for a fall release, which we expect to come close to the iPhone 5 release date.
(Read: 5 Things to do Before You Upgrade to iOS 5)
IOS 5 brings a collection of new features, and should give users who are unable to upgrade to the new iPhone a taste of something new that will tide them over, hopefully until the next iPhone arrives or their contract expires.
(UPDATE : iOS 5 Release Date Confirmed as Oct 12th – Details)
After using the iOS 5 beta fer several months, the staff at GottaBeMobile is excited to have the finished product, even those of us who will load it onto an iPhone 3GS.
iOS 5 Release Date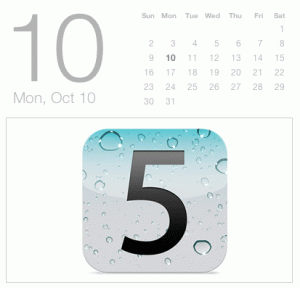 Apple has only given "fall" as an iOS 5 release date, which leaves anytime between September 23rd and December 22nd. The good news is that we don't expect to wait until December. We had heard previously that iOS 5 would be released on October 10th, which is a possibility given the rumored October 13th iPhone 5 release date.
The actual iOS 5 release date is October 12th. Apple typically releases the update between 9 and 10 AM Pacific (12 to 1 Eastern).
In the past, Apple has released the new versions of iOS a few days ahead of the new hardware, a tradition we expect to hold true even with the off the wall iPhone 4S release of 2011.
Apple releases iOS 5 early so that any support issues from users who have issues upgrading can be worked out with customer service before a slew of activations and first time iPhone owners need assistance.
iOS 3 was released on June 17th, two days ahead of the iPhone 3GS, and iOS 4 was released on June 21st, three days before the iPhone 4.
(Read: iPhone 5 Rumor Roundup: Latest on Hardware, Release Date, Carriers)
iOS 5 Features
iOS 5 brings over 200 new features to your iPhone, iPad and iPod Touch. Unlike software updates that come every week, fixing bugs, iOS 5 brings a collection of new features that bring your iPhone and iPad into a new realm.
https://www.youtube.com/watch?v=LLJIef-e-7g
The Top Ten iOS 5 Features include;
Notification Center – A newer, better way to get notifications for emails, texts and from apps.
NewsStand – All of your newspaper and magazine subscriptions in one place (if the apps support it).
Twitter Integration – If you love Twitter you'll be able to interact with it faster and easier in iOS 5.
Safari – Better browsing thanks to tabs on the iPhone and iPad and the ability to sync your reading list between all of your Safari browsers.
Reminders – Apple's new task app to help you track and complete your to do lists.
Better Camera – You can finally use the volume buttons to take pictures in iOS 5. You can also pinch to zoom and tap to focus on a particular area
New Mail App – Richer formatting, message flagging, improved search and more.
PC Free – After you plug in to get iOS 5, you won't need a computer on hand for upgrades or for activations.
Game Center – Add photos, play friends of friends and more with these new iOS 5 Game Center features.
iMesssage – send messages to all of your iOS 5 using friends without paying for text message fees. You can also send, photos and videos over iMessage.
iPad iOS 5 Features
Another nice feature is the new split keyboard in iOS 5 for the iPad. This allows you to move the keyboard anywhere you want on the screen, and splits it in half so that you can type with your thumbs. This works across all apps. We've seen similar keyboards on Android tablets, but by making this part of the default OS, Apple will deliver the feature to more users. This is in addition to a number of cool iOS 5 features for the iPad 2.
iCloud and iTunes Match
When iOS 5 launches, we also expect Apple to launch iCloud and iTunes Match. iCloud will being a host of great features to the iPhone and iPad including the ability to keep your digital life in sync across Apple devices. Here's what iCloud means to the average user. Some of our favorites are the ability to download past iTunes purchases and download previously purchased apps easily.
As part of this, iTunes Match will allow you to keep all of your music in the cloud for $24.99 a year. This is nice if you have an older collection of music in less than perfect formats. iTunes Match may allow you to stream the music without downloading it.
Voice Control
On top of all of this, we expect to see better voice control in iOS 5 thanks to Nuance technology. This could make speech to text an integrated way to use the iPhone and iPad.
We've seen images showing that there might be a microphone button on the keyboard, like on Android, which allows you to enter text by talking anywhere there is a text box on your iPhone or iPad.
Other Features
Other notable iOS 5 features include the ability to set custom vibration patterns for calls, texts, emails and notifications. This will allow you to distinguish between notifications without taking the phone out of your pocket.
You can also use custom keyboard shortcuts to speed up typing on your iPhone or iPad. For example, you could make "See you soon, almost home", as easy as typing SeeYou. Or, if you write here, you can make "ird" equal iPhone 5 release date. You have full  control over these shortcuts which is a nice add-on for Apple.
Which iPhones, iPads and iPods will run iOS 5?
Apple's iOS 5 will be available for the majority of Apple's iOS devices. This is a free upgrade. The following Apple devices will get iOS 5.
iPhone 3GS
iPhone 4
iPad
iPad 2
iPod Touch 3rd and 4th Generation
Surprisingly, the iPhone 3GS is able to run iOS 5 pretty well, as you can see in this video below.
https://www.youtube.com/watch?v=LBQ1T8A2qQY
iOS 5 Upgrade
After Apple releases iOS 5, typically around 9 AM Pacific/12 PM Eastern, you will need to connect your iPhone or iPad to the computer to begin the upgrade process. It should happen rather effortlessly. Keep in mind that the downloads may go very slow on the iOS 5 release date. With this in mind, don't start this at work at the end of the day, or while you might have to run out and take your iPhone with you.
We'll have more detailed instructions as the iOS 5 release approaches.

As an Amazon Associate I earn from qualifying purchases.