iOS 8.3 iPhone 4s Reviews: Should You Install iOS 8.3?
Just a day after Apple delivered new emojis and almost 70 bug fixes and features iPhone 4s owners are asking, "Should I Install iOS 8.3 on the iPhone 4s?" While many users want the new emojis, they are very concerned with the iPhone 4s iOS 8.3 performance and battery life because you can't send an emoji if your phone is dead and slow.
We've scoured the web to find early iOS 8.3 reviews from iPhone 4s owners to help you decide if you should upgrade. We also include a two important videos that show the iPhone 4s iOS 8.3 performance compared to iOS 8.2 and to iOS 7.1.2 so you can see just how fast the iPhone 4s is on iOS 8.3.
Keep in mind that the iOS 8.3 reviews from users come after just a day of use, so there is always a chance that opinions will change after more time with the device, but so far the reviews look good.
Although Apple doesn't call out the iPhone 4s performance in the iOS 8.3 change log, Apple does mention performance improvements for many apps and services. The changes also include an incredible list of fixes that fix many huge problems that annoy and frustrate users. If you have a problem with your iPhone 4s, the iOS 8.3 update might be the thing that fixes it for you.
Check out what's new in iOS 8.3 to see a highlight of some of the biggest changes in this update. You still cannot use the Apple Watch with the iPhone 4s, but this update delivers a lot of great fixes.
iOS 8.3 Installation
Overall the iPhone 4s iOS 8.3 installation is a smooth process for most owners. You should make sure that you follow our tips to prepare for the iOS 8.3 update and then use our iOS 8.3 installation guide to complete the upgrade.
The only problem we can find now is that some users cannot find the iOS 8.3 update on the iPhone 4s. If you experience this, you can try to update through iTunes. On our iPhone 5, the phone only sees an iOS 8.2 update still.
Can't even get iOS 8.3 yet, still running the iPhone 4S so I probably won't get the update for a few days/weeks probably

— ollie fraser (@olliefraser) April 8, 2015
iOS 8.3 was officially released today, and amazingly the back-up iPhone 4s in my house has updated to the newest software.

— Michael Jones (@localnewsman) April 8, 2015
https://twitter.com/aviiiguru/status/585898958444199939
I cant update my phone to ios 8.3 bc i only have iphone 4s

— Shawn mendes (@Shawn_mendesglo) April 9, 2015
Downloaded and installed #iOS 8.3 on my #iPhone4S and #iPadMini2. Not a very fast installation, but it wasn't slow either.

— David Becker (@iBeckTech) April 8, 2015
iOS 8.3 on iPhone 4s Performance
The iOS 8.3 performance on the iPhone 4s looks pretty good, especially once you are inside apps, but keep in mind that the overall performance can vary from one user to the next. This depends on the apps, services and how the person uses the device. We'll continue to monitor the user iOS 8.3 reviews for the iPhone 4s for more information, but the early reports are mostly positive.
iOS 8.3 Speed on iPhone 4s
"How fast is iOS 8.3 on the iPhone 4s?", you ask. You can watch the video below to see how the iOS 8.3 iPhone 45s performance compares to iOS 8.2. Overall the device speed is good, and inside apps it appears to be slightly faster. At the bottom of this article a second video compares the iOS 8.3 performance to the iOS 7.1.2 performance on the iPhone 4s.
On Twitter, the early user reviews of iOS 8.3 are also generally positive when it comes to performance.
https://twitter.com/thepoch/status/586034279852994561
Apps
There are some scattered reports of app issues, but we see this with any update. Overall there are no problems with apps and users report that some of the stock apps load faster and work better on the iPhone 4s with iOS 8.3.
Faster loading for iMessage sending on #iPhone4s (iOS 8.3): approved. #Apple #iOS #update

— ❄ Ζαν ντ'Αρτ ❄ (@lybejohn) April 8, 2015
If you do run into any problems with iPhone 4s apps on iOS 8.3 the first thing you should do is update those apps on the app store. Even small app updates can bring changes that fix problems that appear after updates.
Battery Life
There are not widespread reports of iPhone 4s iOS 8.3 battery life, but one user reports that the battery life is still bad. That likely means it is the same as on iOS 8.2.
https://twitter.com/thonyrozzy/status/586061804947648512
Some iPhone 4s battery life problems may come from using a very old device where the battery life degraded over time, rather than bad iOS 8.3 battery life specifically.
WiFi, Cellular & Bluetooth
Apple calls out fixes for WiFi and Bluetooth problems and so far we are not hearing from users that there are new WiFi, Bluetooth or cellular connectivity problems with the iPhone 4s iOS 8.3 update. Thee may appear after extended use, but for now it looks like this update is solid.
Bugs & Issues
There are some iOS 8.3 problems on other devices dealing with Touch ID, but so far we are not able to discover any iPhone 4s specific iOS 8.3 problems. We're still investigating, so if you are concerned you may want to wait a while to install the iOS 8.3 update.
Should You Install iOS 8.3 on the iPhone 4s
Any iPhone 4s user  with iOS 8 problems should install the iOS 8.3 update now. The performance is good according to early reports and the videos show good iPhone 4s iOS 8.3 speed.
With fixes for apps, WiFi, Bluetooth and many other areas this is an update that solves many problems and doesn't appear to add any show stopping issues. If you decide to update and want to go back to iOS 8.2, you can downgrade from iOS 8.3, but this option will only last for a week or two.
There is no iOS 8.3 jailbreak at this time, so if you use jailbreak tweaks and themes you should avoid this update for now. If you are on iOS 7 you can see how the performance compares in the video above. Once you upgrade to iOS 8.3 you cannot go back to iOS 7, so choose wisely.
Check out the slides below to see what's new in iOS 8.3 and how it compares to iOS 8.2.
iOS 8.3 vs iOS 8.2: What's New in iOS 8.3
New iPhone Emoji in iOS 8.3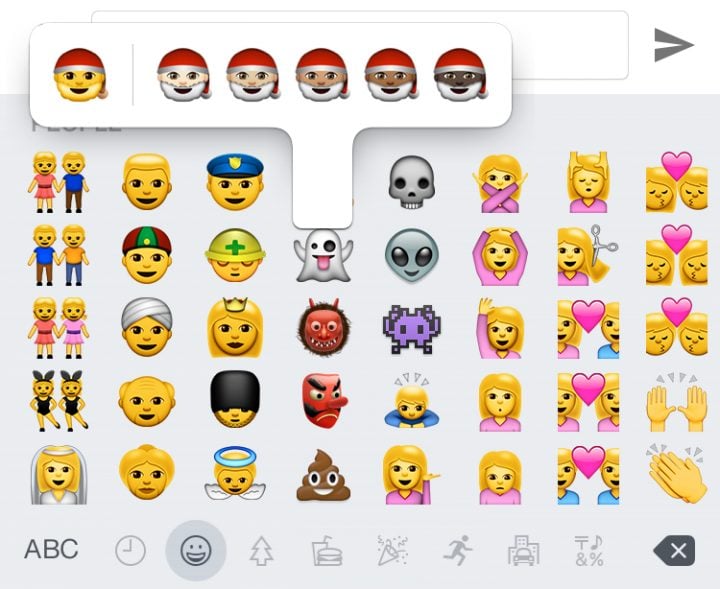 Apple adds over 300 new iPhone emoji in iOS 8.3. There are new Emoji like the Apple Watch and a new Mac, but most users will focus on the addition of more family choices including more kids, families of two men or two women and now there is an option to change the skin tone of many emoji.
Read: How to Use New Emojis
With this update you can tap and hold to choose the skin tone of an emoji icon for many emoji options and then tap to pick the color option. Tap and hold on a new color option to make it the default.
The iOS 8.3 emoji keyboard for iPhone now offers continuous scrolling so it is easier to scroll through the emoji options and find the ones you want.

As an Amazon Associate I earn from qualifying purchases.