iOS 8.3 on iPad Air 2: Impressions & Performance
The iOS 8.3 update delivers the biggest list of bug fixes and new features of any iOS 8 update so far including new emojis and fixes for almost every major iOS 8 and iOS 8.2 problem we've heard about in the last six months. Here is a closer look at how the iPad Air 2 performs with the iOS 8.3 update installed. This is our early iPad Air 2 iOS 8.3 review.
After a short stint as a beta for developers and regular users the iOS 8.3 release arrived last week to bring ann incredible number of bug fixes and to finally add more diverse emoji options and a Spock emoji to the iPad. This is a major update and it is one that we spent the weekend exploring.
Read: iOS 8.3 Update: 10 Things to Know Now
There are some iOS 8.3 problems, but for the most pert this is a solid update that delivers a lot of great features and fixes for WiFi problems, performance issues and more.
Here are our early iOS 8.3 impressions about the iPad Air 2 performance.
iOS 8.3 Installation
Although there are some installation hassles on other devices the iPad Air 2 iOS 8.3 installation was smooth and only took 15 to 20 minutes to complete. The large iOS 8.3 download did not take an obscene amount of time on our fast connection and after it completed the iPad Air 2 rebooted and installed iOS 8.3.
Use our iOS 8.3 update instructions to upgrade your iPad Air 2 and make sure you follow our list of things you need to do before you install iOS 8.3.
iOS 8.3 on iPad Air 2 Performance
We don't expect dramatic changes to the iPad Air 2 performance with an update that arrives this soon after the release, but there is always a chance that a big update like this can introduce a bug or problem. So far that is not the case, but you can read more about the experience below.
Keep in mind that the performance can vary from one iPad Air 2 to another based on the usage, apps and other services that the owner uses.
Apps
After using the iPad Air 2 with iOS 8.3 for almost a week I did not run into any app problems while using a large number of popular apps. Netflix and HBO Go work great on iOS 8.3, which is good news with Game of Thrones Season 5 here. Facebook and Hangouts also work just as expected and Alien Blue and YouTube are as good as ever.
iOS 8.3 Battery Life
The iPad Air iOS 8.3 battery life is impressive. After heavy use the battery life lasts just as good as it did on iOS 8.2 and on earlier versions of iOS. I can use the iPad for about 10 hours of actual use and the standby is impressive. If you experience issues, you can use this guide to fix bad iOS 8.3 battery life.
WiFi, Cellular Data & Bluetooth
The iPad Air 2 WiFi works fine after this update, connecting throughout my house and even to a hotspot without any problems. Bluetooth works well with connections to Bluetooth headphones and to a Bluetooth keyboard. This is a WiFi only iPad, so i cannot test LTE connectivity.
Bugs & Issues
After extended use through the weekend I cannot find any iOS 8.3 problems, bugs or issues on the iPad Air 2. it is possible that some users will encounter problems, and if that happens we offer solutions to common problems.
Read: 10 Common iOS 8.3 Problems & How to Fix Them
One issue some users encounter is Touch ID not working in the App Store. This is not a problem on my iPad Air 2, and Touch ID works the same to log in when the iPad Air 2 is locked.
Speed
How fas tis iOS 8.3 on the iPad Air 2? It's just as fast as iOS 8.1 and iOS 8.2. That's what we expect on the iPad Air 2, as it is not very old. Switching apps, opening apps and using apps are all fast and snappy, so you don't need to worry about any speed problems on the iPad Air 2 after installing the iOS 8.3 update.
Should You Install iOS iOS 8.3?
The decision to install iOS 8.3 on the iPad Air 2 is a simple one for most users. If you are currently experiencing any problems or you want the new emojis and new features this is a solid upgrade so far. Most users can install iOS 8.3 right now without waiting for our full review.
For users who need a jailbreak or who are worried about updates, there is no need to upgrade at this time. You may not see the new emojis as they come in, but that is a minor issue.
Right now it is still possible to downgrade from iOS 8.3 to iOS 8.2 if you decide you don't like the new version, but that isn't something most users will need.
iOS 8.3 vs iOS 8.2: What's New in iOS 8.3
New iPhone Emoji in iOS 8.3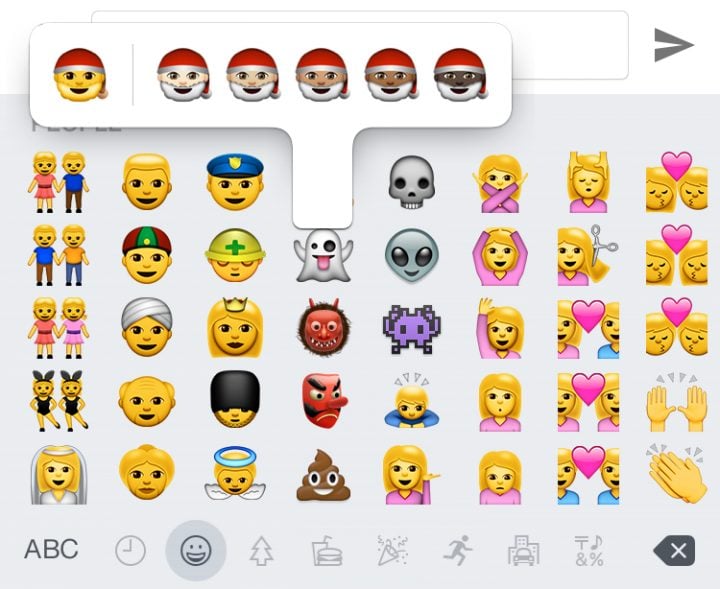 Apple adds over 300 new iPhone emoji in iOS 8.3. There are new Emoji like the Apple Watch and a new Mac, but most users will focus on the addition of more family choices including more kids, families of two men or two women and now there is an option to change the skin tone of many emoji.
Read: How to Use New Emojis
With this update you can tap and hold to choose the skin tone of an emoji icon for many emoji options and then tap to pick the color option. Tap and hold on a new color option to make it the default.
The iOS 8.3 emoji keyboard for iPhone now offers continuous scrolling so it is easier to scroll through the emoji options and find the ones you want.