iOS 8.3 on iPhone 6: Impressions & Performance
Earlier today, Apple released a brand new iOS 8.3 update for iPhone, iPad and iPod touch that delivers a new Emoji keyboard, tons of enhancements and a laundry list of bug fixes. It's a substantial update for the iPhone and we want take a look at how the iOS 8.3 update is performing on the iPhone 6. This is our early iPhone 6 iOS 8.3 review.
Two months ago, Apple released an iOS 8.3 update into its beta program for developers. The release confirmed an upcoming arrival for iOS 8 powered iPhones, iPads and iPod touches though it did not confirm the public iOS 8.3 release date. Apple only confirms iOS release dates when they are announced on stage next to new hardware.
In the weeks after the initial iOS 8.3 beta release, Apple released several new iOS 8.3 betas in an attempt to weed out issues and ensure a smooth transition from iOS 8.2. The iOS 8.3 beta also featured the first iOS beta open to the public. Well, after four iOS 8.3 betas, Apple's finally delivered the update that many iPhone and iPad users have been waiting for.
As expected, the iOS 8.3 update is a big one. It brings a ton of bug fixes for lingering iOS 8 problems and  it also delivers a number of enhancements to overall responsiveness, a new Emoji keyboard, some notable changes to Siri, and a whole lot more. The update is the biggest since iOS 8.2 and it's arguably the biggest iOS 8 update since iOS 8.0 rolled out back in September.
As many of you know, incremental updates like iOS 8.3 have the potential to have a huge impact on performance. iOS 8.0.1, for example, killed Touch ID and cellular data on the iPhone 6. That's why we take a look at these smaller updates. We want to provide you with feedback and clear vision as we push away from the initial release.
After some preparation, I installed Apple's brand new iOS 8.3 update in an effort to provide you iPhone and iPad users with some initial impressions of Apple's new software. These impressions don't serve as a final review but they will help those of you who are straddling the fence about whether to install the company's latest iOS 8 upgrade.
Here are my early impressions of iOS 8.3 on iPhone 6.
iOS 8.3 Installation
The iOS 8.3 update for the iPhone 6 is a bit over 200MB in size which means that you need to put aside some time to get the update downloaded and installed. I installed the iOS 8.3 on iPhone 6 at peak hours (around 10AM PST) and it took the download and installation process about 45 minutes to complete over a high-speed Wi-Fi network. This is longer than most iOS updates. I didn't run into any issues with the process, other than the length.
If you do run into installation problems, perform a force reboot. To do this, hold down the power button and home button at the same time and you should be good to go. If that doesn't work, you'll probably want to try installing the update through iTunes. It's not as fluid but it's an alternative to the OTA download process.
iOS 8.3 Features
iOS 8.3 comes with a ton of bug fixes and security enhancements. It also comes with some new features. The biggest changes are found in the redesigned Emoji keyboard. If you've downloaded iOS 8.3 already and you've sent out a message, you've probably already seen the change. If you haven't, the slideshow below will give you an idea about what to expect.
iOS 8.3 vs iOS 8.2: What's New in iOS 8.3
New iPhone Emoji in iOS 8.3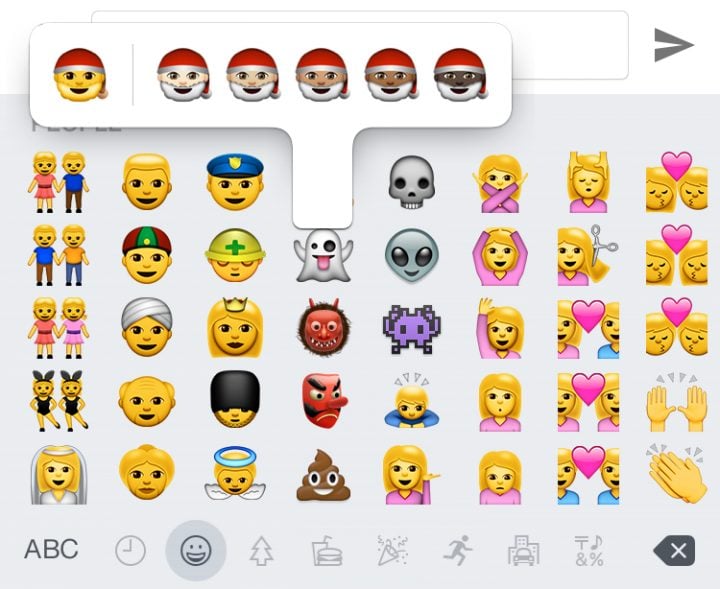 Apple adds over 300 new iPhone emoji in iOS 8.3. There are new Emoji like the Apple Watch and a new Mac, but most users will focus on the addition of more family choices including more kids, families of two men or two women and now there is an option to change the skin tone of many emoji.
Read: How to Use New Emojis
With this update you can tap and hold to choose the skin tone of an emoji icon for many emoji options and then tap to pick the color option. Tap and hold on a new color option to make it the default.
The iOS 8.3 emoji keyboard for iPhone now offers continuous scrolling so it is easier to scroll through the emoji options and find the ones you want.
There are a number of other changes and the slideshow will give you a better idea about what to expect from iOS 8.3 and its collection of new features. The emoji keyboard is the biggest and while it's going to take some getting used to, I think it's a much better layout. I'm also excited to use some of the new emojis. You probably are too.
iOS 8.3 on iPhone 6: Performance
I've spent several hours with iOS 8.3 on iPhone 6. Before getting into the early review of performance, I should note that mileage is going to vary from device to device, person to person. That is to say, I probably don't have the same apps installed and there's a chance that I use Google Chrome, LTE, or my home screen more than you do. So, consider this a general guide as you try to decide whether iOS 8.3 is worth installing on your iPhone 6.
Apps
Apps sometimes start acting up after the release of a new iOS update. This can happen hours, weeks, sometimes months after release. I ran into a number of app issues after making the move to iOS 8.2 though those issues did not appear on day one.
As of right now, all of my apps are working normally with iOS 8.3 on board. Slack, Asana, Instagram, Twitter, Dark Sky, Google Chrome, Google Hangouts, YouTube, and Spotify, my core applications, are all behaving. Hopefully the performance holds but there's no guarantee. One thing that I will say is that major app problems usually jump off the page and I'm not seeing any.
If you do see abnormal app activity after installing iOS 8.3, or if you're seeing it right now on iOS 8.2 or below, my suggestion is to install the latest bug fix updates. If that doesn't work, try reinstalling the app. If that doesn't work, contact the developer so that they're aware of the problem or problems.
iOS 8.3 Battery Life
I've never encountered any weird battery drain on the iPhone 6 and I haven't seen any in my few hours with the iOS 8.3 update. I've been using my iPhone 6 a ton since the iOS 8.3 release earlier today and it's been holding a solid charge when in use (I've been using a mixture of LTE and Wi-Fi just to be sure) and when its in standby.
As I've noted many times, battery life complaints are common after major iOS updates and I've seen tons of people complain about iOS 8 battery life problems. Even iOS 8.2, a major bug fixer, hurt the battery life on some iPhones. Not mine though. My iOS 8 battery life has been top notch on the iPhone 6 and it looks like iOS 8.3 is par for the course.
Updates like iOS 8.3 aren't supposed to bring battery life problems to the iPhone 6. And typically, bad battery life is caused by third-party apps or by you, the iPhone user. Not Apple.
I've outlined a number of strategies to get better battery life on iOS 8 and the same advice applies to Apple's iOS 8.3 update. Have a look at those if you install iOS 8.3 and you start noticing issues with your battery life. You certainly might run into trouble but I expect a majority of you to come out of the iOS 8.3 update without major battery life issues.
Wi-Fi, Bluetooth & LTE
Over the past few months, my iPhone 6 would occasionally drop my Wi-Fi connection for no apparent reason. The problem was sporadic. It would appear for a few days and then subside. Appear for a few days, turn my hair gray, and then subside. I knew I wasn't going crazy because other people were seeing the same thing but it was frustrating nonetheless.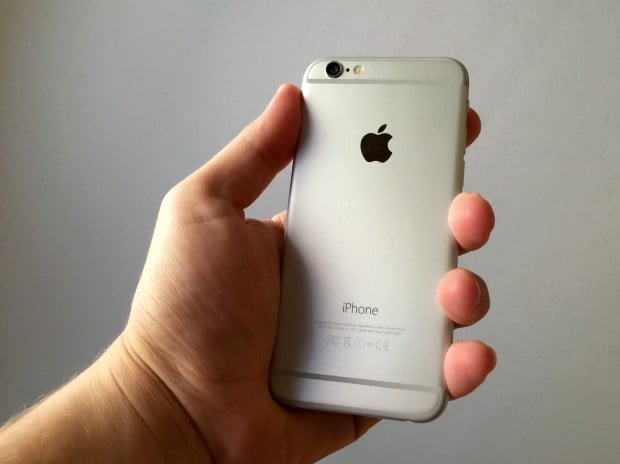 Well, iOS 8.3 comes with a fix for the problem. Imagine that. Specifically, the iOS 8.3 update "addresses an issue where some devices disconnect intermittently from Wi-Fi networks." Looks like I won't have to deal with that Wi-Fi problem any longer.
So far, my Wi-Fi, Bluetooth and AT&T LTE connections have all been solid with iOS 8.3 on board. I haven't run into any odd issues and they've been working fine in the hours since the update's release. I hope that things stay this way but you just never know.
Bugs and Issues
I haven't experienced too many iOS 8 problems on the iPhone 6. That said, I have had one thorn in my side. That thorn? Landscape issues. My UI would get stuck in landscape after I shifted the phone back into portrait. Its been an extremely annoying problem though it looks like iOS 8.3 will fix the problems once and for all.
From the iOS 8.3 change log:
Addresses an issue that sometimes prevented rotating back to portrait after having rotated to landscape.
Improves performance and stability issues that occurred when rotating the device between portrait and landscape.
Hallelujah, my friends. I haven't seen any landscape problems today and I hopefully won't see any in the future now that the iOS 8.3 update is here. We shall see.
So far, I haven't run into any noticeable problems with iOS 8.3. Smaller bugs are always a lot harder to spot so I'll need to dig for those. Larger issues are usually much easier to spot and I haven't heard about or seen any major iOS 8.3 problems myself. That could have something to do with the private and public iOS 8.3 betas that Apple rolled out.
Speed
When I first started using iOS 8.3 this morning, I noticeable what appeared to be an increase in speed and fluidity. The change was small but noticeable nonetheless. Apple's included improved performance for app launch and app responsiveness so that probably has something to do with it. iOS 8.3 just feels extremely snappy. Not that iOS 8.2 was slow.
Should You Install iOS 8.3 Today?
I'll say this. If you're dealing with iOS 8 problems that you can't fix, go ahead and install the iOS 8.3 update right now. It comes with tons and tons of bug fixes for iOS 8 problems and if it fixed my issues, it might fix yours.
If you aren't experiencing any iOS 8 problems, wait a day or two for the smoke to settle before making your decision. iOS 8.3 appears to be stable on my iPhone 6 but I'm just one man with one version of the iPhone 6.
You'll definitely want to gather a bit more feedback before making your move. iOS 8.3 isn't going anywhere. You don't need to rush into anything. So far so good though.

As an Amazon Associate I earn from qualifying purchases.