iOS 8.3 on iPhone 6 Plus: Is It Worth Installing Now?
After using iOS 8.3 on the iPhone 6 Plus for three weeks this is a final look at how well this update performs and includes what you need to know about installing the update on your iPhone 6 Plus. This is an essential update to install if you plan to buy the Apple Watch, but there are over 50 fixes to common iPhone problems that make it worth installing on the iPhone 6 Plus and other devices no matter what you think about the Apple Watch.
We do expect to see an iOS 8.4 update in the coming weeks or months, but with all the new features and bug fixes iOS 8.3 is an update that most users shouldn't skip.
After a public iOS 8.3 beta test Apple delivered the major iOS 8.3 update to users three weeks ago and we immediately installed and started testing this latest version of iOS 8.
The new features make it easier to sort the messages you want, use new emojis and with all the bug fixes the iPhone 6 Plus runs better than ever. Even with the good overall experience we often see problems and issues appear after extended use. With this in mind we are taking another look at the iOS 8.3 performance on the iPhone 6 Plus after three weeks of use.
We'll help you answer any lingering questions about iOS 8.3 and if you should install iOS 8.3 on the iPhone 6 Plus now or wait for the iOS 8.4 release.
iOS 8.3 Performance
The iPhone 6 Plus iOS 8.3 performance is very good even after three weeks of heavy use in a a variety of settings. Here's a breakdown of key areas on the iPhone 6 Plus.
I keep a long list of the best iPhone 6 Plus apps on my iPhone and I have yet to run into any problems with the apps I keep on my phone. This includes apps for fun and apps for work, which I use almost equally on the iPhone 6 Plus.
The iPhone 6 Plus connects to WiFi and LTE perfectly and functions as a mobile hotspot without any problems. Bluetooth works great and connects seamlessly to a variety of accessories that I use including headphones and a keyboard.
iPhone 6 Plus battery life is still amazing. There is no change from iOS 8.2 or even iOS 8, which is a good thing considering the iPhone 6 Plus easily lasts all day even in heavy use.
The iPhone 6 Plus is fast. I'm not sure if it is faster than on iOS 8.2 overall, but messages feels more responsive on the iPhone 6 Plus now than it did a month ago. Overall apps open fast and switch with speed.
No iOS 8.3 problems for this iPhone 6 Plus. My iPhone 6 restated without warning once, but the iPhone 6 Plus runs smooth and without the pesky landscape issues that impacted my use on earlier versions of iOS. It's great to have a bug free iPhone 6 Plus.
Sure, there are always some outliers with iOS 8.3 problems, but the odds are good that you will enjoy the same experience as I am on the iPhone 6 Plus. The continued great performance over three weeks is testament to the quality of this update.
Is iOS 8.3 for iPhone 6 Plus Worth Installing Now?
After using the iOS 8.3 update on the iPhone 6 plus and on other devices for the last three weeks it is easy to recommend installing the update on your iPhone 6 Plus.
This is the best performing version of IOS 8 to date and it fixes too many problems to list them all here, plus it adds important features that i use daily like better message organization and an improved emoji keyboard with new emojis.
Surprisingly Apple is still signing iOS 8.2, so you can downgrade, but most users won't need this option and we don't expect that they will offer this for long. There is no iOS 8.3 jailbreak, so if that is important, stay on the software you are already on.
iOS 8.3 Features
Check out the iOS 8.3 features below that include better messaging that lets you sort out unknown senders and deal with spam messages as well as a closer look at the new emoji options.
iOS 8.3 vs iOS 8.2: What's New in iOS 8.3
New iPhone Emoji in iOS 8.3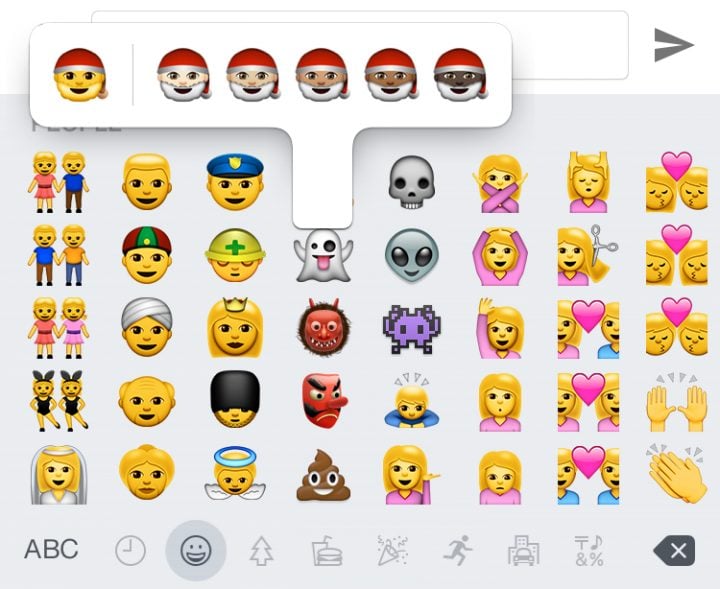 Apple adds over 300 new iPhone emoji in iOS 8.3. There are new Emoji like the Apple Watch and a new Mac, but most users will focus on the addition of more family choices including more kids, families of two men or two women and now there is an option to change the skin tone of many emoji.
Read: How to Use New Emojis
With this update you can tap and hold to choose the skin tone of an emoji icon for many emoji options and then tap to pick the color option. Tap and hold on a new color option to make it the default.
The iOS 8.3 emoji keyboard for iPhone now offers continuous scrolling so it is easier to scroll through the emoji options and find the ones you want.