iOS 8.3 on iPhone 6 Plus: Impressions & Performance
The iOS 8.3 update arrived today to deliver almost 70 fixes and over a dozen new iOS 8.3 features to the iPhone 6 Plus and other devices. This early iOS 8.3 review will help you decide if you should install the new iOS 8 update on your iPhone 6 Plus or if you should wait for a closer look.
The iOS 8.3 update replaces the iOS 8.2 update and it includes the Apple Watch app that you'll need to use the Apple Watch later this month. You cannot delete the Apple Watch App on iOS 8.3, but you can hide it if you cannot stand to look at it.
Starting this afternoon the iPhone 6 Plus and other devices notified owners of the iOS 8.3 update. This is not at the same level as iOS 9, but it is still a major iPhone update. Apple fixes many problems in iOS 8, some from as far back as September 2014 with landscape problems and an annoying WiFi bug that impacts many users on iOS 8, iOS 8.1 and iOS 8.2.
iPhone updates of any size bring a lot of questions about the stability, performance and of course battery life that can change with updates large and small. On new devices like the iPhone 6 Plus this isn't  a huge problem, but it is an area of concern. This is why we install the update as soon as it is out and start to test key features. It's a great idea to read iOS 8.3 reviews before installing the update, no matter how new your iPhone is.
After testing the iOS 8.3 update for several hours on the iPhone 6 Plus, here is an early iOS 8.3 review to help you decide if you should tap Download and Install or if you should wait a little longer before you upgrade. Check out our early iOS 8.3 impressions of the iPhone 6 Plus performance and the many fixes below.
iOS 8.3 Installation
The iOS 8.3 installation is not a breeze for every user, but within just over 10-15 minutes the iOS 8.3 update downloaded to the iPhone 6 Plus and installed without any problems. Other Gotta Be Mobile members are still struggling with slow iOS 8.3 download times on the iPhone and on iTunes.
Read: How to Install iOS 8.3
Make sure you use our iOS 8.3 release tips and follow our guide of things to do before the iOS 8.3 update so that your iPhone is ready in case something does go wrong.
iOS 8.3 on iPhone 6 Plus Performance
Apple focuses on a wide array of performance fixes for the iPhone and iPhone apps with the iOS 8.3 update. After our initial testing the performance is quite good, but it is important to remember that everyone uses the iPhone differently and while our experience so far is good, not all iPhones will perform the same. This comes down to the way we use our iPhones and the apps that we need to run each day. Keep this in mind and if you use any special apps, it is a good idea to check with the developer or with your IT department before upgrading.
Apps
You still get the Apple Watch app with the iOS 8.3 update, so you can forget about an option to delete it and for users who want to buy the Apple Watch, this is an update you'll want to install.
In the last several hours I tested many of my favorite iPhone 6 Plus apps to make sure they work on iOS 8.3. While I did not listen to an entire album or watch a full movie, Spotify and Netflix appear to function fine as does HBO Go.
Read: 10 iOS 8.3 Release Date Tips for iPhone & iPad
Facebook, Tweetbot, Gmail and Alien Blue also work well on iOS 8.3. So far I have not discovered an app that doesn't work on iOS 8.3 that I use regularly. I will continue to monitor less used apps as I test the iOS 8.3 iPhone 6  Plus update more. The first thing to do if you have a problem is update the app and the next is to reach out to the developer, but most users shouldn't experience issues.
iOS 8.3 Battery Life
After four hours of use it is too early to say the iOS 8.3 battery life is perfect, but there is no major iOS 8.3 battery life drain on my iPhone 6 Plus or on the iPhone 6 that is also running iOS 8.3. Often a big bug will show fast draining, but there is always a chance that some battery issues will appear after extended use.
WiFi, Cellular Data & Bluetooth
All connectivity options are working well so far including WiFi, which was not a problem on this specific iPhone in the past. The personal hotspot is working great and the AT&T LTE signal is strong and reliable so far. I'll be testing other networks, but overall things are working good. AirDrop is sporadic, but that is not new and it may be due to the number of devices in my office rather than an iOS 8.3 problem.
Fixes an issue where you could be continuously prompted for login credentials

Addresses an issue where some devices disconnect intermittently from Wi-Fi networks

Fixes an issue where hands-free phone calls could become disconnected

Fixes an issue where audio playback could stop working with some bluetooth speakers
So far the iPhone 6 Plus Bluetooth is working well, with connections to a Bluetooth headset. Apple includes a number of WiFi and Bluetooth fixes listed above, but I have not been able to test the Bluetooth in a car at this time.
Bugs & Issues
After multiple developer betas and a public iOS 8.3 beta it isn't surprising that this major update runs smooth so far. Apple focused on fixing a lot of bugs with iOS 8.3, and that can introduce new problems or issues but after hours of use nothing is popping out as a problem. This is one area that we will keep a very close eye on for the next several weeks and will update with more information in the full iOS 8.3 iPhone 6 Plus review in about a week.
Speed
The iPhone 6 Plus is snappier in some areas than it was on iOS 8.2. One of these areas is when using a third-party keyboards like SwiftKey. Apple dramatically improved the performance there, especially when switching between keyboards for some tasks.
App launch

App responsiveness

Messages

Wi-Fi

Control Center

Safari tabs

Keyboard shortcuts
Apple also outlines key iOS 8.3 speed improvements in the areas listed above and while it's tough to quantify any major speed changes in some of these areas the combination of these focused performance fixes and the fixes for problems like landscape orientation combine to make the iPhone 6 Plus feel quite fast.
Should You Install iOS iOS 8.3?
You don't need to install iOS 8.3 today, and some users may not want to be first in line to try a major update. The upside is that this update fixes a lot of problems and you can downgrade to iOS 8.2 if you need to.
If you are experiencing any of the iOS 8.2 or iOS 8 problems that Apple fixes in this update we recommend installing it. This could fix the very annoying WiFi problems many users report and a plethora of other random iOS problems that annoy and frustrate some users every day. There are almost 70 specific fixes for problems. Apple also adds a number of new iOS 8.3 features that you can see in the slides below.
For users without any problems, it is wise to wait a few days just to make sure no major issues present themselves after additional use. iOS problems have a habit of appearing after extended use, even when everything feels fine on day one. For those who are jailbroken, avoid this update for now.
The slides below outline what's new in iOS 8.3 for users who are upgrading from iOS 8.2 or a recent iOS 8 update. This includes some new iOS 8.3 features and important bug fixes that all users will want to know about.
iOS 8.3 vs iOS 8.2: What's New in iOS 8.3
New iPhone Emoji in iOS 8.3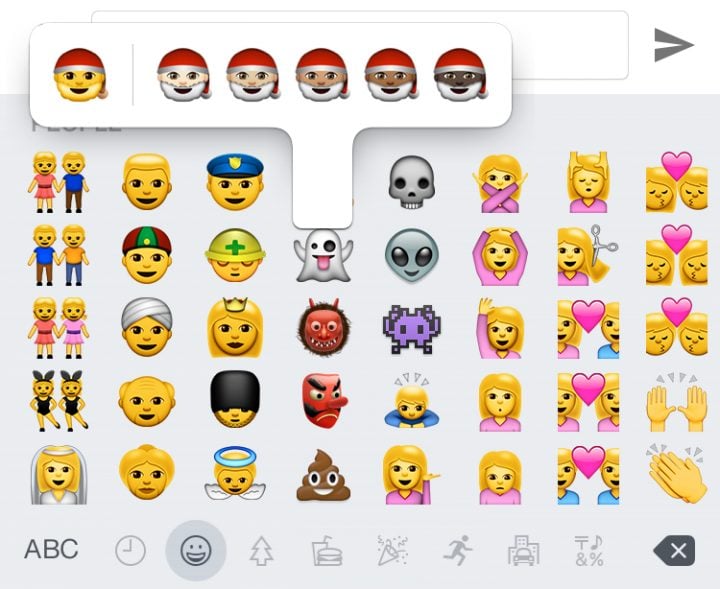 Apple adds over 300 new iPhone emoji in iOS 8.3. There are new Emoji like the Apple Watch and a new Mac, but most users will focus on the addition of more family choices including more kids, families of two men or two women and now there is an option to change the skin tone of many emoji.
Read: How to Use New Emojis
With this update you can tap and hold to choose the skin tone of an emoji icon for many emoji options and then tap to pick the color option. Tap and hold on a new color option to make it the default.
The iOS 8.3 emoji keyboard for iPhone now offers continuous scrolling so it is easier to scroll through the emoji options and find the ones you want.

As an Amazon Associate I earn from qualifying purchases.