iOS 8.3 vs. iOS 8.4: What We Know So Far
Three weeks ago, Apple released an iOS 8.3 update for the iPhone, iPad and iPod touch. And while some believed that it could represent Apple's last big iOS 8 upgrade, that honor will likely fall to another upgrade, iOS 8.4 for iPhone, iPad and iPod touch. With all eyes on these two updates, our early iOS 8.3 vs. iOS 8.4 comparison will bring you up to speed with the most important early details.
Apple's taken an unusual path since the release of its iOS 8.0 update back in September. In years past, Apple's iOS upgrade path went like this. The company delivered several smaller incremental bug fixes, an iOS x.1 update, and then a few more incremental upgrades before moving on to another version of its mobile software. This year time around, things have been different.
In October, Apple burned its iOS x.1 update on iOS 8.1, an update that brought bug fixes and Apple Pay to owners of the iPhone 6 and iPhone 6 Plus. Shortly thereafter, Apple released an iOS 8.2 update into its beta program, a move that confirmed at least one more major iOS 8 update for owners of the iPhone, iPad and iPod touch.
Then in February, with iOS 8.2 still in beta, Apple released an iOS 8.3 beta. Weeks later, right around the time that Apple released iOS 8.2 to the public, Apple pushed out a public iOS 8.3 beta so that users around the world could test out the software ahead of its release. Three weeks ago, Apple released iOS 8.3 to the public though as we now know, it's not going to be Apple's latest major iOS 8 upgrade.
Just days after the release of iOS 8.3, Apple pushed an iOS 8.4 update into its closed developer program, confirming a release for the general public for the first time. iOS 8.4 is expected to be another big release for iOS 8 users.
Today, we want to take a look at how the two updates are stacking up. This early iOS 8.4 vs. iOS 8.3 preview will detail what you should know about their features, their releases, and some of the smaller bits of information that we think you should know about right now.
iOS 8.3 Will Be Around for Awhile So Get Familiar
When Apple released the iOS 8.4 update, it did not outline its plans for a public release. In other words, the iOS 8.4 release date is still missing in action and it could stay that way all the way up until the update is pulled out of the beta program.
What we do know is that iOS 8.4 release date rumors are currently pointing to an arrival sometime this summer. Apple is expected to debut a new streaming music service at WWDC 2015 in June so it's possible that an iOS 8.4 release will take place around there after spending a few weeks inside the company's beta program for testing.
What this means is that iOS 8.3 should be on top for the foreseeable future and this is important to note, especially if you haven't made the upgrade beyond iOS 8.2 just yet.
The decision about whether to upgrade can be a very difficult one. And that's why we've put together a detailed look at the iOS 8.3 update's features and performance. An informed decision is always the best decision.
After three weeks, we've determined that a move to iOS 8.3 ahead of the iOS 8.4 release is probably going to be worth it for many of you. iOS 8.3 brings more than just security updates and bug fixes. It also brings some delightful changes to the emoji keyboard. We recommend that you get to know the iOS 8.3 update ahead of the iOS 8.4 release. This way, you won't be caught off-guard by some of the changes it has on board.
You Can Try iOS 8.4 Right Now
If you've done your homework and you're not interested in iOS 8.3 at this time, know that you can skip ahead of iOS 8.3 and try out the iOS 8.4 update right now. There isn't a public iOS 8.4 beta which means that you'll need to become a paid developer in order to test out Apple's software ahead of time. It's not recommended at this time though, especially if you're having a good experience on iOS 8.3 or below.
Users on MacRumors forums have detailed the first iOS 8.4 beta update and at this point, it's an update worth avoiding. Users have rundown a number of noticeable issues including broken AirPlay, problems with the new Music application, App Store issues, and more.
Apple hasn't confirmed a public iOS 8.4 beta though given that iOS 8.3 beta was open to the public, we wouldn't be surprised if Apple opened up the iOS 8.4 beta before its release later this year. If you're at all interested in trying out iOS 8.4 before its release, we recommend waiting for a more stable version and or a public beta release.
iOS 8.3 problems might be plaguing some people but you're probably going to run into more issues with the iOS 8.4 beta. It's not a solid alternative to iOS 8.3 at this point.
iOS 8.3 vs. iOS 8.4 (Beta)
Instead, we recommend taking in iOS 8.4 vs. iOS 8.3 performance from afar. Users in Apple's beta program have posted videos showing the iOS 8.4 update (in beta form) next to iOS 8.3.
Another video shows us how the iOS 8.4 beta 1 update compares to the iOS 8.3 update on the iPhone 5, another popular iPhone model. Remember, this is beta software versus official software and the iOS 8.4 update will probably go thru several betas before it's released.
iOS 8.4 Will Bring One Big Feature
iOS 8.3 brought a number of new features to the table including a new emoji keyboard, 300+ new emojis, new spam filters for the Messages application, and more. If you're not familiar with the changes, you can take a look at the slideshow below.
iOS 8.3 vs iOS 8.2: What's New in iOS 8.3
New iPhone Emoji in iOS 8.3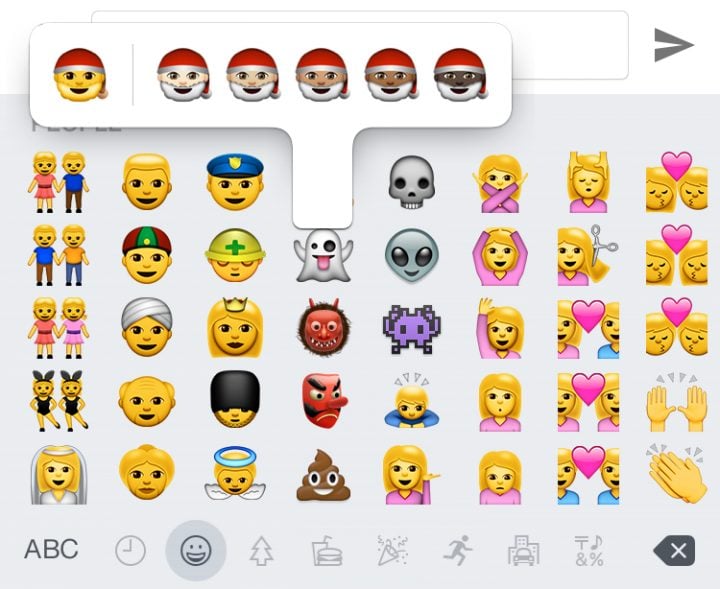 Apple adds over 300 new iPhone emoji in iOS 8.3. There are new Emoji like the Apple Watch and a new Mac, but most users will focus on the addition of more family choices including more kids, families of two men or two women and now there is an option to change the skin tone of many emoji.
Read: How to Use New Emojis
With this update you can tap and hold to choose the skin tone of an emoji icon for many emoji options and then tap to pick the color option. Tap and hold on a new color option to make it the default.
The iOS 8.3 emoji keyboard for iPhone now offers continuous scrolling so it is easier to scroll through the emoji options and find the ones you want.
iOS 8.4 is also expected to bring some new features to the table though it looks like they'll primarily revolve around the company's popular Music application. This should be the biggest difference between iOS 8.4 and iOS 8.3.
The iOS 8.4 Beta includes an early preview of the the all-new Music app. With powerful features and an elegant new look, enjoying your music is easier than ever. This preview provides a sneak peek into what we've been working on, and what's to come — the music is just getting started.

All-New Design. Music app has a beautiful new design that makes exploring your music collection easier and more fun. Personalize playlists by adding your own image and description. Enjoy stunning pictures of your favorite artists in the Artists view. Start playing an album right from the album list. The music you love is never more than a tap away.

Recently Added. Albums and playlists you've recently added are now at the top of your library, making it effortless to find something new to play. Simply tap play on the artwork to listen.

Streamlined iTunes Radio. Discovering music with iTunes Radio is easier than ever. You can now quickly return to your favorite stations in Recently Played. Choose from a selection of hand-curated stations in Featured Stations, or start a new one from your favorite artist or song.

New MiniPlayer. With the new MiniPlayer, you can see what's playing and control playback while browsing your music collection. To open Now Playing, just tap on the MiniPlayer.

Improved Now Playing. Now Playing has a stunning new design that showcases your album artwork the way it was meant to be. In addition, you can begin wirelessly streaming your music using AirPlay without leaving Now Playing.

Up Next. It's now simple to find out which songs from your library will play next — just tap the Up Next icon in Now Playing. You can even reorder, add, or skip songs whenever you like.

Global Search. You can now search from anywhere in the Music app — just tap the magnifying glass. Search results are conveniently organized to help you quickly find that perfect song. You can even start an iTunes Radio station right from Search.
There will be some smaller changes too. We've already heard about a few changes. Apple's removed audiobooks from the Music app and dropped it into its iBooks application. The company's also made some tweaks to the CarPlay application.
iOS 8.3 Jailbreak & iOS 8.4
Jailbreak developers were unable to release an iOS 8.2 jailbreak for iPhone, iPad and iPod touch. And while there was some optimism regarding an iOS 8.3 jailbreak release, it's now looking like developers have turned their attention to iOS 8.4.
The iOS 8.4 update has already been jailbroken though it's likely not going to be released to the public any time soon. As we've noted, there's a good chance that developers will opt to release for iOS 8.4 instead of iOS 8.3. iOS 8.4 is expected to be the last major iOS 8 upgrade before iOS 9 which would give it far more longevity than an iOS 8.3 jailbreak.
Nothing is set in stone but at this point, odds are that we'll developers release a jailbreak for iOS 8.4 rather than iOS 8.3.