iOS 9.1 iPhone 4s Reviews: Should You Upgrade?
Should you update to iOS 9.1 on the iPhone 4s? This is a very common question from users of the iPhone 4s, which is the oldest iPhone capable of running iOS 9 or iOS 9.1.
We are hearing from a number of users who want to know if the iPhone 4s can handle iOS 9.1, and if it is worth installing the iOS 9.1 iPhone 4s update.
One common misconception is that the iPhone 4s cannot run the iOS 9.1 update. While there are certainly some users who don't want to upgrade from iOS 7 or iOS 8 to iOS 9.1, the iPhone 4s does indeed support the latest software.
After reading through the iPhone 4s iOS 9.1 reviews from regular users and looking at iOS 9.1 iPhone 4s speed comparisons there are mixed reviews about the new update on the old phone.
https://twitter.com/fruitlessphan/status/657195403075592192
Here is a closer look at what you need to know about the iPhone 4s iOS 9.1 update and advice on if you should install iOS 9.1 now.
iPhone 4s iOS 9.1 Installation
The best part about this upgrade is that we have not seen any complaint about failed iOS 9.1 upgrades or installations on the iPhone 4s.
Although failed upgrades aren't incredibly common, we have seen issues in the past where phones got stuck on an upgrade screen or looped during the upgrade.
We still suggest you back up before you upgrade, but the installation doesn't look like something you need to worry about on your iPhone 4s
iPhone 4s iOS 9.1 Performance
Can the iPhone 4s handle the iOS 9.1 update? That's another fairly common question from users who realize that they own an old iPhone and new updates don't always deliver the best experience.
I really want to get IoS 9.1 but I honestly don't know if my iPhone 4S can take it…….

— Aisling (@TheFemaleBlue) October 21, 2015
While the overall speed and performance of iOS 9.1 on the Phone 4s may vary, you can use the following reports to get a good idea of what you can expect.
iPhone 4s iOS 9.1 Speed
Watch the video below to see how the iOS 9.1 speed is on the iPhone 4s compared to iOS 9.0.2. Apple still offers an option to go back to iOS 9.0.2 for the time being, but it will not last forever.
In the video above there are some times where iOS 9.0.2 is faster and others where iOS 9.1 is faster, but there is no dramatic difference.
If you did not upgrade to iOS 9 already, you may want to see how well the iOS 9.1 update handles on the iPhone 4s compared to iOS 8.4.1, the last version of iOS 8 that Apple released. The video below offers that comparison to users.
In this second comparison many apps load faster on iOS 8.4.1 than on iOS 9.1. It isn't a massive speed difference, but it is noticeable.
The iPhone 4s devices in these videos are fully restored and loaded with the same backup.
iPhone 4s iOS 9.1 Apps
Another part of performance is apps on the iPhone 4s. After the upgrade we could not find specific complaints about apps not working on the iPhone 4s due to iOS 9.1. There are some apps that cannot run on the iPhone 4s, but this is due to the power of the phone, not iOS 9.1.
iPhone 4s iOS 9.1 Battery Life
On the Apple Support Forums Pradeep1984 and Tim Pentreath report abnormal iPhone 4s iOS 9.1 battery draining. Pentreath writes,
"Having updated to 9.1 this morning (9am) when my phone was at 100% (I did it shortly after unplugging from its overnight charge), by 3.25pm it was down to 12% (it would normally be at 60-80%) with no phone calls, just a few hours of streaming Apple Music and five mins setting up Apple News."
To fix this he held the home and power button until the iPhone restarts. This could solve your problem. If not, check out this guide to fix bad iOS 9 battery life.
iPhone 4s iOS 9.1 Connectivity
There are scattered reports of iPhone 4s iOS 9.1 connectivity issues including the inability to use cellular data with Facebook and trouble making and receiving calls. User tabithj writes on the Apple Support Forums,
"I just updated my iPhone 4s to the latest iOS, iOS 9.1. Since doing so, I have been unable to receive or send any calls. I am told by callers that when they call me, they hear two rings, and then their calls go to voicemail. I do not hear any of these rings and do not get a "missed call" notification, but I can receive the voicemails. Likewise, when I try to make a call, my phone ends the call before it has a chance to ring."
One potential solution is to go to Settings -> General -> Reset -> Reset All Settings. This clears out settings, but keeps your data.
iPhone 4s iOS 9.1 Bugs
The biggest bug is listed above in connectivity, and battery drain is an issue for some users, but there is no major iOS 9.1 bug that impacts every iPhone 4s owner.
https://twitter.com/fangirlncc/status/657166783451934720
One user reports that they are missing the Unicorn emoji and some others say they cannot see the new emoji options on the iPhone 4s after upgrading.
Should You Install the iPhone 4s iOS 9.1 Update?
Users who are already running iOS 9.1 on the iPhone 4s should upgrade now. There are important fixes in iOS 9.1 and if you are worried, you can try out iOS 9.1 while Apple still allows a workaround to downgrade back to iOS 9.0.2 if you have problems.
For users on iOS 8.4.1, it is not a clear-cut decision. Based on the speed performance, you need to weigh the new features in iOS 9 and the new iOS 9.1 emojis before you upgrade. User reviews are mixed, and there is no way to downgrade to iOS 8 so your decision is final.
If you are on an older version, like iOS 7, you've held out this long and it's probably a good idea to stay there.
iOS 9.1 vs iOS 9: What's New in iOS 9.1
New iOS 9.1 Emoji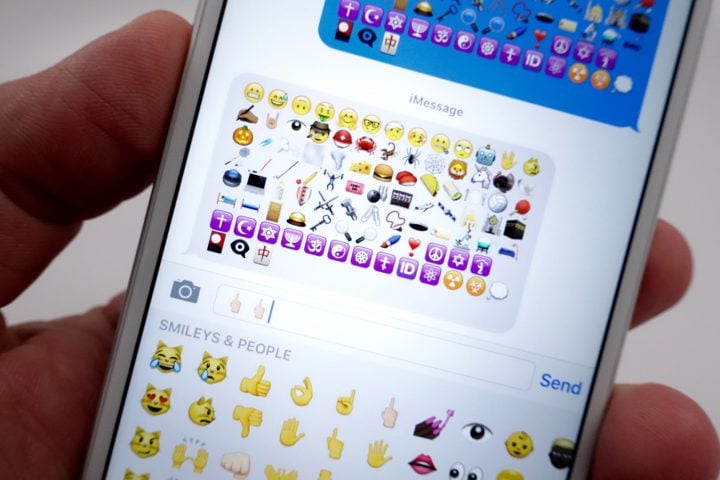 There are a lot of new iOS 9.1 emoji options to use when you install the upgrade. The most talked about new emoji is the middle finger emoji, but there is also a unicorn, a taco, a burrito, a lion, spider, new sports, gambling options and a lot of new faces.
Once you upgrade you will get access to the new iOS 9.1 emoji on your iPhone and iPad. Many of these support the multiple skin tone options that Apple added to iOS 8 over the summer.
If you send the new iOS 9.1 emoji to someone who does not have iOS 9.1 installed they will see odd blocks for many of the items you send.
You can use all the new iOS 9.1 emoji on the iPhone emoji keyboard that is on by default. You don't need to buy any apps to get the new emoji.