iOS 9.1 Problems: 5 Things That Need Your Attention
The iOS 9.1 update brings new features and bug fixes but it also brings problems to iPhone, iPad and iPod touch. If you're already on Apple's new software or you're thinking about installing iOS 9.1, keep these things in mind.
Two weeks ago, Apple released a new update called iOS 9.1. The update arrived just a few short weeks after the release of Apple's iOS 9.0, iOS 9.0.1 and iOS 9.0.2 updates.
Unlike iOS 9.0.1 and iOS 9.0.2, iOS 9.1 is a large update that delivers new features alongside bug fixes for iOS 9 problems.
iOS 9 problems have been a problem since release in September. They've plagued iOS 9.0 users. They've impacted iOS 9.0.1 performance. And they've also caused headaches for many iOS 9.0.2 users. Problems include security flaws, issues with apps, battery drain problems, and more.
iOS 9.0.1 and iOS 9.0.2 squashed some of the more glaring iOS 9 problems but they didn't fix them all. iOS 9.1 arrived with several key bug fixes and performance enhancements including stability updates for Apple's stock apps.
iOS 9.1 fixes some issues but it also, according to some iOS users, brings some problems of its own. With these iOS 9.1 problems in mind, we want to take a look a few things that will help if you do experience issues with Apple's first milestone update.
We'll also tell you about a few things to keep in mind if you haven't installed the iOS 9.1 update on your iPhone, iPad or iPod touch.
iOS 9.1 Problems Plaguing Users
The first thing you need to know is that there are iOS 9.1 problems plaguing iPhone, iPad and iPod touch users who've already taken the plunge with the update and its new features.
Social media sites like Twitter and Apple's very own discussion forums are filling up with feedback about Apple's latest update. While some of the feedback is good, others are complaining about various issues with the iOS 9.1 update and its performance. These problems include a frustrating Touch ID issue that continues to gain steam.
iOS 9.1 Touch ID Problems
It appears that some iPhone users are experiencing problems with unreliable Touch ID. Touch ID is the fingerprint sensor embedded in the home button on several iPhone and iPad variants.
Some users are saying that Touch ID has become less responsive and others are saying that, at times, it won't even accept a fingerprint.
Issues with Touch ID aren't unprecedented. Apple was forced to issue an iOS 8.0.2 update to fix Touch ID problems in iOS 8.0.1.
We haven't seen the problem on the iPhone 6s, iPhone 6s Plus, iPhone 6, or iPhone 6 Plus. At least not yet.
Other iOS 9.1 Problems
Other iOS 9.1 problems include battery drain on the iPhone 4s, problems with Search, problems with contacts and certain apps, various forms of installation issues, problems connecting to cellular service, iPhone 6s battery drain problems, and issues with Messages.
Great. Massive Battery Drain since I enabled Wi-Fi calling on iOS 9.1… CommCenter is on 100% CPU… @Swisscom_Care, do you have any idea?

— Christian Stocker (@chregu) October 22, 2015
iOS 9.1 is not a good version many problems with battery, Apple Music, messages. 😡😡😡

— FabienW  (@FabienWannerOFF) October 22, 2015
As well as giving the middle finger to users of emoji, iOS 9.1 appears to have done the same to battery life. So near yet so far. — Gareth Potter (@ickoonite) October 22, 2015
These are just some of the early iOS 9.1 problems impacting iPhone and iPad users. We expect more issues to emerge as more people discover iOS 9.1 lurking in iTunes and Settings.
Now, it's important to note that while there are iOS 9.1 problems, they appear to be isolated, at least for the moment. We haven't heard about any widespread iOS 9.1 bugs or problems and we haven't seen anything significant in our testing on iPhone and iPad. That said, know that you're taking a risk by updating to the iOS 9.1 update.
It's impossible to predict if you'll run into problems and that's precisely why we recommend preparing for the update and its changes.
Also remember that Apple won't force you to install the iOS 9.1 update. In fact, there are actually some good reasons why you might want to avoid the iOS 9.1 update, at least for the moment. These early iOS 9.1 problems are just one of the reasons.
iOS 9.1 Feedback
If you've moved to iOS 9.1 already or if you're thinking about an install, make sure you dig into feedback about the iOS 9.1 update. We've been taking a close look iOS 9.1 on the iPhone 6s, iPhone 6s Plus, iPhone 6, iPhone 6 Plus, and iPhone 5. These reviews are going to be a great starting point for those of you worried about problems and those of you experiencing issues with iOS 9.1.
You'll also want to branch out and take a look at feedback from other iOS 9.1 users. Mileage always varies so it's good to absorb a wide range of feedback both before, and after, you install the iOS 9.1 update.
Monitoring this feedback will warn you of potential problems, keep you up-to-date on the latest iOS 9.1 issues, and help you fix problems if you do run into something. It's important. It's also important to get both sides of the story. While some people are having issues with iOS 9.1, others are reporting good things.
IOS 9.1 on my iPad 3 is much smoother than before. No lag. 👍 — Wesley Tee (@weztimonial) October 22, 2015
Praise #iOS 9.1! Taco emojis and less lag while multitasking and on passcode screen! — judd (@juddthh) October 22, 2015
Whole day passed and battery is still 60 % .. Either i didnt use social media today or IOS 9.1 is really good. #Iphone 6s plus — ADeel Khan (@adeelkhan77) October 22, 2015
First day with iOS 9.1 on iPhone 6s Plus was pretty good. Most lags and stutters are gone and battery is over 50% at 10PM! — Abbas Jaffar Ali (@ajaffarali) October 22, 2015
Fixes for iOS 9.1 Problems
If you do run into one of these iOS 9.1 problems, don't panic. You have a ton of resources at your disposal.
One of them is Apple's discussion forums. Users on there are generally very helpful and it's one of the first places to look if you see something out of place after moving to iOS 9.1.
You'll also want to take a look at our list of fixes for common iOS 9 problems. Our guide offers fixes for battery drain issues, problems with Wi-Fi and more.
iOS 9.2 Beta & Downgrading
If you can't find a fix for your iOS 9.1 problem, note that you can no longer downgrade to the iOS 9.0.2 update.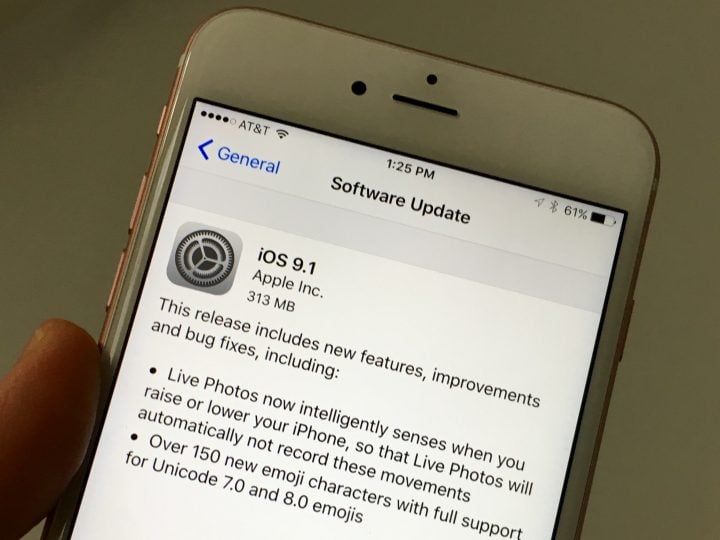 Apple's closed off the iOS 9.0.2 downgrade loophole which means you have two options at your disposal. One, you can move to the public iOS 9.2 beta that Apple released a few days ago. Or two, jailbreak your device and move to something older.
If you jailbreak, you can drop back down to iOS 8. Most of you won't want to do this but it's an option if iOS 9 and iOS 9.1 are really bothering you.
iOS 9.2 & What's Next
If you're dealing with iOS 9.1 problems, know that Apple's confirmed an iOS 9.2 update for the iPhone, iPad and iPod touch and that it will bring bug fixes to iOS 9 users. It's just not clear if it's next in line.
If the company has an iOS 9.1.1 update in store for users, it's not saying. And there's a good chance it won't say anything ahead of time.
iOS 9.0.1 and iOS 9.0.2 both came out of the blue and if Apple is planning another small bug fixer, it could arrive out of the blue as well. Point is, you shouldn't rely on Apple to fix your iOS 9.1 problems.
The iOS 9.2 release date could arrive before the end of the year but that's not set in stone. For more on iOS 9.2 take a look at our most recent roundup.
iOS 9.2 Release Date: 5 Things to Get Excited About
iOS 9.2 Performance
It's still early but it looks like the iOS 9.2 update could improve performance in key areas on some well-known devices.
Developers testing the update have relayed feedback about the iOS 9.2 beta and its performance and so far, we've heard good things.
iPhone 4s iOS 9.2 beta testers are saying that Multitasking has improved with the iOS 9.2 update on board. iPhone 6s Plus beta testers claim that there is less 3D Touch lag with iOS 9.2 on board. And iPhone 6 Plus say that the App Switcher is far more fluid than it was in previous iOS updates.
We've also heard that Control Center lag has lessened on devices like the iPhone 5 and iPhone 5s though it's not clear if that will translate to the final version of the update.
Developers and testers claim that performance is improved over iOS 9.1. If that's true that's exciting because iOS 9.1 has been excellent on many of our devices.
It's still early in the process but it's good to hear positive things ahead of the release date. Hopefully these performance stick.

As an Amazon Associate I earn from qualifying purchases.