iPad 2 iOS 8.3 Reviews: Should You Install iOS 8.3?
We're here to tell you everything you need to know about the iPad 2 iOS 8.3 update including the answer to the most asked question of the week, "Should I install iOS 8.3 on the iPad 2?"
The early user iPad 2 iOS 8.3 reviews all agree that this is a phenomenal update, and if you own the aging iPad 2 you definitely want to read what these users have to say about using the iPad 2 with iOS 8.3 installed.
We are closing in on the last updates for the iPad 2 if Apple keeps the traditional time-table in play, so it is great to see that this may deliver all the bug fixes that iPad 2 owners want an incredible boost to the iPad 2 performance that some users say is close to the iPad 2 speed and performance from iOS 6. That's impressive.
Read: 8 Reasons to Install the iOS 8.3 Update Right Now
This is still a major decision for users on iOS 6 or iOS 7 because there is no way to downgrade back to those older versions, but there are a lot of fixes and a lot of exciting new iOS 8.3 features including the new emojis that everyone is talking about. If you are already on iOS 8 you can downgrade back to iOS 8.2 if you need to, but so far the reviews are good.
The list of fixes for the iPad and iPhone in the iOS 8.3 update numbers almost 70, with huge performance enhancements for Apple apps and fixes for a lot of problems.
Here is everything you need to know about the iOS 8.3 iPad 2 update including early iOS 8.3 reviews from users who live with the iPad 2 every day.
iOS 8.3 Installation
We did not hear of any iPad 2 iOS 8.3 installation problems. We did hear about some general iOS 8.3 installation problems from users who ran into long download times. We also heard from users on an older version of iOS, stating that their device did not see iOS 8.3, just iOS 8.2. If you experience this issue you should restart the iPad 2 and it will likely see the iOS 8.3 update.
iOS 8.3 on iPad 2 Performance
The iOS 8.3 iPad 2 performance will vary from one device to the next, but this is the best report of any iPad 2 iOS 8 update in a year. Every user review of the iPad 2 iOS 8.3 update agrees that performance is solid and we are not seeing reports of major bugs and problems. Still, it is a good idea to keep in mind that the sentiment may change after a week of use, so if you are on the fence, you may want to wait because the performance can vary from one device to another.
iPad 3 iOS 8.3 Speed
https://twitter.com/rox_lukas/status/586428372202291200
The iPad 2 iOS 8.3 update delivers a major speed boost according to users and as shown in the video below that demonstrates the overall speed of iOS 8.3 on this older iPad.
Every user review of iOS 8.3 that we found for the iPad 2 says that the device is faster and that this update gave new life to the iPad 2. The update fixes lag that was present when scrolling and the iPad responds to taps as soon as you make them.
https://twitter.com/Rob__McCallum/status/585918722147278848
The only real issue that one user reports is that the iPad 2 crashed and restarted multiple times after the update, but that seems to be done now and performance and speed are solid.
iOS 8.3 made my iPad 2 usable again. Hooray? (No more scrolling lag, instantly responsive to taps again, etc.)

— shawn medero (@soypunk) April 8, 2015
https://twitter.com/justin_kellen/status/585878229010944000
Apps & Connectivity
We always see some reports of apps that don't work after an update, and this is no different, but they are not widespread. Occasionally this is due to changes with iOS that developers need to handle.
https://twitter.com/Samson_Yao/status/586281932113190913
If you are using iOS 8.3 and apps aren't working right you should make sure that all apps are up to date and if that fails the next step is to uninstall the app and reinstall it.
iOS 8.3 Battery Life
We are not seeing widespread reports of iPad 2 iOS 8.3 battery life problems. One user shares the effect of installing iOS 8.3 on the iPad 2, but this seems to be from the actual installation, not from use. it is acceptable to see the battery life drop during an installation when the iPad is downloading and then installing, but we don't want to see battery life decrease overall. Here's how to fix bad iOS 8.3 battery life.
https://twitter.com/mattclausen/status/585885679168557057
Bugs & Issues
The iOS 8.3 update fixes a lot of  problems, but there is a chance that it can bring other problems or issues with it. After a few days users are not reporting significant iOS 8.3 problems on the iPad 2. On Twitter, @Gen_Zer0 shares, "I feel iOS 7 never got total stable. iOS 8.3 seems very solid!! Even on my iPad 2!"
If you experience problems, you should read our 10 common iOS 8.3 problems and fixes guide to solve them without going to an Apple Store.
Should You Install iOS 8.3 on the iPad 2?
While it is generally wise to wait a week before taking the plunge and upgrading an older device, there are so many positive iOS 8.3 iPad 2 reviews that anyone already on iOS 8 should consider making this upgrade now. The iOS 8.3 update delivers a wide range of fixes for iOS 8 problems and users report great performance, which makes it a no-brainer for anyone on iOS 8 — unless you need a jailbreak.
For users still on iOS 7, you cannot go back if you upgrade, but with positive reports you should consider an upgrade to iOS 8.3. If you don't upgrade now you can wait and see how this update handles in a week or even a month before you make the jump, but all signs point to a positive experience.
iOS 8.3 vs iOS 8.2: What's New in iOS 8.3
New iPhone Emoji in iOS 8.3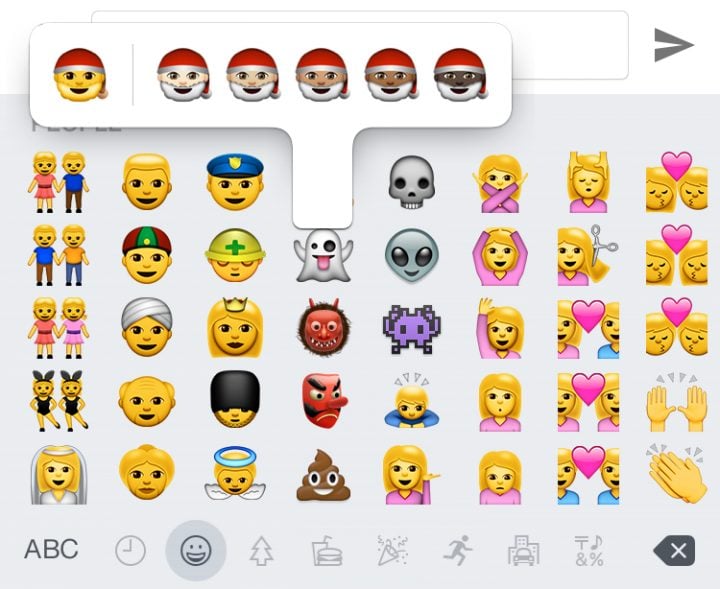 Apple adds over 300 new iPhone emoji in iOS 8.3. There are new Emoji like the Apple Watch and a new Mac, but most users will focus on the addition of more family choices including more kids, families of two men or two women and now there is an option to change the skin tone of many emoji.
Read: How to Use New Emojis
With this update you can tap and hold to choose the skin tone of an emoji icon for many emoji options and then tap to pick the color option. Tap and hold on a new color option to make it the default.
The iOS 8.3 emoji keyboard for iPhone now offers continuous scrolling so it is easier to scroll through the emoji options and find the ones you want.