iPad mini Detailed in Pictures
Apple announced the IPad mini and a collection of new Apple products at a special event in San Jose on October 23rd.
The new iPad mini is a smaller version of Apple's wildly popular iPad tablet. The new 7.9-inch tablet is Apple's first new iPad product since the line was introduced in 2010.
Apple plans to offer the iPad mini as a cheaper version of the iPad for budget conscious consumers, considering the Nexus 7 and Kindle Fire HD. The company is also said to be pitching the smaller tablet to schools and businesses.
Below is a closer look at the iPad mini in photos and Apple's other announcements worth checking out.
The iPad Mini Arrives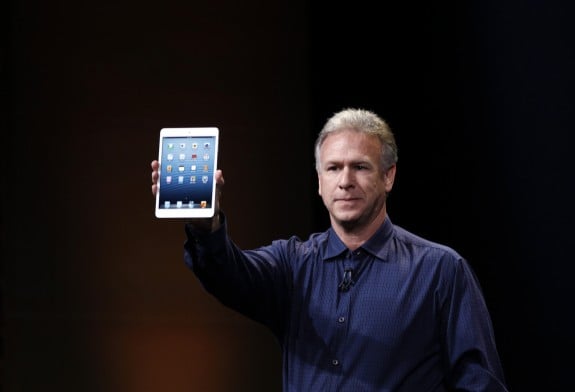 Phil Schiller, Apple Senior Vice President of wordlwide marketing at Apple announced the iPad mini at a special event in San Jose, Calif. on October 23rd. The new iPad mini is smaller and thinner than the iPad that brought Apple to the top of the tablet market.
The iPad mini starts at $329, a price Apple hopes will make the iPad more accessible to consumers, businesses and education. The iPad mini joins the new iPad fourth generation and the iPad 2 to round out Apple's iPad lineup.
Apple will start taking iPad mini pre-orders on Friday October 26th at an unannounced time.
Photo REUTERS/Robert Galbraith