iPhone 6: Almost Double the Battery Capacity of the iPhone 5s
The iPhone 6 may last almost twice as long as the iPhone 5s on a single charge thanks to a gigantic battery and improved power management in iOS 8.  A video is making the rounds that shows the 2,915 mAh battery that will reportedly power the larger of the two models Apple will likely introduce tomorrow.
Until now, Apples introduced one flagship iPhone model per year. The company typically rehashes older models to satisfy those on tighter budgets, but hasn't really offered people much choice, besides carrier and storage capacity. For the first time, Apple will introduce two new iPhones with different screen sizes and specs at its event tomorrow and if you want to maximize battery life you'll want to get the lar5.5″ iPhone 6 rather than the rumored 4.7″ model, which will have a smaller battery.
Above is the video of the leaked 5.5″ iPhone 6, which Nowhereelse.fr posted. As the video description and previous iPhone 6 rumors note, the larger device may be called the iPhone 6 Air, iPhone 6 Pro or something similar. The video shows an Apple part number, but of course is not officially confirmed.
Read: The iPhone 6 Launch Date: Everything We Know
Like with all large smartphones, the 5.5″ iPhone 6's display will require more power, but the larger battery will likely net longer real-world battery performance. Those who keep their iPhones on standby for long stretches will realize the biggest battery benefit from opting for the 5.5″ iPhone 6 rather than the smaller 4.7″ model.
Many phone manufacturers  are already packing large batteries into large smartphones, blowing away the iPhone 5s's 1,560 mAh. For example the Samsung Galaxy Note 4 has a 3,300 mAh battery and the LG G3 has a 3,300 mAh battery.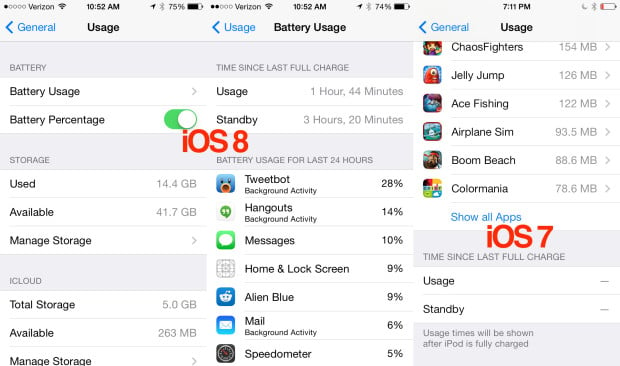 A bigger battery alone doesn't guarantee great battery life however. Fortunately, iOS 8 will provide detailed reports on which apps are too power thirsty so users can kill them when they need to eek out a few more hours of juice. As you can see, this is a lot more information that what's currently provided in iOS 7. You can read more about the differences between iOS 7 and iOS 8 here.
Apple has a habit of selling battery life as key differentiators between its own product lines.  For example, it advertises its 13″ MacBook Air with up to 12 hours of battery life and the smaller 11″ MacBook Air as having 9 hours of battery life. The three hours of extra battery life is key for many users, including mobile professionals and one reason why Apple is able to charge a $100 premium for the larger computer.  We expect Apple to charge a similar premium for the 5.5″ iPhone 6. While the larger display will be the primary selling point, longer battery life will be the biggest advantage in real-world use.
Read: The iOS 8 Release Date: Everything We Know

This article may contain affiliate links. Click here for more details.