iPhone 6 Plus iOS 8.3 Update: 5 Things Users Need to Know
The iOS 8.3 update arrived last week for the iPhone 6 Plus and other Apple devices. Many users are just now seeing the iOS 8.3 update notification on the iPhone 6 Plus and this guide will walk you through five things you need to know before installing the update on your iPhone.
In this specific iPhone 6 Plus iOS 8.3 update article we will share an update look at our experience using this update and five details that iPhone 6 Plus owners need to know about the latest iOS 8 update now.
Apple delivered iOS 8 with the iPhone 6 Plus last September and after a flurry of small updates in late 2014 and early 2015 the company is focused on major updates like iOS 8.3. This replaces the iOS 8.2 update that arrived in March with Apple Watch compatibility. iOS 8.3 still delivers that the Apple watch functionality that you need, but it also includes almost 70 fixes and new features to smooth out some iOS 8 bugs and iOS 8.2 problems.
In the days since the iOS 8.3 release last week friends and users asked us about the overall iOS 8.3 performance on the iPhone 6 Plus and here we hope to answer those for everyone who owns the biggest iPhone. We're still working on a full iPhone 6 Plus iOS 8.3 review for later this week, but until that arrives here are five things you should know today.
iPhone 6 Plus iOS 8.3 Update Performance
Shortly after the iOS 8.3 release we shared an early review of iOS 8.3 on the iPhone 6 Plus. Not much has changed since that update, which is a good thing. It is always possible that some small problem or bug will appear with additional usage, but that is not the case.
After using the iPhone 6 Plus with a variety of Bluetooth devices on LTE at home and on the go and on a collection of WiFi networks it is clear that there aren't any connectivity issues on our iPhone 6 Plus. While there are some iOS 8.3 problems, none are impacting how we use the iPhone 6 Plus at this time.
Why You Should Install iOS 8.3
The iOS 8.3 update includes a lot of bug fixes and cool new features like new emojis and a secret Spock emoji. There are also new features in Messages that make it easier to report junk texts and to filter unknown senders out of your main Messages list. The slides at the bottom of this article show you what's new in iOS 8.3.
Perhaps the biggest reason to install the iPhone 6 Plus iOS 8.3 update is that it solves some of the most annoying iPhone 6 Plus problems we've experienced in the last six months. So far the landscape bugs are gone, and Apple finally called them out in the change log so we are hopeful that they will stay gone.
Connectivity was and is solid, but if you suffer from WiFi problems on iOS 8.2 or earlier this update promises to solve disconnects and other issues.
If you plan to use the Apple Watch that arrives on April 24th, or soon after, you may also want to upgrade to iOS 8.3, even if you are on iOS 8.2. If you aren't on iOS 8.2, then you definitely want to upgrade or you won't be able to use the Apple Watch.
iOS 8.3 jailbreak
There is no iOS 8.3 jailbreak yet, and we didn't see an iOS 8.2 jailbreak. The latest chatter suggests we could be waiting a while for the iOS 8.3 jailbreak release because Apple fixed a lot of the security holes in iOS 8.
Read: iOS 8.3 Jailbreak – What You Need to Know
If you are running a jailbroken iPhone 6 Plus and you ordered an Apple Watch, you may need to make a decision in the next two weeks, because there is still no version of iOS that works with a jailbreak and with the Apple Watch.
iOS 8.3 Problems & Fixes
Although this iPhone 6 Plus update fixes a lot of problems, it is not bug free. There are complaints of iOS 8.3 problems on the Apple Support Forums and we recently shared a collection of iOS 8.3 problems that users need to know about.
We've heard scattered reports of bad iOS 8.3 battery life on the iPhone, but this is not a widespread issue at this time. If you do experience bad battery life we offer a guide to fix those problems.
Another resource is our list of common iOS 8.3 problems and fixes. Here you will find the biggest problems and how you can fix them without going to an Apple Genius for help.
iOS 8.3 to iOS 8.2 Downgrade
For the time being you can downgrade from iOS 8.3 to iOS 8.2 if you don't like the upgrade. This option may only last another week before Apple shuts it off, so if you think you want to use this option you should act now. You can use this guide to downgrade to iOS 8.2.
Keep in mind that you cannot downgrade further,  so there is no way to go back to iOS 8.1.2 or an older version where you can jailbreak the iPhone 6 Plus.
iOS 8.3 vs iOS 8.2: What's New in iOS 8.3
New iPhone Emoji in iOS 8.3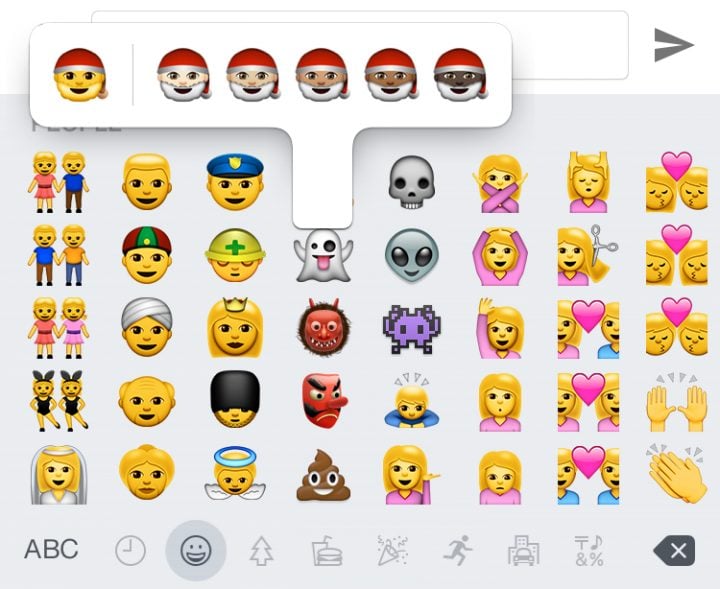 Apple adds over 300 new iPhone emoji in iOS 8.3. There are new Emoji like the Apple Watch and a new Mac, but most users will focus on the addition of more family choices including more kids, families of two men or two women and now there is an option to change the skin tone of many emoji.
Read: How to Use New Emojis
With this update you can tap and hold to choose the skin tone of an emoji icon for many emoji options and then tap to pick the color option. Tap and hold on a new color option to make it the default.
The iOS 8.3 emoji keyboard for iPhone now offers continuous scrolling so it is easier to scroll through the emoji options and find the ones you want.