9 Common iPhone 6 Plus Problems & How to Fix Them
The iPhone 6 Plus is a great iPhone, but a number of common iPhone 6 Plus problems continue to frustrate users.
Over the last year iOS 8 updates, iOS 9 and recently iOS 9.3 have fixed many issues, but there are still bugs that users will sometimes run into.
Here, we take a look at the most common iPhone 6 Plus problems and how to fix them on your iPhone 6 Plus without a trip to the Apple Store.
Some of these issues are lingering iOS 9 problems that Apple will need to continue to work on, while others are easy to fix by installing the free iOS 9.3.3 update. Others are strictly iPhone 6 Plus problems that are not a problem on older devices. Apple is finally delivering real fixes to these common iPhone 6 Plus problems.
iPhone 6 Plus Battery Life
Overall iPhone 6 Plus battery life is good, but some users experience bad iPhone 6 Plus battery life after the latest update to iOS 9.3.2.
If the iPhone 6 Plus battery doesn't last all day under average use you should go to Settings -> General -> Usage -> Battery Usage.
Here you can see if Usage and Standby are the same. If that is the case there is something wrong with your iPhone and iOS 9.3. You can try resetting settings and deleting recently installed apps as well as other iPhone 6 Plus battery fixes. To reset iPhone 6 Plus settings without deleting your files go to Settings -> General -> Reset -> Reset All Settings. 
If they are closer to what you see in the image above an app may be the problem. If the iPhone 6 Plus is warm and slow, you can hold the home and power button to reboot the phone.
You can see what apps use the most battery life on your iPhone 6 Plus and, if need be, delete the app. Facebook is a major battery drain for many users. Google Hangouts and other apps with background activity can cause bad iPhone 6 Plus battery life.
How to Fix iPhone 6 Plus WiFi Problems
iPhone 6 Plus WiFi problems include poor speeds, random disconnections and the inability to connect to certain routers. This is not unique to the iPhone 6 Plus, as small updates and iPhone releases deliver WiFi problems to the iPhone. A common problem we ran into is the inability to print to a Wireless printer. Rebooting the iPhone, router and printer fixed this for a while.
WiFi problems are tougher to fix due to the variety of factors causing connectivity issues. Here are several steps you can try on your iPhone and at your home network to fix iPhone 6 Plus WiFi problems. Hopefully this will prevent the need to buy a new router.
Before you try any of these make sure you install the iOS 9.3.2 update. Go to Settings -> General -> Software Update -> Download & Install. If you are already on iOS 9.3.2 you can see it listed here. This update doesn't specifically fix WiFi issues, but it is important
Reset your router. Go to your router, unplug it and count to 45 then plug it back in. This can fix some problems easily. You can also try restarting the iPhone 6 Plus. If it only happens in specific areas of your house or office you may need to move the router.
The next step is to reset network settings. This easy step does not wipe any data from your iPhone, but it will restore the networking to factory defaults. Go to Settings > General > Reset > Reset Network Settings.
You'll enter your passcode and wait for the iPhone to reboot. When it does, enter your router password again and see if you can connect.
If that fails the next step is to toggle WiFi Network location services off. For some reason this fixes some random iPhone WiFi problems. Go to Settings > Privacy > Location Services > System Services. When you toggle WiFi off restart the iPhone and then see if it works. If it works you can try turning this back on and see if it still works.
How to Fix iPhone 6 Plus Bluetooth Issues
The iPhone 6 Plus does not connect to in-car entertainment and hands free systems well on older versions of iOS. If you experience these problems the first step is to update to the latest version of iOS 9, which can fix many iPhone 6 Plus Bluetooth problems.
If you still can't connect to specific Bluetooth devices or accessories you may need to reset all settings. You will need to re-setup your settings, but you don't lose data or apps. Go to Settings > General > Reset > Reset All Settings.
You can also install updates on your car software. Check with the manufacturer of your car. Most likely you will need to download an update and then plug a USB drive into your car.
How to Fix iPhone 6 Plus App Problems
Install the latest update to get started on fixing app crashes. Running on the latest software and the latest versions of the app can help you avoid crashes.
If you don't have automatic app updates turned on you should open the App Store and update your apps. Developers routinely deliver bug fixes and new features that solve many issues.
Tap on the App Store app -> Updates -> Update All to make sure your apps are up to date.
Fix iPhone 6 Plus Landscape Problems
If your iPhone 6 plus is stuck in landscape mode all the time you need to install iOS 9 or higher. Over the last year multiple updates arrived to remove most landscape issues.
When the iPhone 6 Plus is stuck in landscape you can fix it by double tapping the home button to open multitasking, tapping on another app and then switching back. Most of the time this will solve the problem.
You can also open Control Center and tap on the lock icon to stick in portrait mode all the time.
iPhone 6 Plus iMessage Problems
iPhone 6 Plus iMessage problems include messages not staying marked as read and no option to leave a group iMessage.
The first thing to do is  try restarting the iPhone and other devices with iMessage.
If you cannot leave a group iMessage on the iPhone 6 Plus it is because there has been a text message in that group at some point. Apple won't break text messaging, so you are stuck in the group.
This may also happen if one of your iPads or Macs is on an older version of iOS or OS X.
iPhone 6 Plus Cellular Problems
Sometimes the iPhone 6 Plus cellular connection slows to a crawl or is stuck on 3G or Edge, making it essentially useless.
The quickest fix is to toggle Airplane mode on, wait a minute and turn it back off. This normally forces the iPhone to grab a better connection to a tower. Open Control Center and tap on the airplane, wait a little bit and tap it again.
Turning Cellular Data off and back on may also fix it. Go to Cellular > Cellular Data > Toggle Off.
Another option is to remove the SIM card and restart the phone. Then place the SIM card back in. This is something Verizon recommended to fix connectivity problems on our iPhone before. Results may vary.
You can also check for new carrier settings. Go to Settings -> General -> About, and if there is an update a pop up will appear in a few seconds.
If all else fails, there may be a hardware problem with your iPhone 6 Plus. Check with your carrier or Apple.
iPhone 6 Plus Bending Problems
There have been a lot of scares about iPhone 6 Plus bending problems, and it is a real issue for some users. To prevent bending you can use a case and avoid keeping the iPhone 6 Plus in a tight pocket or a back pocket.
If your iPhone 6 Plus bends, you can talk to Apple about a replacement, but be aware that they don't just replace any bent iPhone 6 Plus for free.
General Fix for iPhone 6 Plus Problems
If nothing else works and the iPhone 6 Plus is slow or doesn't work right you can try this last ditch effort to fix common general iPhone 6 Plus problems.
You can try this before you go to a Genius Bar to save the time and a trip, but if you don't want to set your iPhone 6 plus up from scratch you can just skip this and book an appointment.
A factory reset can solve many iPhone 6 plus problems, but you need to wipe all of your data and photos off the iPhone. To do this, backup your files, photos and data and go to Settings > General > Reset > Erase All Content and Settings.
This is a pain and it takes some time, but resetting the iPhone can fix many random iPhone 6 Plus problems.
11 Best iPhone 6s Plus Cases
Tech21 Evo Elite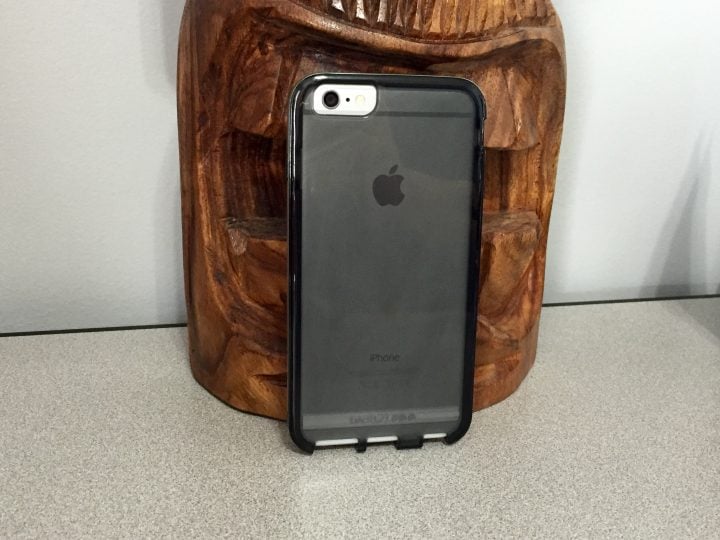 After using the Tech21 Evo Elite iPhone 6s Plus case for a month it is one of our favorites due to the nice style and the thin design. Add in the fact that the FlexShock material on the edges is capable of delivering more protection than you'd expect from a slim case and it's a clear winner.
A slim and light case is even more important with the larger iPhone 6s Plus, and Tech21 delivers on all counts with a great iPhone 6s Plus case option.
$49.95 at Apple

As an Amazon Associate I earn from qualifying purchases.