iPhone 6 Release Date Prep Starts at T-Mobile, AT&T, Verizon
The iPhone 6 release date preparations are in full force at T-Mobile and at some Verizon locations even though Apple did not yet announce the new iPhone 6 or the iPhone 6 release date.
There is no surprise in the early preparations for the iPhone 6 release on Verizon and T-Mobile, and there may be other similar plans in place at other iPhone 6 carriers.
Update: iPhone 6 Release Confirmed
Apple hosts an iPhone 6, iWatch and iOS 8 event tomorrow morning in California where the company will announce a collection of new devices. This includes two new iPhone 6 models, an iWatch and an iPad Air 2, if rumors are correct. This is the first major Apple hardware event of 2014 and it may be the only one as Apple shows off what it plans to sell this holiday season.
This morning T-Mobile announced the start of their iPhone 6 release date prep with a new trade in deal that promises the most money for your old iPhone and we found one Verizon store that is already taking names for an off the books iPhone 6 pre-order.
T-Mobile plans to monitor the iPhone trade in values at other carriers like Verizon and AT&T and beat the trade in value for the iPhone 5s, iPhone 5, iPhone 5c and other devices every day. This announcement does not mention the iPhone 6 release date by name, but it starts just two days before the rumored iPhone 6 release.
If you find a better iPhone trade in value within seven days of trading in at T-Mobile you can tell T-Mobile and they will, "beat that offer, give them the difference back and because we value this help from our customers we will top it off with another $50!"
Keep in mind this does not include selling on eBay or using services like Gazelle and Nextworth to trade-in the iPhone 5s or another old iPhone.
T-Mobile isn't the only carrier getting ready for the iPhone 6 release date. Some Verizon employees are boasting about an iPhone 6 waiting list and even early iPhone 6 upgrades. There is no official word from Verizon on these plans, so it is likely the result of smaller stores working to capitalize on the interest in the iPhone 6 release date that will spiral out of control tomorrow.
IPHONE 6 WAITIN LIST COME SIGN UP W/ ME TODAY AT VERIZON ON PONCE DOWNTOWN DECATUR BY DECATUR HIGH SCHOOL

— Mucho On Da MFn BEAT (@MUCHO67) September 8, 2014
https://twitter.com/TomaSaid/status/508979123956772864
all verizon customers , please come see me if you want the iPhone 6

you will be taking care off !!!

— € (@blvknative) September 8, 2014
Although this deal didn't start recently, AT&T is ready and willing to offer a $100 bill credit for users who add a new AT&T Next line. This deal runs through September 30th, which is more than enough time to deliver a tempting iPhone 6 deal to users later this month.
Earlier this month we shared that AT&T was prepped for the iPhone 6 release date with new cases added to their inventory, so they are definitely getting ready for a new iPhone.
Despite what you may hear on social media the iPhone 6 release date is not tomorrow September 9th. This is only the event where Apple will announce the iPhone 6 and other new devices. The new iPhone release date typically arrives on the second Friday after the announcement.
We don't know if Apple plans to offer iPhone 6 pre-orders this year, but you can count on iPhone 6 lines, shortages of some color or capacity and lots of people interested in the new iPhone.
We expect two new iPhone 6 models with larger screens, 4.7-inch and 5.5-inch models to be exact. Inside look for an upgraded camera, an Apple A8 processor and NFC to make mobile payments possible. The new iPhone 6 design features more curves based on leaks and may include a Sapphire display cover to prevent scratches.
Check out the latest iPhone 6 rumors and expectations in the slides below.
iPhone 6 Release Date & Feature Video Roundup
iPhone 6 Release Date Rumors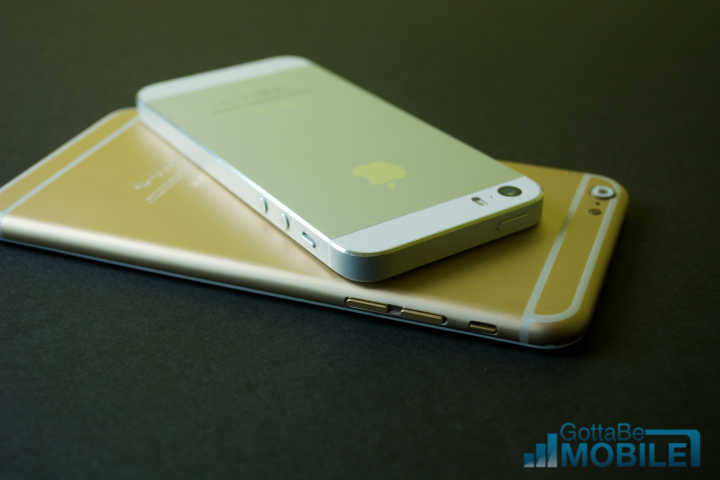 The iPhone 6 release date is September 19th according to Apple's traditional timeline and our best prediction based on current rumors and plans. This may change and there is a chance that we will see two iPhone 6 release dates thanks to a slower start for the 5.5-inch iPhone 6.
Here's how we get to an iPhone 6 release date on Friday September 19th.
Re/Code and The Wall Street Journal report Apple's plans to hold an iPhone 6 event on September 9th.
From this date we can work out that the iPhone 6 release date is roughly a week and a half later, on September 19th. This is the timing Apple used for the last several iPhone releases.
If Apple decides to offer iPhone 6 pre-orders expect them to go live at midnight Pacific on September 12th, but this is not a given.
The larger 5.5-inch iPhone 6 release date may arrive later on the last Friday in September or even in October.
Expect to see Apple Stores and carriers open early on the iPhone 6 release date with lines around the store to get an iPhone 6 right away, even in small towns.

As an Amazon Associate I earn from qualifying purchases.