The Dirty Secret Behind iPhone 6 Release Lines
There is one thing you can count on during the run up to the iPhone 6 release date, long lines full of people who love to talk about why they are waiting in line. We are already seeing people line up for the unannounced iPhone 6 release that we expect will arrive in 12 days, but they aren't the biggest Apple fans in the world.
The dirty secret behind iPhone 6 release date lines is that most of the people lined up in front of the biggest Apple Stores in the U.S. are waiting for a paycheck or reselling the iPhone at high prices which may mean you don't get a new iPhone on day one.
The weekend started out with two big questions from family members, "When is the new iPhone 6 release date?" and "Will there be lines for the new iPhone?"
We expect the iPhone 6 release date is planned for Friday September 19th, and yes, there will be lines for the new iPhone. In fact there is already a line for the iPhone 6 release in New York City at the flagship Apple Store.
You might expect people willing to wait in line more than a week for the iPhone 6 release to be the biggest Apple fans, who will share stories about owning every iPhone and fondly talking about their first iPod, but that is rarely the case.
The Apple Store on Fifth Avenue is the scene of a long line of people waiting for the iPhone 6 release date. The first two iPhone 6 buyers in line are cousins who start their story with standing in line for each new iPhone since the iPhone 3 and a plan to beat friends who waited 17 days in line for the new iPhone last year, but as Newsweek reports, they aren't lined up without some added motivation.
One of the many companies that buys old electronics, BuyBackWorld, sponsors the cousins who re waiting in line for the iPhone 6 release to buy the phone and to bring PR to the sponsor. It's not clear how much the company is paying these two users to wait in line for the iPhone 6 release for at least two weeks, but we know how much the new first couple in line paid them.
After discovering that the first place in line was already taken, two people standing in line to publicize VideoMedicine, paid the cousins $2,500 to switch spots. That's not bad considering the iPhone 6 price is expected to come in at $649 off contract for the 4.7-inch model.
The telemedicine app sponsored iPhone 6 line waiters and attention seekers don't even want the new iPhone. Moon Ray, told Newsweek that she plans to sell the iPhone 6, adding, "I don't even have cable.", as an explanation for why she doesn't need the new iPhone.
Next up are two workers from Hong Kong who are working from the line while on Hong Kong time and are talking up the company they work for called Ravpower. The company is paying for their iPhones and letting them work from line, but they need to sleep during the afternoon in line.
Although these first six people waiting in line for the iPhone 6 release date are doing so for PR, and could keep you from getting a new iPhone 6, the next man in line is one that most regular iPhone buyers are not fans of. Jean Anacreon is standing in line hoping to convince 24 people to buy an iPhone 6 for him so he can resell them for a nice profit.
If Anacreon is able to convince these people to help him, that's at least 30 new iPhones that the average user won't be able to buy on the iPhone 6 release date later this month.
For buyers that don't want to wait in line, but want a new iPhone on the iPhone 6 release date there is hope. Apple may offer an iPhone 6 pre-order that will allow users to buy a new iPhone online the week before the release for delivery by Fedex on September 19th. Apple did not offer this in 2013, so there is a chance that we will not see an iPhone 6 pre-order for 2014 as Apple pushes potential buyers to Apple Stores.
At most you'll need to get in line the night before the iPhone 6 release date in a big city, but if you go to a carrier store in most cities you can arrive a few hours before the store opens and pick up a new iPhone without spending a week waiting in line behind people looking to make a profit on the iPhone 6 release.
The iPhone 6 launch takes place on September 9th, where we expect to see Apple announce two new iPhone 6 models that include bigger screens. We expect a 4.7-inch iPhone 6 and a 5.5-inch iPhone 6, but there are rumors that the largest model will arrive after the initial iPhone 6 release.
Apple will certainly announce the iPhone 6 release date that normally comes on the second Friday after the announcement. If there is an iPhone 6 pre-order the announcement may not come at the event, but in a separate announcement later in the week.
You can check out the rest of the iPhone 6 release date details and the latest iPhone 6 rumors in the roundup below.
iPhone 6 Release Date & Feature Video Roundup
iPhone 6 Release Date Rumors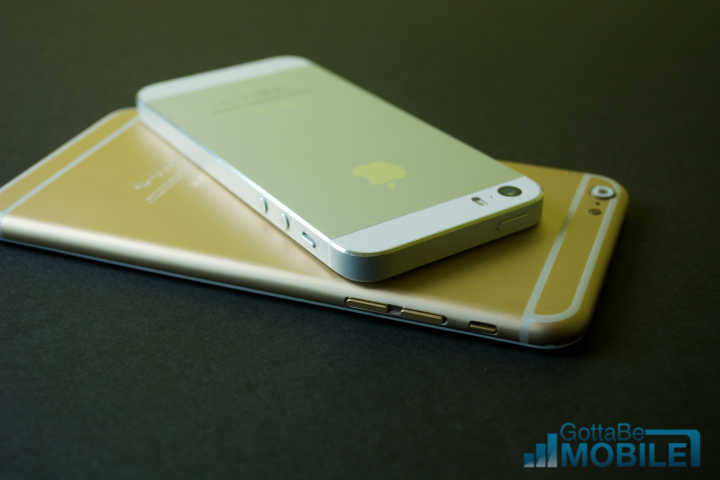 The iPhone 6 release date is September 19th according to Apple's traditional timeline and our best prediction based on current rumors and plans. This may change and there is a chance that we will see two iPhone 6 release dates thanks to a slower start for the 5.5-inch iPhone 6.
Here's how we get to an iPhone 6 release date on Friday September 19th.
Re/Code and The Wall Street Journal report Apple's plans to hold an iPhone 6 event on September 9th.
From this date we can work out that the iPhone 6 release date is roughly a week and a half later, on September 19th. This is the timing Apple used for the last several iPhone releases.
If Apple decides to offer iPhone 6 pre-orders expect them to go live at midnight Pacific on September 12th, but this is not a given.
The larger 5.5-inch iPhone 6 release date may arrive later on the last Friday in September or even in October.
Expect to see Apple Stores and carriers open early on the iPhone 6 release date with lines around the store to get an iPhone 6 right away, even in small towns.