iPhone 6 Release Date Rumors Converge on Friday in Sept.
The latest iPhone 6 release date rumors and news pain the picture of  late September release for the new iPhone that will arrive on more carriers on day one. With an iPhone 6 launch event likely in less than two weeks we're hearing more details about the potential iPhone 6 release date and this new report delivers increased focus on a very small window in late September.
Apple's iPhone 6 release is one of the most anticipated smartphone launches of the year, and consumers are eager to know when they can buy the new iPhone.
For months individual iPhone 6 release date rumors offered a potential window, and as the launch approaches we are hearing about more specific iPhone 6 release plans form a variety of sources.
This new report points to a September 16-19th iPhone 6 release in China that matches with the best estimates and rumors for a U.S. iPhone 6 release as well as one in Germany. Apple traditionally launches in a small set of countries before expanding later to cover more territory. It makes sense that China will join the initial iPhone 6 release wave this year for many reasons.
Adding to the timing for the iPhone 6 release date on September 19th are reports from Re/Code and The Wall Street Journal stating Apple plans to hold an iPhone 6 event on September 9th. Traditionally the new iPhone arrives on the second Friday following the announcement. 
Read: iPhone 6 Release Date & Feature Roundup
The latest iPhone 6 release rumor arrives from Weibo, a Chinese social networking site with details on the global iPhone 6 release that suggest Apple plans to sell the iPhone 6 in many countries on many carriers starting from day one.
GforGames provides a translation of the leak, which claims the China iPhone 6 release date is between September 16th and September 19th. The report claims this is for the Unicom version of the iPhone 6. The iPhone 5s arrived on China Mobile in January 2014, months after the initial release.
Although China typically receives a new iPhone well after the United States and other countries, the multi-year deal and the plans to sell two larger iPhone 6 screen sizes make it much more likely that Apple is planning a wider global iPhone 6 release date on day one.
Consumer smartphone preferences in Asia trend towards phones with bigger screens. If true this could be why early estimates peg Apple's iPhone 6 orders as significantly higher than in previous years. Even with higher orders, recent reports of production issues and a wider global launch could limit stock of popular colors and storage sizes on the iPhone 6 release date.
The report comes after a recent leak shows Sprint is prepped for an iPhone 6 release date in the near future, with multiple iPhone 6 cases listed in inventory.  Plans indicate Verizon is almost ready to turn on VoLTE — a new technology that can deliver better phone calls and the ability to talk and use data at the same time. VoLTE support is rumored in iOS 8 for the iPhone 6 and possibly the iPhone 5s, as well as compatibility on many Android phones.
One final piece of the new iPhone release prep we are not seeing yet this year is early upgrade options. In previous years carriers like AT&T would offer an early iPhone upgrade option to select users, but with a push to switch users to AT&T Next and similar plans on other carriers these early iPhone upgrade options are disappearing. There are still ways to trade in your old iPhone and get close to early upgrade pricing.
iPhone 6 Release Date & Feature Video Roundup
iPhone 6 Release Date Rumors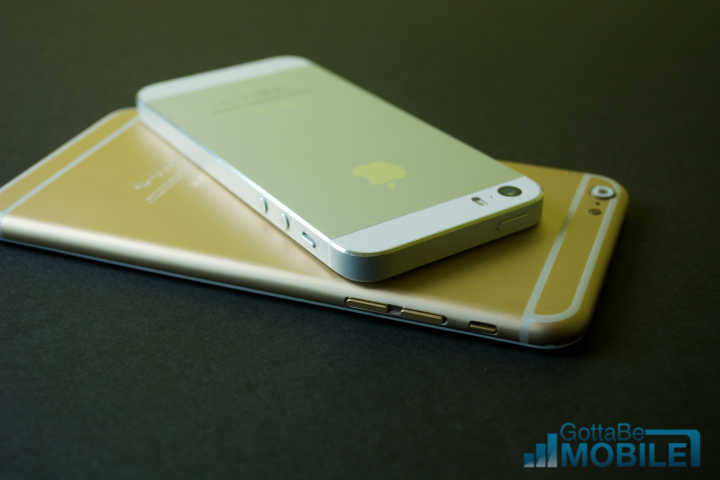 The iPhone 6 release date is September 19th according to Apple's traditional timeline and our best prediction based on current rumors and plans. This may change and there is a chance that we will see two iPhone 6 release dates thanks to a slower start for the 5.5-inch iPhone 6.
Here's how we get to an iPhone 6 release date on Friday September 19th.
Re/Code and The Wall Street Journal report Apple's plans to hold an iPhone 6 event on September 9th.
From this date we can work out that the iPhone 6 release date is roughly a week and a half later, on September 19th. This is the timing Apple used for the last several iPhone releases.
If Apple decides to offer iPhone 6 pre-orders expect them to go live at midnight Pacific on September 12th, but this is not a given.
The larger 5.5-inch iPhone 6 release date may arrive later on the last Friday in September or even in October.
Expect to see Apple Stores and carriers open early on the iPhone 6 release date with lines around the store to get an iPhone 6 right away, even in small towns.

As an Amazon Associate I earn from qualifying purchases.